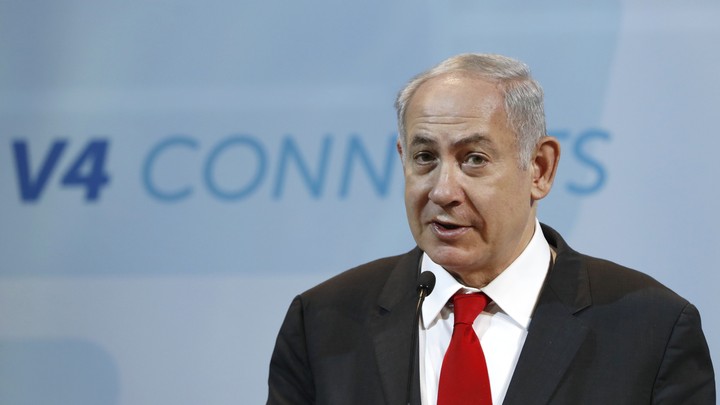 At a closed-door meeting with eastern European leaders in Budapest on Wednesday, Israeli Prime Minister Benjamin Netanyahu revealed that his nation struck Iranian arms convoys "dozens of times" in Syria. The rare admission was captured by an open microphone and accidentally transmitted to journalists' headphones, Israel's local Haaretz newspaper reported. While Israel has typically refrained from intervening in the Syrian civil war, the Israeli air force has been suspected of using airstrikes to target Hezbollah, an Islamist militant group based in Lebanon, and other Iran-backed forces that support the regime of Syrian President Bashar al-Assad.
On Wednesday, Netanyahu told the leaders of Hungary, Poland, Slovakia, and the Czech Republic that Israeli strikes had targeted Iranian weapons shipments traveling to Hezbollah. "We blocked the border not only in Egypt but in the Golan Heights [in southwest Syria]," he said. "We built the wall because there was a problem with ISIS and Iran trying to build a terror front there. I told [Russian President Vladimir] Putin, when we see them transferring weapons to Hezbollah, we will hurt them. We did it dozens of times."
For the most part, Israel has declined to comment about its actions in Syria, admitting only to a few military strikes. In June, the nation's military spokesman said the Israeli air force hit three Syrian army targets after Syrian projectiles landed in Israeli-controlled territory in Golan Heights. Two months earlier, the army vaguely admitted to targeting pro-Syrian government forces in Golan Heights's Syrian-controlled territory. Around the same time, Syrian rebel forces said Israel struck a Hezbollah arms depot near the Damascus International Airport. "We can't comment on such reports," a spokeswoman for the Israeli military said, though the military later confirmed hitting an unspecified "target."
Despite its military presence in the region, Israel has also been instrumental in providing humanitarian aid to local Syrian fighters. On Wednesday, the Israeli army told reporters that its "Good Neighbors" humanitarian operation had aided around 200,000 civilians on the Syrian side of Golan Heights, providing 450,000 liters of gasoline, 50 tons of clothing, and hundreds of tons of basic food and medical supplies. The nation's public reveal of its store rooms, however, was overshadowed by Netanyahu's speech—including his strong criticism of the European Union.
Although the prime minister's audio feed was cut off within minutes after officials discovered that reporters had access to the transmission, it stayed running while Netanyahu shared his thoughts on the EU. To start, Netanyahu argued that "Europe's security and Europe's economic future … mandate a different policy toward Israel." "I think Europe has to decide if it wants to live and thrive or if it wants to shrivel and disappear," he said, adding: "I know that's a shock to some of you …  But the truth is the truth."
Netanyahu said he found it "crazy" that "the European Union is the only association of countries in the world that conditions the relations with Israel." He encouraged European leaders to follow in the example of nations like Russia, China, and India by increasing their technological cooperation with his country. "The EU is undermining its security by undermining Israel," Netanyahu said. "Europe is undermining its progress by undermining its connection with Israeli innovation." Netanyahu specifically praised China for being able to separate politics from its economic interests. He also applauded the Trump administration for its "stronger position" on Iran and Syria, calling the United States' increased military action in Syria "a positive thing."
While condemning the EU's lack of support for Israel, Netanyahu also attempted to form a connection with European nations. "We are part of the European culture," he said. "Europe ends in Israel. East of Israel, there is no more Europe. We have no greater friends than the Christians who support Israel around the world." At the same time, Netanyahu urged European nations to close their borders to refugees from Africa and the Middle East, expressing his belief in the free flow of good and ideas, "but not people."
We want to hear what you think about this article. Submit a letter to the editor or write to letters@theatlantic.com.
Aria Bendix
is a frequent contributor to
The Atlantic
, and a former editorial fellow at
CityLab
. Her work has appeared on
Bustle
and
The Harvard Crimson
.