More Than 70 Officers Injured in G20 Protests
Tensions escalated on Thursday as protesters hurled objects and set fire to vehicles, while officers responded with water cannons and tear gas.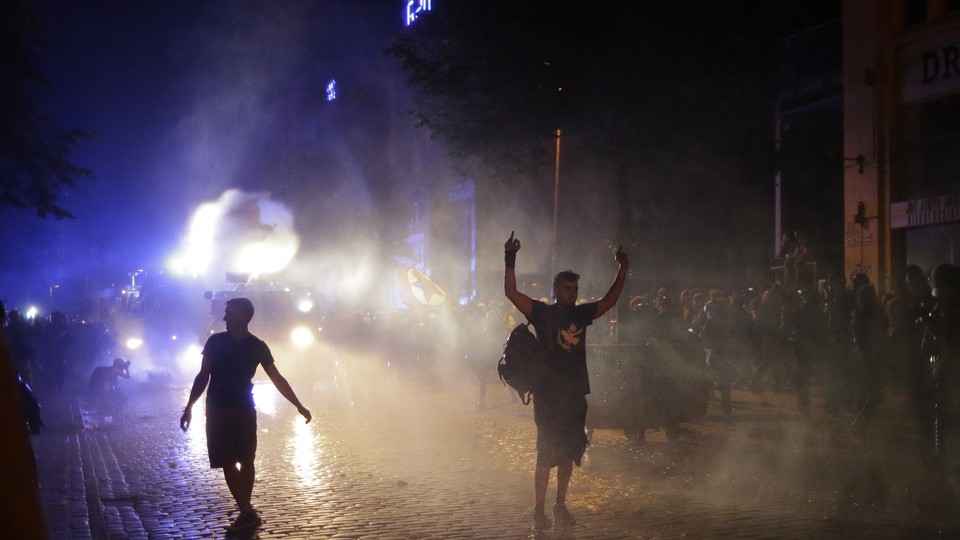 More than 70 police officers were wounded Thursday in violent protests ahead of the G20 summit in Hamburg, Germany, where world leaders will convene on Friday and Saturday to discuss policy issues pertaining to the global economy, international trade, and more. Thursday's demonstrations, titled "Welcome to Hell," featured around 12,000 protesters, many of whom rallied against capitalism and President Trump. The ominous slogan "symbolize[s] that G20 policies worldwide are responsible for hellish conditions like hunger, war, and the climate disaster," one of the organizers told Agence France-Presse.
The protests, which began around 7 p.m. local time, soon escalated as a group known as the "black bloc," consisting of young people wearing black hoods, masks, and scarves, began to clash with police forces. Black bloc protesters were present this year at May Day demonstrations in Berlin and Paris, as well as protests last month in Rio de Janeiro, where they called for the resignation of Brazilian President Michel Temer. They have also been a fixture of G20 summits throughout the years.
Even after organizers cancelled the demonstrations amid mounting violence, protesters continued to set fire to vehicles, damage local buildings, and hurl bottles, stones, and flares at officers.
In response, officers attempted to keep protesters at bay using pepper spray, tear gas, and water cannons. The video below, captured by a CNN producer, shows the heightening conflict:
By Thursday evening, the Hamburg police said they had received reports of 15 wounded officers, three of whom were in the hospital. One of the hospitalized officers suffered an eye injury from an exploding firecracker. Police later said that another 59 officers were "slightly injured," bringing the total number of injuries to 74. The number of injured protesters remains unknown, although many protesters were spotted being treated by medics. At least one protester was carried away from the scene in a foil blanket. By early morning, the Hamburg police reported that the situation had noticeably calmed down.
Although G20 summits are no strangers to violent protests, the city of Hamburg hoped to minimize the level of conflict to avoid catastrophes like the 2009 London summit protests, which resulted in one death, or the 2001 G8 summit in Genoa, where one person was fatally shot and hundreds more were injured. Reuters also notes that German Chancellor Angela Merkel was particularly wary of increased violence ahead of her bid for reelection in September.
While most G20 summits are held in outlying areas, AFP reports that Merkel was forced to hold this year's summit in the busy city of Hamburg due to logistical constraints. As a safety precaution, the city enlisted around 20,000 police officers to help contain the demonstrations. In the wake of Thursday's protests, security forces are gearing up for as many as 100,000 demonstrators on Friday and Saturday.