John McCain Is Returning to the Senate for the Health-Care Vote
The Arizona lawmaker, who was recently diagnosed with brain cancer, will serve as a critical participant in Tuesday's procedural vote.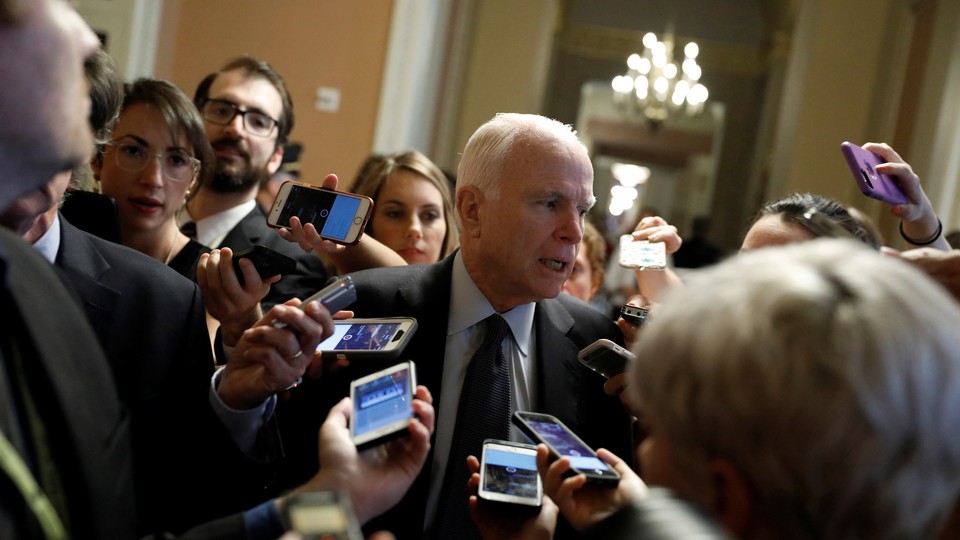 Arizona Republican John McCain will return to the Senate on Tuesday in time to participate in a procedural vote that could decide the future of the Affordable Care Act. In a statement released Monday night, McCain's office said he "looks forward to returning to the United States Senate tomorrow to continue to working on important legislation, including health-care reform, the National Defense Authorization Act, and new sanctions on Russia, Iran, and North Korea."
Earlier in the day, Senate Republicans held out hope that McCain would be cleared to travel from Arizona to Washington, D.C., following his recent brain-cancer diagnosis. "They were trying to get approval [from his doctors] for his travel arrangements," Senate Majority Whip John Cornyn told Politico on Monday. He added: "I've personally volunteered to rent an RV."
McCain's presence at the vote is critical, given that the GOP needs 50 senators to agree to begin formal debate on health care, in what's called a motion to proceed. McCain has told reporters he supports the legislative momentum to repeal Obamacare, but is unsure whether he will approve the final product. Last week, his office released a statement warning Congress not to "repeat the original mistakes that led to Obamacare's failure"—namely, "that it was written on a strict party-line basis and driven through Congress without a single Republican vote." Still, he's largely expected to vote "yes" along with most of the GOP conference.
As my colleague Russell Berman chronicled earlier today, Senate Majority Leader Mitch McConnell has had difficulty pushing forward an effort to repeal Obamacare and replace it with the Better Care Reconciliation Act (BCRA), which recent estimates say would increase the number of uninsured people by 22 million over the next decade. While GOP legislators seemed more receptive to McConnell's Plan B—repeal without an immediate replacement—that bid was soon thwarted after three Republican women declared their opposition.
With McCain present on Tuesday, McConnell has more room for error on the vote than previously expected. Last week, the majority leader chose to defer action on his BCRA while McCain underwent surgery, hoping to hold out until his colleague could potentially come back and vote. Although McCain's doctors said he recovered "amazingly well" from the operation, which removed the cancerous tissue, the senator's diagnosis is grave. Typically, patients with McCain's type of brain tumor—known as a glioblastoma—survive around 14 months with treatment. Given his condition, McCain's vote on Tuesday is likely to be one of the most closely watched.