Manafort's Subpoena Dropped
The Senate Judiciary Committee rescinded its subpoena for President Trump's former campaign chair to appear before lawmakers.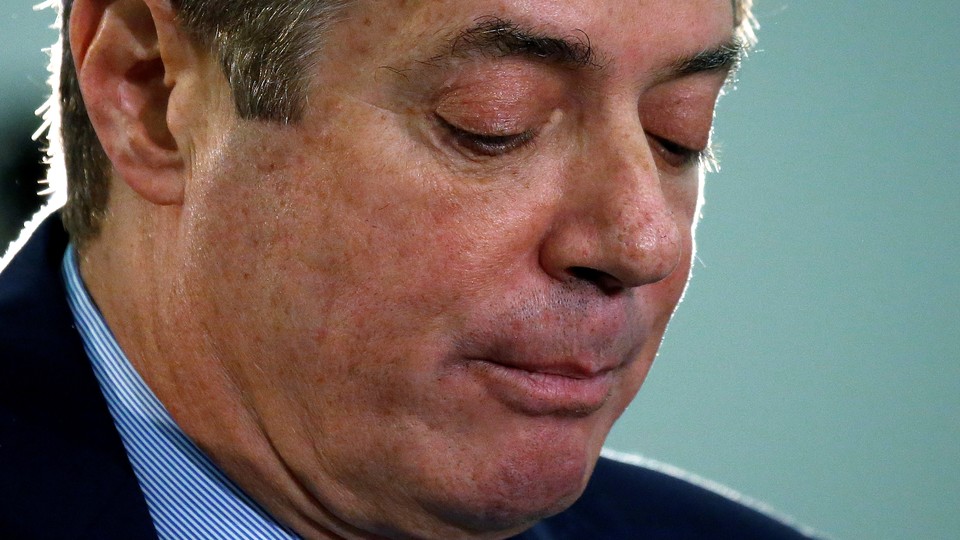 Updated at 7:50 a.m. ET
The Senate Judiciary Committee rescinded its subpoena for Paul Manafort, Donald Trump's former campaign chairman, to appear Wednesday at a public hearing on attempts to influence the 2016 presidential election. Manafort's extensive ties to Russian officials have made him a figure of scrutiny in Russia-related controversies plaguing the White House.
The panel will now feature witnesses from the FBI and the Justice Department. Glenn Simpson, the founder of Fusion GPS, who was scheduled to appear before the committee, also had his subpoena pulled. His company was behind the unverified dossier that made unsubstantiated claims about Trump's connections to Russia.
The move came hours after Manafort met behind closed doors with the Senate Intelligence Committee staffers. Before that news became public, the Senate Judiciary Committee ordered him to appear Wednesday before the panel.
The developments came a day after Jared Kushner, the president's son-in-law and senior adviser, spoke at a closed-door session of the Senate Intelligence Committee about his own contacts with Russian officials during the campaign.
"Let me be very clear: I did not collude with Russia, nor do I know of anyone else in the campaign who did so," Kushner told reporters after the meeting.
Russian interference in the 2016 election has emerged as the dominant theme of American politics since November. U.S. intelligence agencies say Moscow's goal was to aid Trump, though it's unclear if its attempts were successful. The matter is being investigated by the Justice Department and various congressional panels.
On Tuesday, Manafort met with the same committee Kushner addressed, Senate Intelligence, and "answered their questions fully," his spokesman Jason Maloni said in a statement.
In his remarks to lawmakers Monday, Kushner detailed four meetings he had with Russian officials during the campaign and immediately after the election. Manafort attended one of those sessions, which also involved Donald Trump Jr. and a Russian lawyer who was supposed to have incriminating information about Hillary Clinton, Trump's Democratic rival. Trump Jr. has said the meeting did not yield the promised intel; Kushner said Monday that he did not know the reason for the meeting and, while it was under way, quickly determined it wasn't useful to him.
Manafort and Trump Jr. were until this week negotiating with lawmakers about appearing on Capitol Hill.
Manafort's professional ties with Russia as a lobbyist are well chronicled. He had, for example, a contract worth tens of millions to aid Russian President Vladimir Putin. Though that work was legal, Manafort did not always register as a foreign agent.
Some of his financial transactions have been controversial, too. As WNYC pointed out, Manafort purchased multiple properties in New York City, with no mortgages and using shell companies, "while he also was consulting for business and political leaders in the former Soviet Union." He then transferred the properties into his own name and took out mortgages against them. As my colleague David Graham noted:
This pattern does not necessarily indicate any illegal behavior. But experts told WNYC that if someone was trying to launder money, this would be a typical way to do it, turning ill-gotten gains into legitimate cash by moving it through the various transactions. Once the mortgage was taken out, the money would be "clean" for the individual, with the property as collateral and the original source and purchaser forgotten. Manafort denied any wrongdoing and said it was common to buy real estate with limited liability companies, as he did.
There was also the $16 million bailout that he received from a bank owned by a Trump adviser when he was in danger of foreclosing on properties in Brooklyn and California, as well as allegations of potential money laundering on Cyprus, a popular destination for Russian money.
The Senate Judiciary Committee initially said earlier Tuesday that lawmakers would be open to excusing Manafort from appearing if "he would be willing to agree to production of documents and a transcribed interview, with the understanding that the interview would not constitute a waiver of his rights or prejudice the committee's right to compel his testimony in the future."