Remembering Liu Xiaobo
The Nobel Prize winner, one of China's most-prominent dissidents, was 61.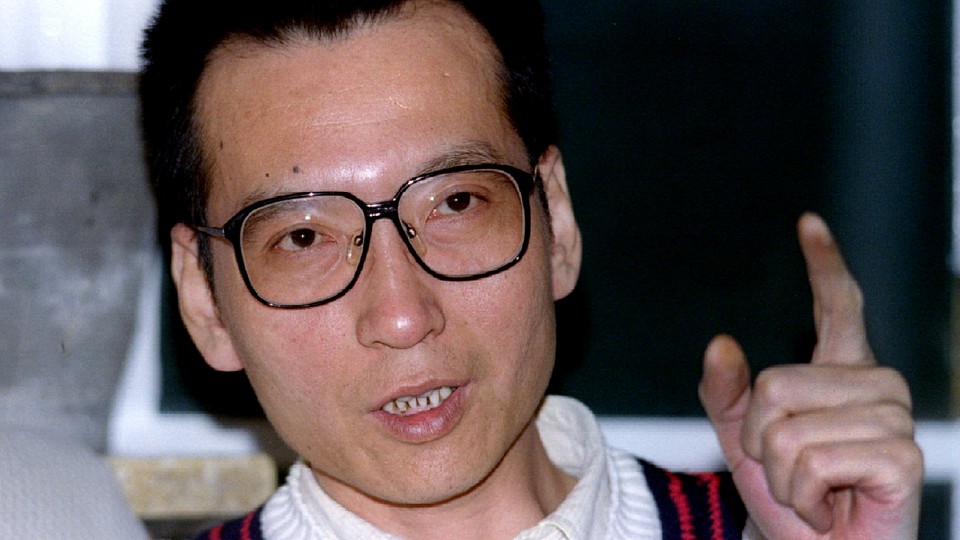 Liu Xiaobo, the Nobel Prize-winning Chinese dissident who defied the Communist Party by calling for the end of one-party rule, has died. He was 61.
The cause, Chinese officials said, was terminal liver cancer. Liu, who had been serving an 11-year prison sentence for subversive activities, was transferred to a hospital in northeastern China last month.
Liu, a university professor who protected students during the 1989 Tiananmen protests, was imprisoned in 2009 for writing the Chart 08 petition a year earlier calling for China's transformation into a democracy. Here's an excerpt:
In 1998 the Chinese government signed two important international human rights conventions; in 2004 it amended its constitution to include the phrase "respect and protect human rights"; and this year, 2008, it has promised to promote a "national human rights action plan." Unfortunately most of this political progress has extended no further than the paper on which it is written. The political reality, which is plain for anyone to see, is that China has many laws but no rule of law; it has a constitution but no constitutional government. The ruling elite continues to cling to its authoritarian power and fights off any move toward political change.

The stultifying results are endemic official corruption, an undermining of the rule of law, weak human rights, decay in public ethics, crony capitalism, growing inequality between the wealthy and the poor, pillage of the natural environment as well as of the human and historical environments, and the exacerbation of a long list of social conflicts, especially, in recent times, a sharpening animosity between officials and ordinary people.
Liu was awarded the 2010 Nobel Peace Prize for, in the words of the Norwegian Nobel Committee, "his long and non-violent struggle for fundamental human rights in China." He was unable to attend the award because of his imprisonment.
Although he was imprisoned or sent to camps over the years for his views, he was also criticized for his positions supporting U.S.-led wars, which he called "all ethically defensible,"including the U.S.-led war in Iraq.
Details about Liu's failing health emerged last month when it became clear his cancer was terminal. He was given medical parole, but neither Liu nor his family was allowed to discuss the case, nor seek treatment overseas. Even as he lay dying in a civilian hospital in Shenyang, China, authorities posted guards around him; his wife, Liu Xia, was placed under house arrest, but in a video message she sent to a friend, which has since been posted on YouTube, she wept, saying: [He]  can't undergo an operation anymore. He can't undergo radiation therapy. Can't undergo chemotherapy anymore."
"The Communist Party wants the world to forget Mr Liu and what he stood for," the Economist wrote. "There is a danger that it will."
Liu is the first Nobel Peace laureate to die in detention since Carl von Ossietzky, the German opponent of Nazism who was awarded the Peace Prize in 1935; von Ossietzky died in 1938. Aung San Suu Kyi, the Burmese dissident who now occupies the topmost echelon of her country's politics, was awarded the prize in 1991 while under government detention.
Liu was represented at the Nobel ceremony in 2010 by an empty chair.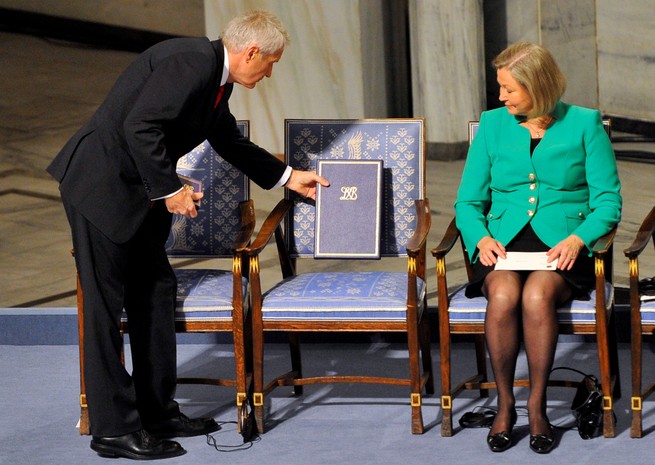 His statement before his trial in China, which he was unable to deliver, was read out as his Nobel lecture.
"I firmly believe that China's political progress will not stop, and I, filled with optimism, look forward to the advent of a future free China," he wrote. "For there is no force that can put an end to the human quest for freedom, and China will in the end become a nation ruled by law, where human rights reign supreme."