Lawmakers Injured in Violent Attack on Venezuelan Assembly
Seven politicians were wounded by pro-government protesters during the nation's Independence Day.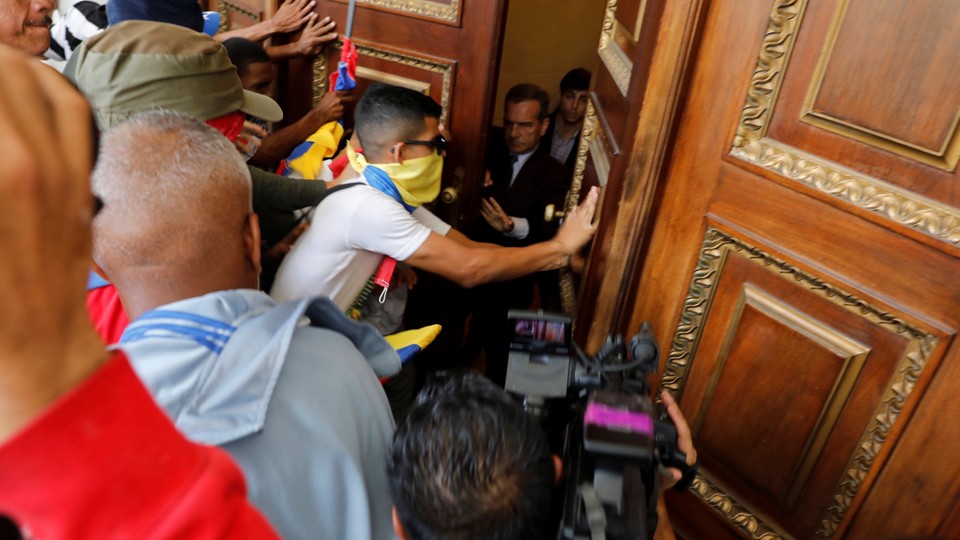 Seven opposition politicians were injured Wednesday during a violent attack on Venezuela's democratically-elected National Assembly. The attacks, led by supporters of Venezuelan President Nicolas Maduro, took place as the rest of the country celebrated their nation's annual Independence Day. The assembly's president, Julio Borges, said around 350 politicians, journalists, and guests were trapped inside by protesters, who attacked from dawn to dusk. Opposition lawmaker Americo De Grazia suffered the most severe injury after being knocked unconscious. He was initially said to be in critical condition, but his family later reported that his health had improved.
After gathering outside the National Assembly in downtown Caracas, a group of several dozen protesters stormed inside the building, carrying  pipes, sticks, and stones. In addition to bloody attacks on lawmakers, several journalists were assaulted and robbed. Later in the day, a crowd of around 100 protesters gathered at the scene, shouting "Long live the revolution!" Some of them carried pistols, while others threw fireworks into the assembly building. At one point, protesters played an audio recording of former Venezuelan President Hugo Chavez saying, "Tremble, oligarchy!" Borges described the scene as full of bullets, blood stains, and damaged cars, including his own. He added: "The violence in Venezuela has a name and surname: Nicolas Maduro."
Maduro has indeed been at the heart of Venezuela's recent string of violent protests, which have killed at least 90 people and injured thousands since April. On the one hand, opposition protesters accuse Maduro of jailing opposition leaders, censoring news outlets, and delaying the nation's democratic elections. Many also hold Maduro responsible for Venezuela's economic and humanitarian crisis, which has resulted in triple-digit inflation and dire shortages of food and medicine. On the other hand, Maduro has accused protesters of waging a U.S.-backed coup against his government.
In response to Wednesday's attack, the U.S. State Department released a statement calling it "an assault on the democratic principles cherished by the men and women who struggled for Venezuela's independence 206 years ago today." The department added that the Venezuelan government must "immediately provide for the protection of the National Assembly, ensure those injured in today's attack are able to receive medical attention, and bring the attackers to justice."
At a Wednesday military parade, Maduro called for an investigation into the "strange" violence. "I want peace for Venezuela," he told the crowd. "I don't accept violence from anyone." The statement seemed to contradict his comments last week, when he declared his willingness to take up arms against opposition protesters. "If Venezuela was plunged into chaos and violence and the Bolivarian Revolution destroyed, we would go to combat," Maduro said at the time. "We would never give up, and what couldn't be done with votes, we would do with weapons."
Last week, the Venezuelan government was a victim of their own attack when a rogue police officer-slash-actor dropped grenades and opened fire on the nation's Interior Ministry and Supreme Court. While no one was injured, Maduro immediately condemned the attack as "an act of terrorism" and a conspiracy to overthrow his government. Around the time of the attack, the perpetrator—36-year-old Oscar Pérez—appeared in an internet video, announcing his mission to resist the "impunity" and "tyranny" of the Venezuelan government.
On Wednesday, Pérez appeared in a second online video, where he argued that his attack was "perfectly achieved." While Pérez was initially being hunted down by Venezuelan special forces, he claimed in the video to have made his way back to Caracas after landing on the Caribbean coast. His attack on the Supreme Court did not result in any casualties, he said, "because it was planned, because we are not murderers like you, Mr. Nicolas Maduro."
Before violence ensued on Wednesday, opposition lawmakers gathered to discuss a July 16 plebiscite that will allow Venezuelans to express their level of confidence in Maduro's governance. Citizens will also be given the chance to comment on Maduro's call to rewrite the nation's constitution, which opposition members see as a ploy for Maduro to retain control of Venezuela following the end of his term in 2019. Despite Wednesday's attack, the vice president of the National Assembly, Freddy Guevara, told a local TV station that lawmakers would resume their discussion as planned.