Jordanian Soldier Receives Life Sentence for Killing U.S. Military Trainers
A military court concluded that the soldier "intended to kill" American troops, but his motives remain unclear.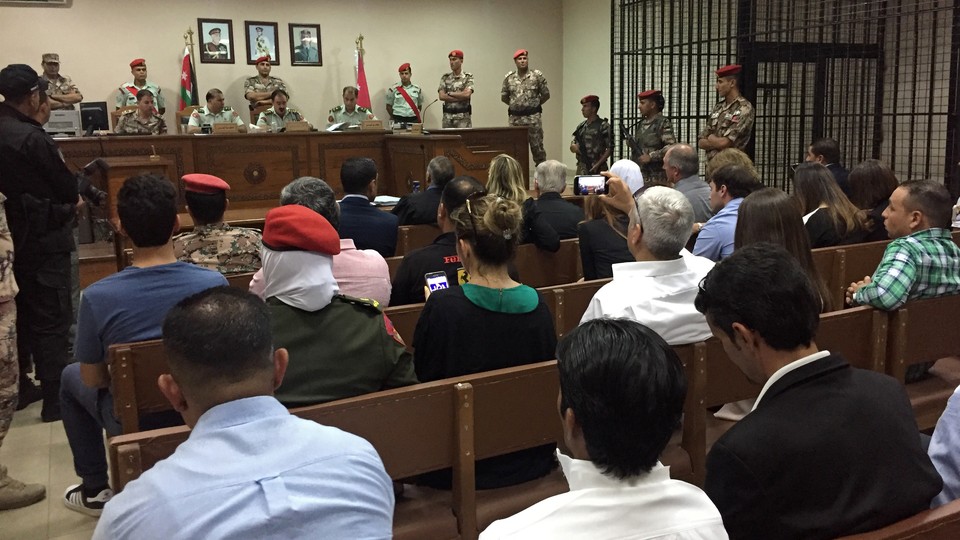 A Jordanian soldier was sentenced to life in prison on Monday for fatally shooting three U.S. military trainers outside an army base in southern Jordan last November. The soldier, 39-year-old Maarik al-Tawaiha, previously pleaded "not guilty," arguing that a vehicle containing the now-deceased soldiers—Matthew Lewellen, Kevin McEnroe, and James Moriarty—appeared to pose a threat to the base. In June, the prosecution accused al-Tawaiha of voluntary manslaughter, violating military orders, and insulting the dignity and reputation of the armed forces. On Monday, a military court in Amman sentenced him to "hard labor for life"—a punishment that typically lasts 20 years in Jordan, with the possibility of time off for good behavior.
According to the court ruling, the incident began on November 4 when a four-vehicle convoy carrying the soldiers approached the King Faisal Airbase in Jordan, eliciting "a low sound of gunfire from a distant and unknown source." Al-Tawaiha, who was standing guard at the gate, said he opened fire because he believed the vehicles were about to stage an attack. The victims' relatives have since argued that security camera footage shows al-Tawaiha reloading his gun and aiming at the soldiers, who presented themselves as friendly forces. The court's ruling appears to confirm this report, arguing that al-Tawaiha "fired a full magazine of ammunition … intending to kill [the soldiers] after it was clear to him who they were."
After previously describing the incident as a "tragic misunderstanding," Jordanian government officials have since admitted that al-Tawaiha did not follow their military's rules of engagement. "His majesty's letters of condolences will be delivered to the families soon," a spokeswoman for the Jordanian Embassy told The Washington Post in April, adding that "the Jordanian government will do everything to ensure that justice is enacted fully." But, after viewing surveillance footage of the shooting, Jim Moriarty, the father of one of the U.S. soldiers, told The Post he was unwilling to accept anything less than "an admission of total guilt and plans for prosecution for the murderer."
While the victims' families received their desired verdict on Monday, questions remains as to why al-Tawaiha felt compelled to shoot. A Jordanian investigation has ruled out any potential ties to terrorist organizations, which could have qualified al-Tawaiha for the death penalty. Meanwhile, al-Tawaiha insists he had "no intention of killing anyone" and harbors no animosity toward Americans. "I have all the respect for the king, but I was doing my job," he said following the verdict. Still, some international experts argue that the shooting was not only intentional, but premeditated.
November's incident was not the first time Americans have been killed by a Jordanian officer. In 2015, a Jordanian police captain attacked the Jordan International Police Training Center on the outskirts of Amman, killing at least five people, including two U.S. government employees. Jordan, a key American ally in the fight against ISIS, is home to around 2,200 U.S. military personnel. In the wake of the attack, Jordan's King Abdullah II visited the wounded at a hospital in Amman amid criticism that his government had responded poorly to the incident.
While Monday's court case proceeded contradictory claims from the Jordanian and U.S. governments, it seems to have done little to alter the stability of U.S.-Jordanian relations. Following the verdict, Pentagon spokesman Jeff Davis said Jordan would remain "a strategic partner" of the U.S. "We are reassured to see that the perpetrator has been brought to justice," Davis said, adding: "We appreciate the Jordanian court's access that was provided to us and to the families of the victims, as well as the expediency and seriousness of the court proceedings."