How 3 Americans Were Killed in Jordan
A video released by the Jordanian military shows the Special Forces soldiers were deliberately targeted last November.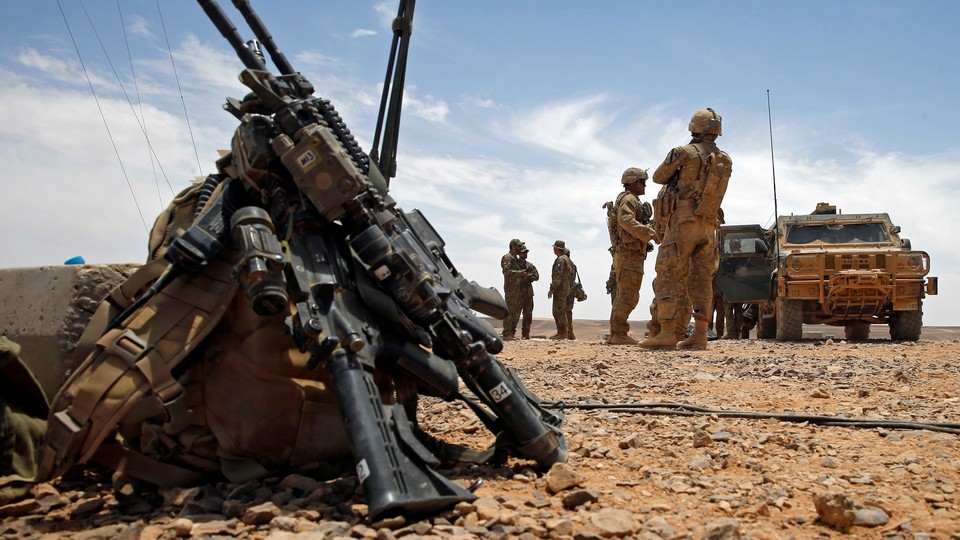 Last November a Jordanian guard at a military base opened fire at a training center near Amman, killing three Americans, later identified as Special Forces soldiers.
The guard, Sergeant Maarik al-Tawaiha, 39, was sentenced last week to life in prison for killing Staff Sergeant Matthew Lewellen, 27; Staff Sergeant Kevin McEnroe, 30; and Staff Sergeant James Moriarty, 27. He had pleaded not guilty, arguing that the vehicle the three men were in appeared to pose a threat to the base. Prosecutors charged Tawaiha with voluntary manslaughter, violating military orders, and insulting the dignity and reputation of the armed forces. He was sentenced by a military court in Amman to "hard labor for life," which typically lasts 20 years, with the possibility of time off for good behavior.
Now, however, new evidence has emerged that appears to contradict Tawaiha and the Jordanian government's initial version of events.
Jordan's military released a video Monday that showed that Tawaiha deliberately targeted the Americans despite knowing who they were. In the video, the Americans can be seen waving their hands, running from their vehicle, and seeking refuge behind barriers, as the gunman closes in and fires at them. The Jordanian government had initially maintained that the Americans were killed in error, but the six-minute video, which has no sound, casts a different light on what actually happened on November 4, 2016, at the King Faisal Airbase near Amman.
Tawaiha had maintained during the trial that he opened fire because he believed the vehicles the Americans posed a threat. But the relatives of the Americans who died had argued that video evidence, which was made public Monday, proved otherwise. As my colleague Aria Bendix noted at the time of Tawaiha's sentencing:  "The court's ruling appears to confirm [the relatives' version], arguing that al-Tawaiha 'fired a full magazine of ammunition … intending to kill [the soldiers] after it was clear to him who they were.'"
But The New York Times reported that Tawaiha's sentence prompted protests among his tribe, which is seen as influential within Jordan. They argued the life sentence was a means to placate the U.S., and called for a new trial. It's not clear if the release of the video will have any impact on their protests.
Jordan is a key U.S. ally in the Middle East. It is one of two Arab countries (the other is Egypt) to have diplomatic relations with Israel. It's also part of the U.S.-led military coalition against ISIS.