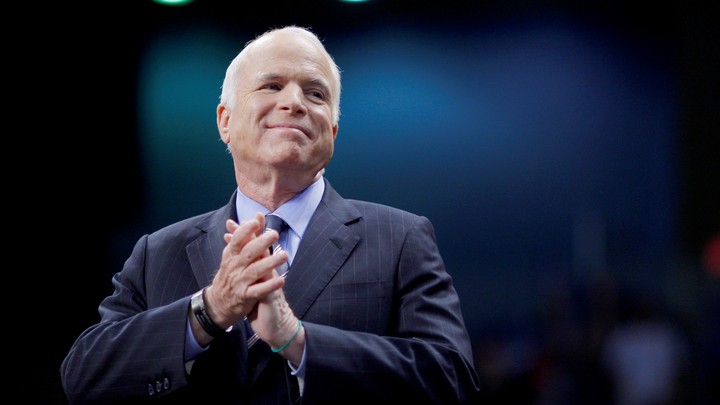 Former U.S. presidential nominee and current Arizona Senator John McCain has been diagnosed with brain cancer at 80 years old, his doctors announced Wednesday. McCain underwent a minor procedure last week to remove a blood clot from above his left eye, which lab results later revealed was associated with a brain tumor known as a glioblastoma. The tumor is considered aggressive, with patients typically surviving around 14 months with treatment.
Doctors at the Mayo Clinic Hospital in Phoenix told CNN that McCain was recovering "amazingly well" from the surgery, which completely removed the cancerous tissue. "The Senator and his family are reviewing further treatment options with his Mayo Clinic care team," they said, adding that "treatment options may include a combination of chemotherapy and radiation." McCain was previously diagnosed with melanoma in 2000, and has received regular cancer screenings since.
The Republican senator, who also serves as the chair of the Senate Armed Services Committee, is known nationwide for his two unsuccessful bids for the presidency, as well as his former status as a Vietnam prisoner-of-war. Under the Trump administration, McCain has broken ranks with the Republican party and advocated for a bipartisan approach to health-care. His surgery last week prompted the Senate to defer action on the GOP's Better Care Reconciliation Act.
On Wednesday, Senate Majority Leader Mitch McConnell, who is spearheading the GOP's effort to repeal Obamacare, expressed his sympathy for McCain. "John McCain is a hero to our Conference and a hero to our country," McConnell said. "He has never shied from a fight and I know that he will face this challenge with the same extraordinary courage that has characterized his life. The entire Senate family's prayers are with John, Cindy, and his family, his staff, and the people of Arizona he represents so well."
Former President Obama, who defeated McCain in the 2008 presidential election, also tweeted his support on Wednesday evening:
John McCain is an American hero & one of the bravest fighters I've ever known. Cancer doesn't know what it's up against. Give it hell, John.

— Barack Obama (@BarackObama) July 20, 2017
His comments were echoed by former Democratic presidential nominee Hillary Clinton and former Vice President Joe Biden:
John McCain is as tough as they come. Thinking of John, Cindy, their wonderful children, & their whole family tonight.

— Hillary Clinton (@HillaryClinton) July 20, 2017
John and I have been friends for 40 years. He's gotten through so much difficulty with so much grace. He is strong - and he will beat this.

— Joe Biden (@JoeBiden) July 20, 2017
Around the same time, President Trump issued a statement sending his "thoughts and prayers" to the McCain family, declaring that the senator "has always been a fighter." During the presidential runoff, Trump faced scrutiny for saying McCain "was not a war hero." "He was a war hero because he was captured," Trump said. "I like people who weren't captured." As president, Trump also criticized McCain for calling a U.S. raid in Yemen a failure, arguing that McCain has "been losing so long he doesn't know how to win anymore."
In a statement released Wednesday evening, McCain's daughter, Meghan, offered a much different portrayal of her father. "It is an experience familiar to us, given my father's previous battle with cancer," she said of the latest diagnosis, adding: "It won't surprise you to learn that in all this, the one of us who is most confident and calm is my father. He is the toughest person I know. The cruelest enemy could not break him. The aggressions of political life could not bend him. So he is meeting this challenge as he has every other. Cancer may afflict him in many ways, but it will not make him surrender. Nothing ever has."
We want to hear what you think about this article. Submit a letter to the editor or write to letters@theatlantic.com.
Aria Bendix
is a frequent contributor to
The Atlantic
, and a former editorial fellow at
CityLab
. Her work has appeared on
Bustle
and
The Harvard Crimson
.