Jared Kushner Maintains He 'Did Not Collude' With Russia in Rare Public Statement
President Trump's son-in-law and adviser addressed reporters after meeting behind closed doors with the Senate Intelligence Committee.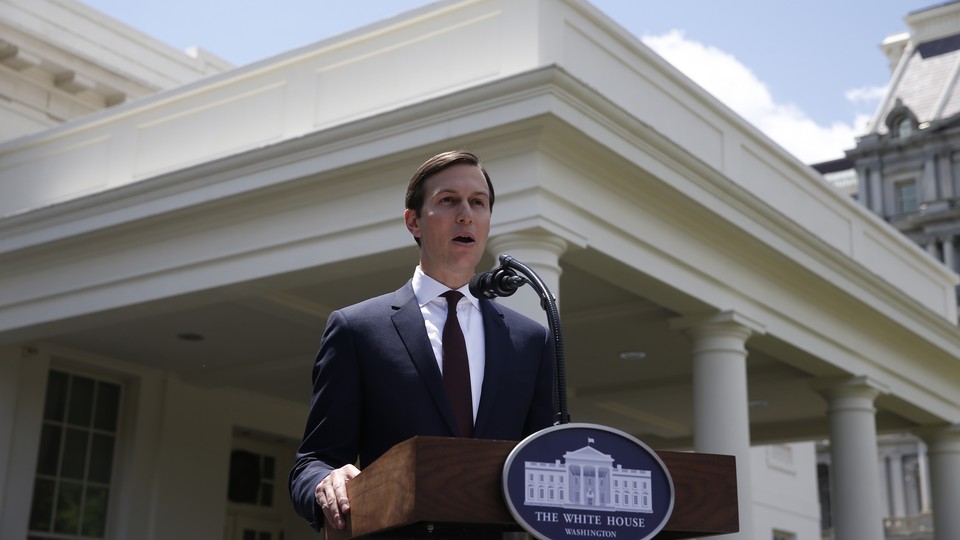 Jared Kushner, President Trump's son-in-law and senior adviser, told reporters Monday that he "did not collude" with Russia, reiterating remarks he made earlier in the day in a closed-door meeting with the Senate Intelligence Committee.
"Let me be very clear: I did not collude with Russia, nor do I know of anyone else in the campaign who did so," Kushner said in an afternoon statement, delivered just outside of the White House.
His prepared remarks to Senate investigators, which were released Monday morning ahead of his appearance, provide an important insight into the workings of the Trump campaign in the days leading up to the 2016 presidential election, as well as into the kinds of contacts Trump's aides had during the period. At the White House, he seemed to summarize his overall argument to lawmakers.
"Since the first questions were raised in March, I have been consistent in saying that I was eager to share any information I have with the investigating bodies, and I have done so today," Kushner said. "The record and documents I have voluntarily provided will show that all of my actions were proper and occurred in the normal course of events of a very unique campaign."
Kushner left the more than two-hour-long meeting on Capitol Hill without taking questions from reporters, but said it went "very well." He is expected to appear Tuesday before the House Intelligence Committee.
Democrats on the panel weren't satisfied with the proceedings. Senator Ron Wyden, a Democrat from Oregon, said in a statement that it's "imperative that the public hear Jared Kushner testify in an open session of the Senate Intelligence Committee, under oath."
"Kushner's statement, which he released publicly to the press, raises far more questions than it answers," Wyden said, calling his remarks about financial ties with Russia "incomplete, at best."
"More broadly, Kushner has repeatedly concealed information about his personal finances and meetings with foreign officials," the lawmaker claimed. "There should be no presumption that he is telling the whole truth in this statement."
Kushner's remarks before the panel came amid increased scrutiny of the Trump campaign's contacts with Russia. The Justice Department and Congress are looking into whether there was collusion between that country's government and the Trump team, and whether the president obstructed justice by firing FBI Director James Comey. U.S. intelligence agencies say Russia interfered in the presidential election to try to help Trump—though they say there's no evidence to suggest it succeeded. In any event, the collusion question has been prominent since Trump's election, possibly because of the president's own reluctance to accept the analysis of his intelligence agencies. Add to this the drip-drip-drip of leaks about the administration's contacts with Russia, and the president has been unable to move past the allegations that could imperil his legislative priorities.
In his lengthy statement to senators, Kushner detailed four meetings with Russian representatives "out of thousands during the campaign and transition, none of which were impactful in any way to the election or particularly memorable." He also provided details about his presence at a now-infamous June 2016 meeting with Donald Trump Jr., Paul Manafort, and a Russian lawyer. Trump Jr. has acknowledged that he attended the meeting because he was promised information on Hillary Clinton's campaign and had invited Manafort and Kushner, his brother-in-law, to attend via email.
"That email was on top of a long back and forth that I did not read at the time," Kushner said, according to the prepared remarks. "As I did with most emails when I was working remotely, I quickly reviewed on my iPhone the relevant message that the meeting would occur at 4:00 PM at his office. Documents confirm my memory that this was calendared as 'Meeting: Don Jr.| Jared Kushner.' No one else was mentioned."
He said he arrived at the meeting late and found the Russian attorney, Natalia Veselnitskaya, discussing the ban on U.S. adoptions of Russian children. This, he said, made him realize his "time was not well-spent at this meeting."
"I actually emailed an assistant from the meeting after I had been there for ten or so minutes and wrote 'Can u pls call me on my cell? Need excuse to get out of meeting,'" Kushner said.
Unlike Trump Jr., Kushner was quick to dispel the idea he attended the meeting because of the type of information purportedly promised. "No part of the meeting I attended included anything about the campaign, there was no follow up to the meeting that I am aware of, I do not recall how many people were there (or their names), and I have no knowledge of any documents being offered or accepted," he said, adding that he had included the meeting in his security-clearance form before it was reported in the media.
Kushner also disclosed that he received an email on October 30, 2016, from the screen name "Guccifer400." "This email, which I interpreted as a hoax, was an extortion attempt and threatened to reveal candidate Trump's tax returns and demanded that we send him 52 bitcoins in exchange for not publishing that information," Kushner noted. "I brought the email to the attention of a U.S. Secret Service agent on the plane we were all travelling on and asked what he thought. He advised me to ignore it and not to reply—which is what I did. The sender never contacted me again."
Kushner provided details of his first encounter with Russian Ambassador Sergey Kislyak during the campaign. He said he was introduced to Kislyak, who has emerged as a key figure in the allegations surrounding Trump's campaign aides and Russia, at the Mayflower Hotel in Washington, D.C., in April 2016, when Trump was delivering a foreign-policy speech. Kushner said he was introduced to Kislyak by Dimitri Simes, the publisher of The National Interest, and that the Russian ambassador was among several guests, including four other ambassadors. The encounter did not extend beyond "brief pleasantries," Kushner said.
Kislyak then contacted him, he said, on November 16, 2016, after the presidential election, requesting a meeting via Kushner's assistant. Kushner said he could not recall the name of the Russian envoy whom he had met seven months earlier. Kushner said the meeting was set up for December 1, two weeks later; it occurred at Trump Tower and lasted 20 to 30 minutes. Michael Flynn, who was briefly Trump's national-security adviser before he resigned over undisclosed meetings with the Russians, was also present, Kushner said.
"I asked Ambassador Kislyak if he would identify the best person (whether the Ambassador or someone else) with whom to have direct discussions and who had contact with his President," Kushner said. "The fact that I was asking about ways to start a dialogue after Election Day should of course be viewed as strong evidence that I was not aware of one that existed before Election Day."
Kushner said their conversation centered on Syria. Kislyak, he said, wanted to convey information from his "generals" and asked if there was a secure line in the transition office through which they could conduct a conversation. Kushner told him no such line existed, but because he "believed developing a thoughtful approach on Syria was a very high priority given the ongoing humanitarian crisis," Kushner asked if there was such a secure line at the Russian Embassy.
"The Ambassador said that would not be possible and so we all agreed that we would receive this information after the Inauguration," Kushner said. "Nothing else occurred. I did not suggest a 'secret back channel.' I did not suggest an on-going secret form of communication for then or for when the administration took office. I did not raise the possibility of using the embassy or any other Russian facility for any purpose other than this one possible conversation in the transition period. We did not discuss sanctions."
On December 13, Kushner met, at the Russian ambassador's behest, with Sergey Gorkov, a Russian banker whom Kislyak said had a direct line to Russian President Vladimir Putin. The meeting in New York lasted 20 to 25 minutes, Kushner said. "There were no specific policies discussed," he noted. "We had no discussion about the sanctions imposed by the Obama administration. At no time was there any discussion about my companies, business transactions, real estate projects, loans, banking arrangements or any private business of any kind."
He emphasized later Monday that his conduct had been aboveboard. "I had no improper contacts. I have not relied on Russian funds for my businesses," Kushner said outside the White House. "And I have been fully transparent in providing all requested information."
Kushner's remarks, while offering description of his own actions, are unlikely to satisfy those who want answers about the Trump campaign's contacts with Russia. They do little to shed light on why Trump Jr. agreed to the June 2016 meeting, Flynn's role in the events, and what Kislyak might have discussed with other Trump campaign officials.
Speaking to reporters on Capitol Hill, Senator Joe Manchin, a Democrat from West Virginia who is on the Senate intelligence panel, said if Kushner doesn't testify publicly, he'd be open to the release of the nonclassified portions of Monday's meeting. "We should make everything as transparent as possible," he said.
Trump Jr. and Manafort, Trump's former campaign chair, are still negotiating with lawmakers about when they will appear on Capitol Hill. In the middle of all this, Trump tweeted Saturday that his authority to issue pardons was "complete," a tacit acknowledgment that he's considering his pardon powers in relation to the Russia investigation, which shows few signs of going away.