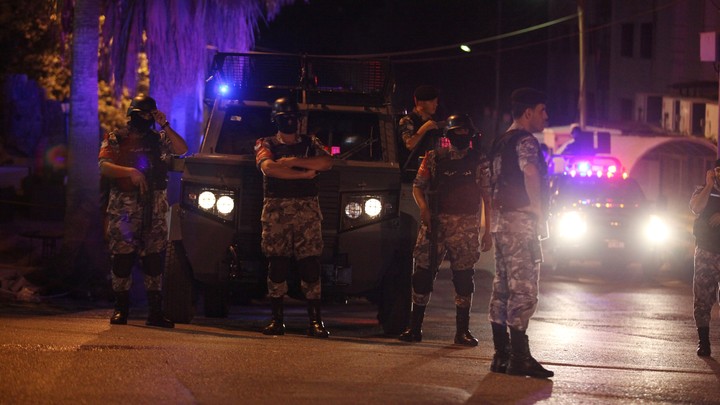 Two people were wounded and one person died Sunday after a shooting  at the Israeli embassy in Jordan's capital, Amman. There are few details on the incident, and the motive is still under investigation. Police said one of the injured was an Israeli, and the other two victims were Jordanians, one of whom died. Both Jordanians worked for a furniture company  and had entered the embassy's compound just before the shooting and were working in one of the residential buildings on site.
Israeli authorities evacuated staff at the embassy, which is located in a wealthy neighborhood and is heavily guarded. Israeli authorities are not commenting on the shooting.
Nothing has been confirmed, but the attack could be linked to recent protests over the Al-Aqsa Mosque in Jerusalem. The site has been at the heart of mass protests, started after the Israeli government installed metal detectors at the mosque's entrance. Israel says they're necessary for protection after three militants earlier this month  attacked and killed two Israeli guards. Muslim leaders see the metal detectors as a challenge to a pact, under which a Muslim organization based in Jordan controls the holy site.
Muslim leaders with the organization, the Waqf, called earlier this week for supporters to boycott the mosque and instead hold prayers outside in the streets. Leaders called for peaceful protest, but in many cases they've turned violent. Police and protesters have both clashed in attacks, especially in the West Bank. Early on Friday some protesters threw rocks at police and officers responded by shooting live ammunition into the crowd, tear gas, and rubber bullets. Three people were killed and hundreds were injured. Later Friday evening, the Israeli government said a Palestinian man snuck into a home in the West Bank and killed three Israelis—two men and a woman eating dinner.
The United Nations has urged Palestinian and Israeli leaders to come to an agreement to avoid more violence. But neither side has budged. Israel said Sunday it was also installing security cameras with facial recognition technology at the mosque, which is meant to supplement the metal detectors. Israel's minister for regional development, Tzachi Hanegbi, told said Sunday that the security measures "will remain. The murderers will never tell us how to search the murderers. If [Palestinians] do not want to enter the mosque, then let them not enter the mosque." But other Israeli leaders have been less rigid. Gilad Erdan, Israel's public security minister, said the metal detectors may eventually be removed in favor of alternative security arrangements being discussed. Otherwise, Erdan said he feared the protests could prompt "large-scale volatility.
Palestinian President Mahmoud Abbas has cut off official contact with Israel and given a hard ultimatum: "If Israel wants security coordination to be resumed, they have to withdraw those measures." Abbas was referring to a joint agreement with Israel to police and prevent terrorist attacks in the area. There's already proof of the agreements breakdown: on Saturday a  Palestinian man was killed as a bomb he was building went off early, and on Sunday a rocket was launched from the Gaza Strip into Israel. It hit an open area and no one was injured.
We want to hear what you think about this article. Submit a letter to the editor or write to letters@theatlantic.com.