ISIS Claims Responsibility for Attack on Egyptian Soldiers
At least 23 soldiers were killed by gunfire and a suicide bomb in northern Sinai.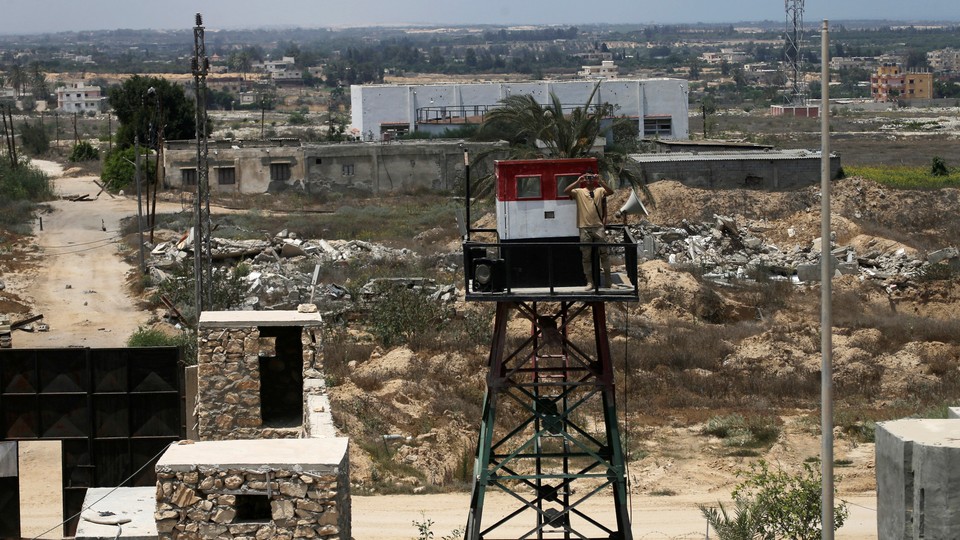 At least 23 Egyptian soldiers were killed and another 26 wounded after ISIS militants attacked an army outpost in the northern Sinai peninsula on Friday. The attack took place in the early morning, beginning with a suicide bomber driving his vehicle into a military checkpoint outside Rafah, a border town near the Gaza Strip. The violence soon escalated as dozens of masked militants appeared at the outpost, opening fire for around 30 minutes before stealing weapons and ammunition. The Egyptian army said around 40 militants were killed in a shootout with security forces, with the remaining militants eventually fleeing the scene.
The explosion is believed to have disabled the military's communications system, forcing one officer to deliver a message to his colleagues via WhatsApp. "Anyone who knows how to reach the command center, notify them to use artillery, as we are still alive," the officer said in an audio message later distributed on social media. "This might be the last seconds in my life," he said, before praising God and promising to "either avenge [the deaths of his fellow officers] or die."
ISIS assumed responsibility for the attack late Friday evening, claiming that the Egyptian army was plotting to attack their positions in Sinai. The group has led an insurgency in the region since 2013, around the same time that a military coup overthrew former Egyptian President Mohammed Morsi. While ISIS frequently targets soldiers and police forces in Egypt, its latest attacks have been directed at the nation's Coptic Christian minority—one of the oldest Christian groups in the world.
In May, ISIS militants attacked a bus in central Egypt filled with Coptic Christians, killing at least 28. A month later, two blasts targeting Coptic Christian churches killed at least 44 people. The explosions—which were timed to coincide with Palm Sunday, a major Christian holiday—prompted a nationwide state of emergency, which was recently extended until September.
While the latest attack in Sinai was consistent with previous ISIS-led assaults, it marked the deadliest attack in the region in two years. On Friday, a spokesperson for the Egyptian army, Tamer el-Rifai, said the military thwarted a number attempted assaults on military checkpoints in Rafah that same day. With ISIS fighters losing ground in Syria and Iraq, the group's Sinai militants have emerged as a growing threat to Egypt and its neighbors.
In April, President Trump affirmed his support for Egyptian President Abdel Fattah al-Sisi, who he said "took control" of Egypt during "a very difficult situation." Trump also praised Sisi for "[taking] the terrorists out" and promised to continue working with Egypt to combat international threats. The U.S. State Department affirmed this policy in the wake of Friday's attack, saying it continues "to stand with Egypt as it confronts terrorism."