Iraqi Forces Take Mosul
Prime Minister Haider al-Abadi flew to the northern city and declared victory on Sunday.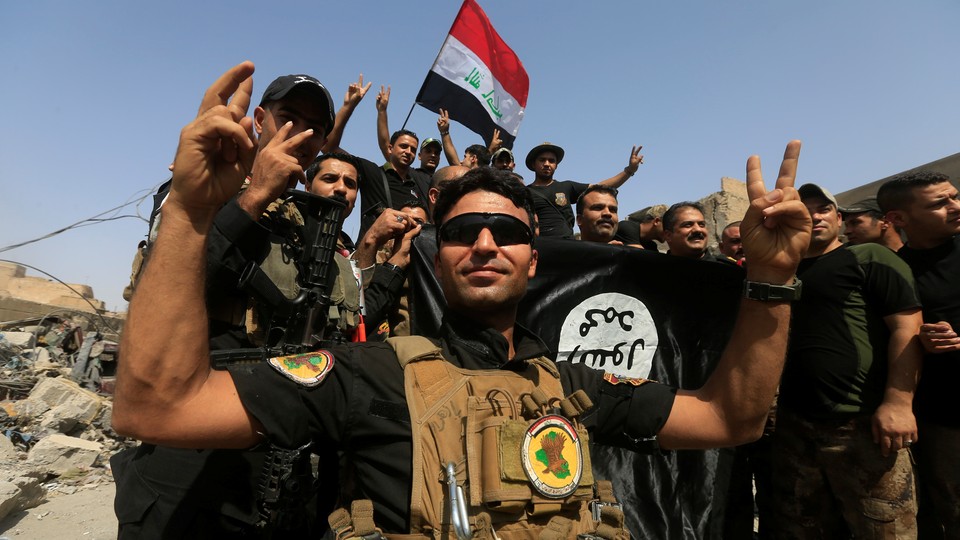 Iraqi Prime Minister Haider al-Abadi congratulated soldiers in Mosul on Sunday and declared victory over the Islamic State. The announcement formally brings nine months of fighting to a close and signals the recapture of the largest city held by ISIS. But it is far from an end to fighting against the militants. Even on the edges of the city, Reuters reported that gunfire and mortar shells could be heard while Abadi gave his statement, a reminder that it will still be some time before ISIS is completely removed from the city, and even longer from the country.
Abad was dressed in the black military uniform of the country's elite Counterterrorism Service, and for a moment troops draped the Iraqi flag over his shoulders. He was quoted by local media saying that he "congratulates the heroic fighters and the people on the big victory."
PM Al-Abadi arrives in Mosul to announce its liberation and congratulate the armed forces and Iraqi people on this victory pic.twitter.com/bUtkj7z88A

— Haider Al-Abadi (@HaiderAlAbadi) July 9, 2017

ISIS militants took Mosul three years ago. Their leader, Abu Bakr al-Baghdadi, stood at the top of the city's historic al-Nuri Mosque and declared a caliphate. Mosul was the most significant victory for the terrorist organization, and the group would go on to claim swaths of land that crossed the borders of Iraq and Syria. More than 2 million people lived in Mosul alone, and under ISIS residents saw regular executions, torture for men who did not wear their beards long in accordance with strict Islamic law, and women taken as sex slaves for fighters.
The assault to reclaim Mosul began in October and was backed by U.S. airstrikes. Government forces first took the surrounding countryside and towns, then worked their way toward the city's heart. As they entered the historic Old City, ISIS had rigged explosives to buildings and set bombs in cars to slow the government's advance. Militants even used civilians as human shields. Much of Mosul is rubble, with the walls and ceilings of cement buildings toppled. The New York Times reported that of Western Mosul's 54 neighborhoods, 15 were heavily damaged, and 23 more were moderately damaged. As government forces closed in around the Old City, last month ISIS destroyed the al-Nuri Mosque and leveled its famous leaning minaret.
Now, as Iraqi forces drive all ISIS fighters from Mosul, the government will be faced with the equally difficult task of restoring the city. Electricity and water is down. Hospitals, schools, and most stores have been destroyed. Thousands of civilians were killed in the fighting, many by ISIS and some by U.S. strikes. Nearly a million people were displaced, and at the moment there is no sense of how many will return.
Without Mosul, ISIS has lost a symbolic trophy. It is also about to lose its capital, the Syrian city of Raqqa. Since announcing its caliphate three years ago, ISIS has lost an estimated 60 percent of its territory in Iraq and Syrian, and if it loses Raqqa, it will have lost control over all major cities. But driving ISIS out of urban centers does not mean peace will return to the territory. ISIS still holds several cities in northern Iraq as well as territory along the Euphrates River. And even if the group is driven from those areas, ISIS will likely revert to more militant tactics of guerrilla warfare and suicide bombings in populated cities.