Iraqi Prime Minister Declares Victory in Mosul
The announcement marks the end of nine months of fighting for the largest city under ISIS control.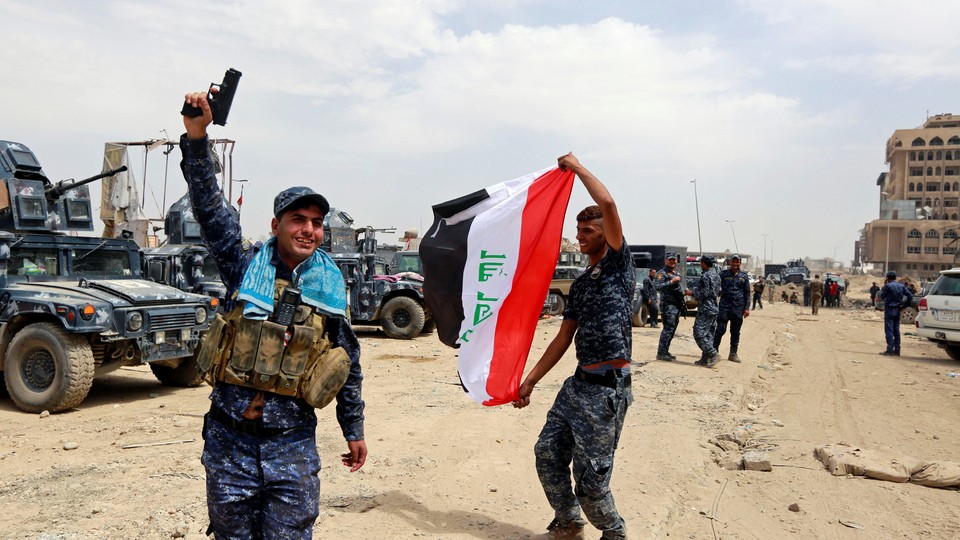 Iraqi Prime Minister Haider al-Abadi officially declared Mosul retaken on Monday after ISIS seized the city three years ago. Abadi had traveled Sunday to Mosul to congratulate soldiers. In the background, gunfire could be heard as Iraqi forces continued to battle the militant group near the Tigris river. Later, Iraqi soldiers planted a flag there to signal their victory.
"From here, from the heart of the liberated and free Mosul, by the sacrifices of the Iraqis from all the provinces, we declare the great victory for all of Iraq and Iraqis," Abadi said. "This is a great celebration that crowned the victories of the fighters and the Iraqis over the last three years."
Thousands of civilians have died in the fight, and nearly a million were displaced. Once the government has completely secured the city, it will turn to rebuilding, a difficult task because much of Mosul has been leveled by bombs, both from U.S. strikes and ISIS.
The loss of Mosul is a major blow to ISIS. It was the largest city to come under the group's control, and it is also about to lose its de-facto capital, Raqqa, in Syria, as forces there also push out the militants.
"The fighting may be over, but the humanitarian crisis is not," UN Humanitarian Coordinator for Iraq Lise Grande told Reuters."Many of the people who have fled have lost everything. They need shelter, food, health care, water, sanitation and emergency kits. The levels of trauma we are seeing are some of the highest anywhere. What people have experienced is nearly unimaginable."
Along with physically rebuilding Mosul, the Iraqi government will need to work on the ethnic and religious tensions in the city that allowed it to fall.The Iraqi government will also have to create a strong and permanent security presence in the city, and it is expected that ISIS members will target it in the future with suicide attacks or guerrilla assaults.