Iraq Investigates Videos of Troops Killing Mosul Detainees
Human Rights Watch has been quick to condemn the footage, which is still being authenticated.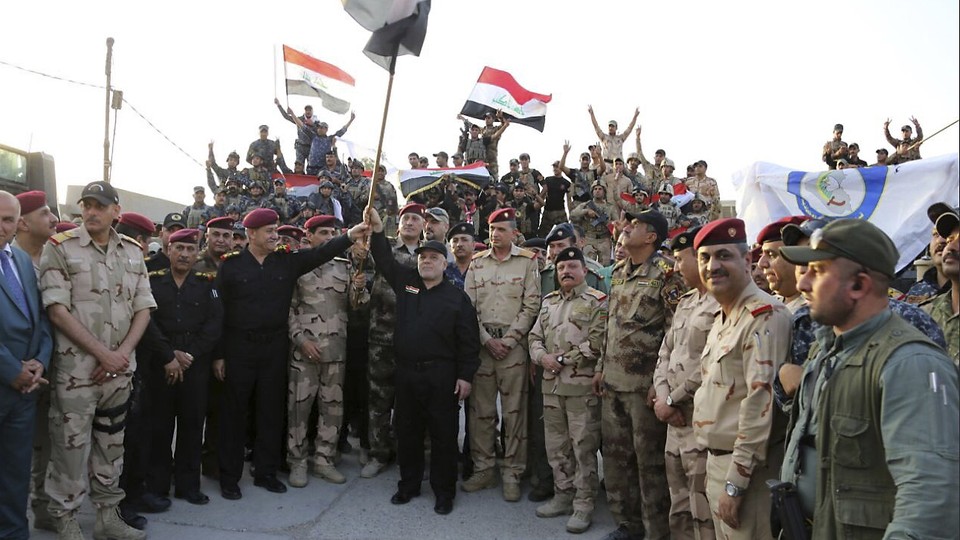 Following the release of videos on social media that appear to show Iraqi troops killing and beating detained ISIS militants in Mosul, the Iraqi government said they were investigating the footage. A spokesman for Iraq's defense ministry, Mohammed al-Khudhari, told the Associated Press on Thursday that troops were given "very clear instructions and guidance" to turn over suspected militants, who await interrogation, followed by a court hearing. Any soldiers who violate these instructions, he said, would be tried in military court. Saad Maan, a spokesman for Iraq's interior ministry, said "a number" of the soldiers who appear in the videos had been suspended. Maan also admitted to reporters that "there might be some misbehavior or inappropriate conduct."
While the footage has yet to be authenticated, the U.S.-based Human Rights Watch condemned the videos on Thursday for their demonstrations of torture and abuse. "In the final weeks of the battle for west Mosul, the pervasive attitude that I have observed among armed forces has been of momentum, the desire to get the battle wrapped up as quickly as possible, and a collapse of adherences to the laws of war," Belkis Wille, the organization's senior Iraq researcher, told the BBC. On Monday, Iraqi Prime Minister Haider al-Abadi declared Mosul recaptured from ISIS following an eight-and-a-half-month offensive in the region. In the wake of the announcement, locals reported seeing "vengeance killings" against suspected ISIS militants.
Last month, Human Rights Watch released a report citing four witnesses who saw Iraqi troops beat and unlawfully kill men and boys fleeing Mosul. "I have heard of countless abuses and executions in this battle," one witness said. "What's changed is that in this final phase fighters … are comfortable allowing us to witness the abuses first-hand." On Thursday, the organization released another report claiming that at least 170 families of suspected ISIS militants were forcibly taken to a "rehabilitation camp" outside Mosul—an act that could constitute a war crime. At least ten women and children died at or while traveling to the camp, the report said, with the majority of them succumbing to dehydration.
If authentic, the latest footage points to even more severe crimes carried out by Iraqi troops. According to multiple sources, the most gruesome video released on social media shows uniformed men kicking and beating several suspected militants. One of the men is then dragged outside and thrown over the edge of a cliff, before soldiers fire bullets at his motionless body. The footage also shows the bodies of other men on the ground, with soldiers shooting at them in the background. A second video shows a uniformed man shooting an unarmed detainee, who is kneeling in front of a car. Two other videos reveal soldiers beating and kicking detained suspects.
According to Human Rights Watch, the footage was released Tuesday and Wednesday by an Iraqi man who frequently reports on military activities in the Mosul area. The organization said they had verified the location of the videos using satellite imagery. Around the same time that the videos were posted online, the human rights group Amnesty International released a report claiming that Iraqi and U.S.-backed coalition forces carried out "unlawful attacks" on civilians in Mosul. The report specifically alleged that government and coalition forces used unnecessarily powerful weapons to target ISIS militants and "failed to take effective precautions to protect civilians when planning and executing attacks." While the organization recorded nearly 430 civilian deaths during 45 government-led attacks in Mosul, they speculated that thousands of civilians had been killed by Iraqi forces.
On Wednesday, Prime Minister Abadi's response to the report incited concern among human rights advocates. Without directly calling out Amnesty International, Abadi urged "humanitarian organizations to check and verify their sources," arguing that Iraqi soldiers "are human rights' defenders who sacrificed themselves for the liberation of humanity and the rescue of civilians." He added that "no terrorist escapes punishment and we will not issue an amnesty for the murderous terrorists." A day later, Human Rights Watch argued that silence from the Iraqi government with regard to human rights abuses "only further foster[s] the feeling of impunity among armed forces in Mosul."