Iran Claims It Launched a Satellite-Carrying Rocket Into Space
The move is likely a response to a recent sanctions package targeting the nation's ballistic-missile program.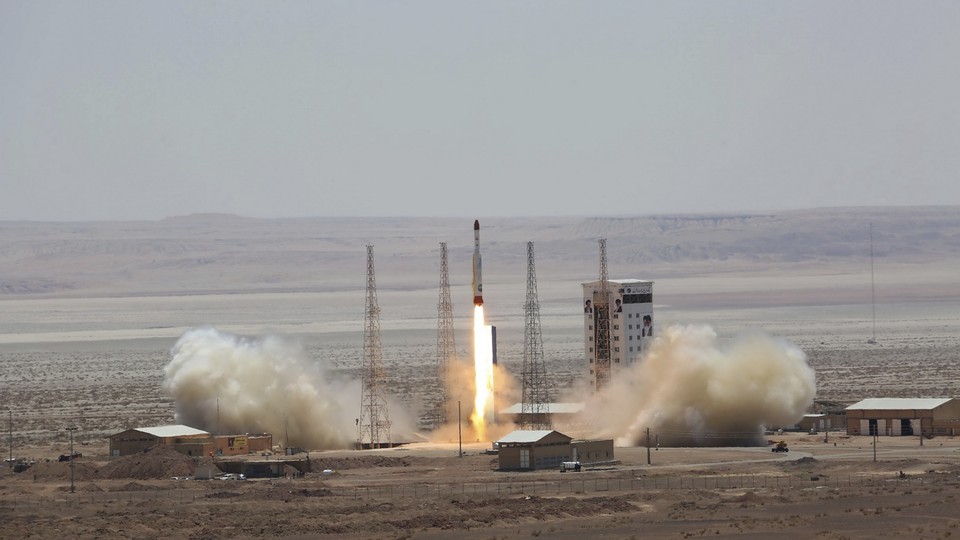 Iran successfully launched an advanced satellite-carrying rocket into space on Thursday, the nation's state news channel announced. Experts describe the "Simorgh" rocket, whose name translates to "phoenix" in Persian, as a copy of North Korea's Unha rocket, which uses some of the same technology as a long-range ballistic missile. On Thursday, the Iranian state media said the "Simorgh," which took off from the Imam Khomeini National Space Station in the northern city of Semnan, was capable of carrying a 550-pound satellite. The launch, if confirmed by outside sources, marks a significant advancement of Iran's fledgling space program, which conducted its last successful satellite rocket launch in February 2015.
Thursday's test launch appears to be a direct reaction to a new round of sanctions imposed last week by the U.S. that targets 18 individuals and entities in Iran. Of those sanctioned, two Iranian organizations were accused of being involved with the nation's ballistic-missile program. "This administration will continue to aggressively target Iran's malign activity, including their ongoing state support of terrorism, ballistic missile program, and human rights abuses," U.S. Treasury Secretary Steven Mnuchin said in a press release.
The sanctions arrived less than a day after President Trump certified that Iran had complied with a 2015 nuclear agreement with the U.S. and five other world powers known as the Joint Comprehensive Plan of Action (JCPOA). The deal, which Trump has previously called the "the worst" ever, legally requires the U.S. administration to report on the status of Iran's nuclear program every 90 days. While the JCPOA limits the scope of Iran's nuclear program, it does not explicitly prohibit the nation from conducting missile tests. Still, many experts fear that Iran's space program could be concealing the nation's efforts to develop an intercontinental ballistic missile (ICBM) aimed at the U.S. At the very least, a Pentagon report claimed last month, Iran's rocket tests could "shorten a pathway" to developing an ICBM.
According to a New York Times report, Trump was reluctant to sign off on Iran's compliance with the JCPOA last week, suggesting to his aides that he might deny the certification in the future. On Tuesday, Trump told the Wall Street Journal he would be "surprised" if Iran passed its next review in three months. "We'll talk about the subject in 90 days," he said. "If it was up to me, I would have had them noncompliant 180 days ago." Later that night at a speech in Youngstown, Ohio, Trump warned Iran that it could face "big, big problems" if it failed to comply. Instead of thanking the U.S. for the certification, Trump said, Iran had become "emboldened" by the deal. "That won't take place much longer," he added.
Experts now believe that Iran will monitor the U.S. to gauge its reaction to the missile launch. Hours before the launch was announced, senior U.S. officials told the Associated Press that the Trump administration was keen to test the strength of the JCPOA, hoping to eliminate "serious flaws" in the deal. To start, the administration is considering a follow-up agreement that prevents Iran from advancing its nuclear program after the deal expires. Officials also said the U.S. hopes to procure convincing evidence that the International Atomic Energy Agency should inspect Iranian military sites. Whether the latest rocket launch enhances or hinders these priorities remains to be seen, though one thing seems clear: "You want the breakup of [the JCPOA] to be about Iran," said Bob Corker, the chairman of the Senate Foreign Relations Committee, at an event on Wednesday. "You don't want it to be about the U.S."