Hundreds of ISIS Fighters Remain in Mosul
With around 300 militants trapped in the city, Iraqi special forces have heightened their inspection of fleeing civilians.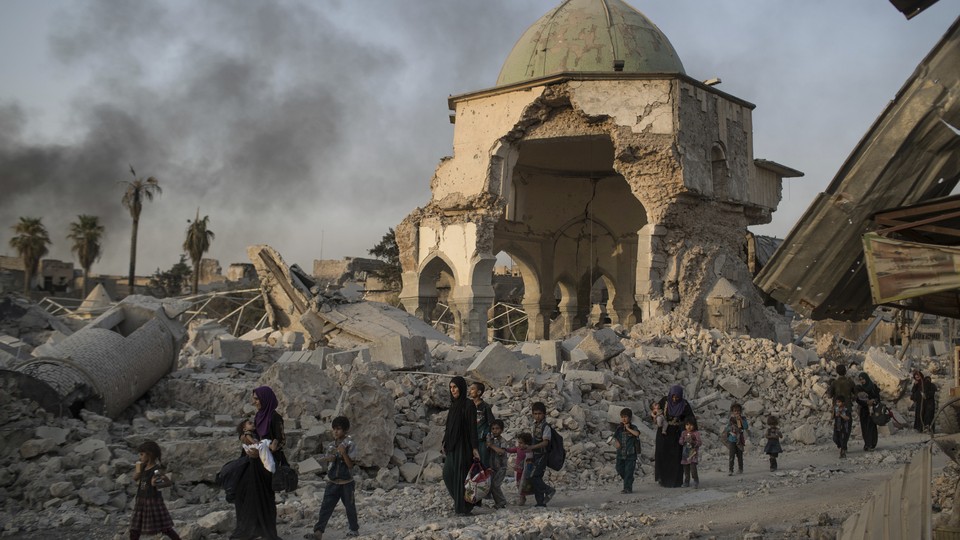 Around 300 ISIS fighters are being held in a 5,400-square-foot territory in Mosul—the militant group's de facto capital in Iraq—Iraqi special forces announced Wednesday. The Iraqi government, backed by a U.S.-led coalition, is currently in the final stage of an eight-and-a-half-month offensive to overtake the western half of Mosul. Less than two weeks ago, Iraqi forces recaptured the Great Mosque of al-Nuri, the site where ISIS leader Abu Bakr al-Baghdadi declared a "caliphate" in 2014. Immediately following the victory, Iraq's prime minister, Haider al-Abadi, proclaimed an end to ISIS's "state of falsehood."
With the battle all but won, a relatively small group of ISIS militants, as well as thousands of local civilians, remain trapped in Mosul's Old City. For every 100 yards gained by Iraqi forces, another 1,500 civilians flee the area, the Associated Press reports. As the fighting continues, Iraqi forces have become increasingly skeptical of fleeing civilians, whom they accuse of being related to ISIS militants. "We know they are all [ISIS] families, but what do we do, kill them all?" asked an Iraqi solider who was quoted by the AP.
On Wednesday, soldiers hurried along groups of displaced civilians, who have suffered for months from limited access to food and water. That same day, Doctors Without Borders reported that only a "fraction [of those] … who require medical attention are receiving it, and many are dying on the battlefield." "None of the previous battles were like this," Iraqi Major Faris Aboud told the AP early Wednesday morning, adding that he had received 300 wounded victims in just one day at a small hospital outside the Old City.
Women and children whose bags were searched by security forces have been allowed to pass through, but men and boys await much harsher inspection. After being asked to present their ID cards, those without documentation are then detained for questioning. Abdul-Ghani al-Asadi, a senior special forces commander, told the AP that the screening is necessary to weed out lingering ISIS militants. "These are not children," he said. "They are cubs of the caliphate."
The main source of tension stems from a recent string of suicide bombings predominantly carried out by female ISIS fighters posing as civilians. Since Sunday, at least 20 female bombers have conducted targeted attacks on civilians and Iraqi forces in Mosul. On Monday morning, an attack orchestrated by two female suicide bombers killed one soldier and wounded several others in the Old City. A day earlier, a suicide bomber detonated an explosive device at a camp for displaced people west of Baghdad, killing 14 and injuring 13. On Thursday, Prime Minister al-Abadi said Iraqi forces would "continue to fight [ISIS] until every last one of them is killed or brought to justice." In all likelihood, their attempt to capture hundreds of remaining militants will result in injury or death for an even greater number of civilians.