Gunman Who Killed Boris Nemtsov Receives 20-Year Prison Sentence
Dadayev and his accomplices were sentenced on Thursday—but Nemtsov's legal team insists the case has yet to be closed.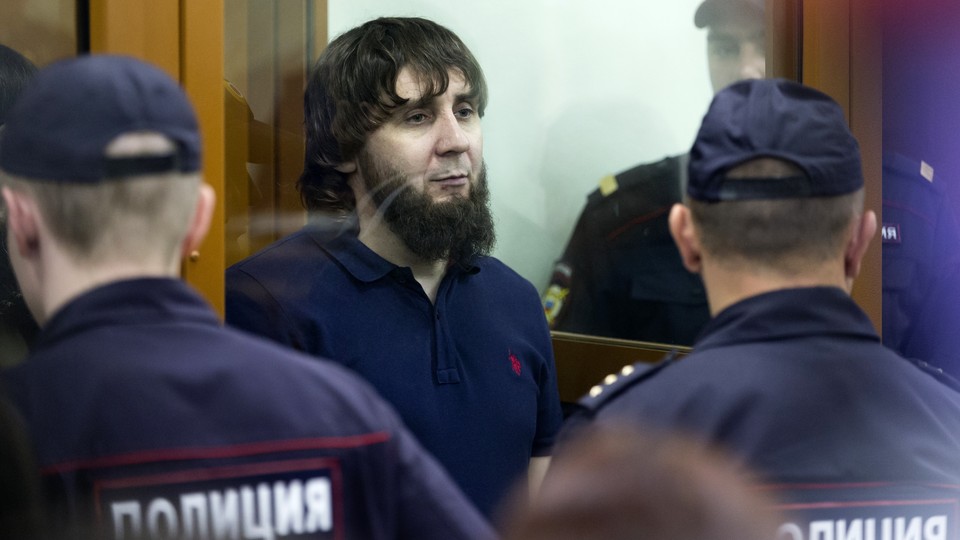 Zaur Dadayev, the gunman who fatally shot Russian opposition leader Boris Nemtsov in February 2015, was sentenced to 20 years in prison by a Moscow military court on Thursday following his conviction in late June. Prosecutors originally asked for Dadayev, a former member of an elite security battalion in Chechnya, to receive life in prison. On Thursday, Dadayev's four accomplices were sentenced to 11 to 19 years in jail. Anzor Gubashev, the man who allegedly drove Dadayev to and from the crime scene, received a 19-year prison sentence, while his brother, Shadid, was sentenced to 16 years. The remaining accomplices, Tamerlan Eskerkhanov and Khamzat Bakhayev, were sentenced to 14 and 11 years, respectively, for helping plan the murder.
All five men smirked and laughed as they received their verdicts on Thursday from behind a glass enclosure. One of the men used the steam fogging up the glass to scroll out the phrase, "A LIE," which he misspelled, the BBC reports. During their testimony, the men claimed that people would be forced to "answer" for their unfair imprisonment. Their defense lawyers now say they will appeal some of the charges. On Thursday, Eskerkhanov's lawyer told The Moscow Times that she expected Eskerkhanov and Bakhayev to be pardoned, arguing that "everyone understands" her client's innocence.
Indeed, even as the Moscow court brought an end to the case, questions remain about the involvement of those convicted—and whether others were complicit as well. At age 55, Nemtsov was murdered on a bridge near the Kremlin. On the evening of his assassination, he gave a radio interview in which he urged listeners to join an upcoming protest against Russia's annexation of Crimea. Nemtsov, who once served as deputy prime minister under Russia's former president Boris Yeltsin, had long criticized President Vladimir Putin for his military involvement in Crimea and eastern Ukraine. Around the time of his death, Nemtsov was also planning to publish a report claiming that Russian troops were fighting alongside rebel forces in eastern Ukraine—a revelation that could have severely damaged Putin's reputation.
Many believe that the five men convicted on Thursday are merely puppets in an organized scheme to silence Nemtsov. Nemtsov's legal team has argued that Dadayev and his accomplices sit at the bottom of a larger chain of command leading back to Ramzan Kadyrov, the Chechnyan leader known for his brutal governance. Multiple news outlets have reported that Dadayev and the other four men were paid around $240,000 to carry out the murder. Russia's human rights council has further argued that Dadayev's confession was coerced under torture. The sudden replacement of the case's chief investigator in May 2015 has also fueled suspicion that Russian authorities are trying to protect the true culprits.
"For us, this is just the start," the Nemtsov family lawyer, Vadim Prokhorov, told The Moscow Times after Thursday's verdict. "We demand that this insolent and unprecedented murder, which took place literally opposite the Kremlin, is actually investigated and the guilty are punished." He added that a case with no known organizers could never be considered closed. While Prokhorov referred to the investigation as "a fiasco," he said he remained "absolutely convinced that this crime will be closed with time."