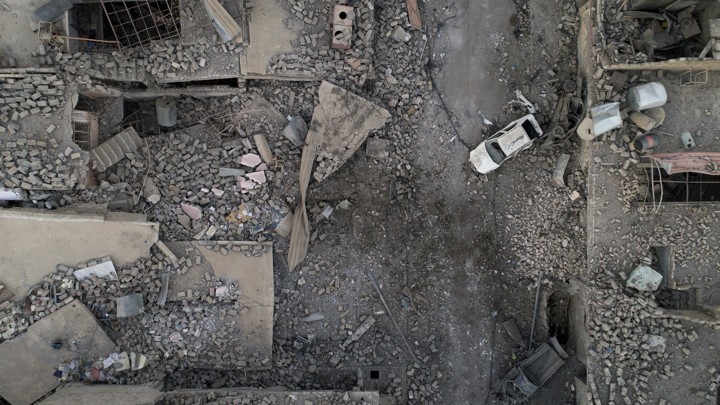 International observers have discovered an execution site in Mosul, where an eight-and-a-half-month-long offensive to retake the city from ISIS militants is drawing to a close, Human Rights Watch reported on Wednesday. The site was first discovered on July 17 when a shopkeeper in west Mosul brought the observers to an empty building containing 17 male corpses. Photos given to Human Rights Watch show the corpses lined up in a row, with their hands tied behind their backs. The men, seen wearing civilian clothing, had presumably been blindfolded before their death.
The discovery adds to mounting evidence that Iraqi forces in Mosul have unlawfully detained, tortured, and murdered ISIS militants after declaring victory in the region on July 10. On Monday, international observers reported seeing soldiers from Iraq's Counter Terrorism Service in west Mosul around the time of their visit to the execution site. The shopkeeper also reported seeing Iraqi security forces in the area four nights before uncovering the corpses. The night before the discovery, he said, he heard gunshots coming from an area near the empty building.
The report from Human Rights Watch comes just days after four videos allegedly showed Iraqi troops killing and beating detained militants. The footage was released on social media by Salah al-Imara, an Iraqi man who frequently reports on military activities in the Mosul area. Human Rights Watch later verified the location of the first video using satellite imagery. In the video, uniformed men are found beating several suspected militants before dragging one of them outside, throwing him over a cliff, and firing bullets at his motionless body. A second video shows a uniformed man shooting an unarmed detainee, while the remaining two videos show soldiers beating and kicking detainees.
As violence in the region continues, Iraqi forces have become increasingly suspicious of Mosul civilians, whom they accuse of being related to ISIS militants. Human Rights Watch reports that Iraq's interior ministry has held at least 1,200 detainees without charge over the course of the offensive, believing them to be ISIS affiliates. The organization further claims that detainees are subjected to inhumane conditions, and at times tortured or executed. Over the last two weeks, multiple witnesses have reported seeing evidence of "revenge killings" against suspected militants.
Iraqi Prime Minister Haider al-Abadi has since referred to the killings as "individual acts" and called on humanitarian organizations to "check and verify their sources." The Iraqi soldiers, he said, "are human rights' defenders who sacrificed themselves for the liberation of humanity and the rescue of civilians." At the same time, a spokesman for Iraq's interior ministry has admitted that "there might be some misbehavior or inappropriate conduct" among Iraqi troops.
On Wednesday, Human Rights Watch urged al-Abadi to take "concrete steps to end the grotesque abuses by his own security forces." "As Prime Minister Abadi enjoys victory in Mosul, he is ignoring the flood of evidence of his soldiers committing vicious war crimes in the very city he's promised to liberate," said Sarah Leah Whitson, the organization's Middle East director. In reference to the ethnic and religious tensions that have spurred violence in Mosul, Whitson emphasized the need for greater transparency from high-ranking officials. "As we well know in Iraq," she said, "if the government doesn't provide an accounting for these murders, the Iraqi people may take matters into their own hands."
We want to hear what you think about this article. Submit a letter to the editor or write to letters@theatlantic.com.
Aria Bendix
is a frequent contributor to
The Atlantic
, and a former editorial fellow at
CityLab
. Her work has appeared on
Bustle
and
The Harvard Crimson
.