Minneapolis Police Chief Resigns Over Shooting
The resignation, prompted by the unexpected killing of a 911 caller, was perhaps years in the making.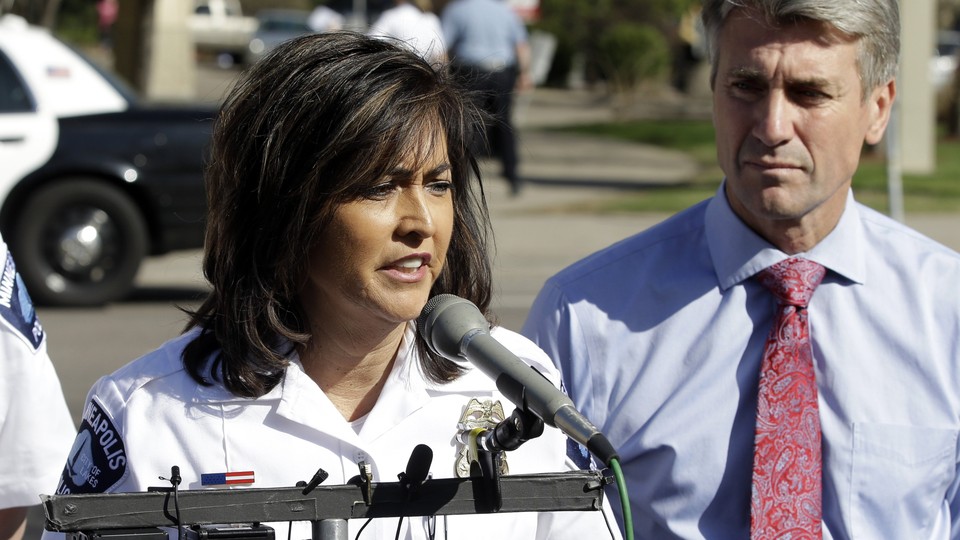 Minneapolis Police Chief Janee Harteau resigned on Friday, nearly a week after an officer from her department fatally shot an Australian woman who called 911 to report a possible sexual assault in the alley behind her home. Harteau's resignation honored a request from Minneapolis Mayor Betsy Hodges, who said she had "lost confidence in the chief's ability to lead us further." Hodges added that "from the many conservations I've had with people around our city, especially this week, it is clear that [Harteau] has lost the confidence of the people of Minneapolis as well."
At around 11:30 p.m. local time on Saturday, two Minneapolis police officers, Mohamed Noor and Matthew Harrity, responded to two 911 calls from 40-year-old Justine Damond, who reported what she believed to be evidence of a rape. When the officers arrived at the scene, Harrity, who drove the car, was reportedly startled by a loud noise. The sight of Damond at the driver's side window immediately afterward prompted Noor to fire his gun, fatally wounding Damond in the abdomen. Lending additional scrutiny to the case was the fact the officers did not activate their body cameras upon arrival.
While Harrity has provided his own account of the incident, Noor—the first Somali-American police officer in Minneapolis's 5th precinct—has declined to speak with investigators. Both officers have been placed on administrative leave as they await possible charges. At a Thursday news conference following the shooting, Harteau said that Damond "didn't have to die," but argued the incident was the result of "one individual's actions." She added that Minneapolis officers were not trained to act as Noor did on Saturday night—a comment that incited scrutiny, given the fatal shooting of Philando Castile outside the city in July 2016 and the death of 24-year-old Jamar Clark during a scuffle with two Minneapolis police officers in November 2015.
Many also criticized Harteau for being out of town at the time of Friday's shooting. She told reporters on Thursday that she had been backpacking in an area with limited cell service, making it "challenging" for her to return until four days later. As the first female, openly gay, and Native American police chief in Minneapolis, Harteau has overcome numerous hurdles in her 30-year career with the city's police department. While serving as an officer in the 1990s, Harteau filed a discrimination and sexual harassment complaint against some of her male co-workers, which helped to improve the city's training and discipline policies. Three years ago, she was dubbed the grand marshal of Minneapolis's annual Pride Parade.
While Harteau said on Friday that she was proud of her accomplishments as police chief, she claimed that "last Saturday's tragedy, as well as some other recent incidents" prompted her to "engage in deep reflection." "I've decided I am willing to step aside to let a fresh set of leadership eyes see what more can be done for the MPD to be the very best it can be," she said. Hodges has since nominated the department's assistant chief, Medaria Arradondo, to fill Harteau's role. Arradondo, an African American male who served as the face of the department while Harteau was away this week, joined the Minneapolis police force shortly after Harteau in 1989.
As mayor and police chief of Minneapolis, Hodges and Harteau were known for their frequent clashes. Following the death of Jamar Clark, an 18-day protest outside the city's police station seemed to reveal the extent of their disagreement, with a U.S. Department of Justice review criticizing their poor communication. In April, Hodges also rejected Harteau's choice for a senior command position, further highlighting their struggle to collaborate. As Hodges seeks reelection this year, many speculate that her call for Harteau to resign, though well-received, was also strategic.
After announcing Harteau's resignation on Friday, Hodges was bombarded by screaming protesters who demanded her resignation as well. Those inside the press conference at City Hall shouted "Bye, bye, Betsy" as Hodges tried to speak, while those outside chanted, "No justice, no peace." The outrage was so severe that Hodges was forced to cut the conference short. She later returned and told reporters she would not be resigning. "It is understandable to me that people's frustration is high. I share that frustration," she said, adding: "I hope people appreciate that there is no magic wand for public safety."