Dozens Found Guilty in Thailand's Largest Human Trafficking Trial
More than 60 individuals received prison sentences ranging from four to 94 years.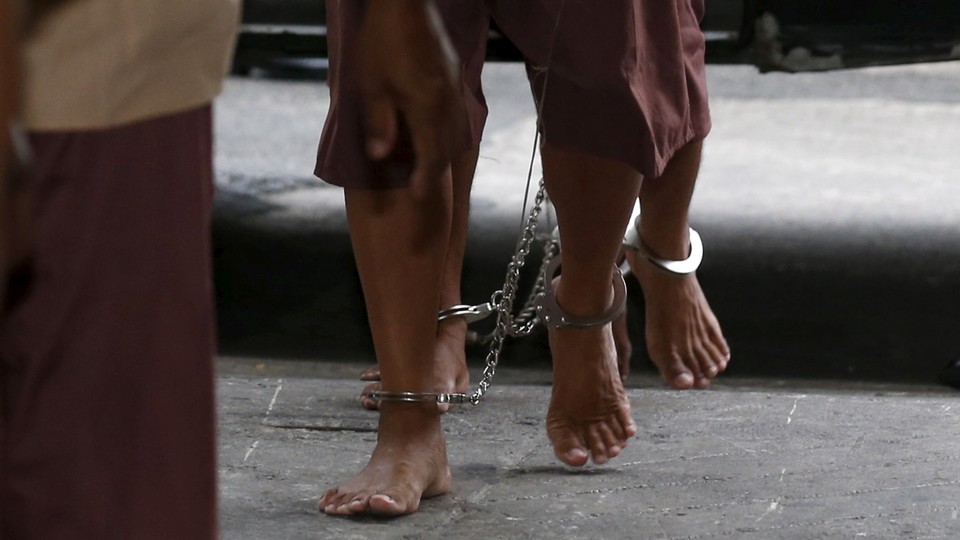 More than 60 people were sentenced to jail by a Bangkok court on Wednesday in the largest human trafficking trial in Thailand's history. Among those convicted is former army general Manas Kongpan, who was sentenced to 27 years for trafficking and organized transnational crime. The Thai newspaper The Nation reports that convictions for senior officials are "extremely rare" in Thailand, which is controlled by the National Council for Peace and Order (NCPO), a military junta. In the wake of the verdict, Thailand's prime minister and chief of the NCPO, Prayuth Chan-ocha, asked citizens not to brand the entire military as criminals, arguing that "there are many people in this human trafficking network."
Also included in the list of convicted criminals are former local politicians Patchuban Angchotipan ("Ko-Tong") and Bannakong Pongphol, who were sentenced to 75 years and 78 years, respectively. Overall, 62 out of 103 defendants were convicted for charges like human trafficking, murder, holding people for ransom, and the unlawful use of firearms or other weapons. All of the defendants pleaded "not guilty" to trafficking charges. Sentences ranged from four years to 94 years, though the maximum sentence under Thai criminal code is 50 years. Sunai Phasuk, a senior Thailand researcher for Human Rights Watch, told Reuters that some criminals could be eligible to receive the death penalty. "The fact that there are very senior officials charged with this crime will help deter criminals in trafficking networks in the future," he added.
Wednesday's convictions mark the culmination of a lengthy investigation, beginning in 2015 when dozens of shallow graves were discovered near the Thai-Malaysia border. Investigators later found that smugglers were holding migrants hostage in jungle camps until their relatives could pay their ransom. Most of the migrants were poor Bangladeshis or Rohingya Muslims, a persecuted minority group that has been fleeing Myanmar for decades. The migrants were reportedly denied sufficient food and water and beaten when they requested more. As the government began to issue arrest warrants, many migrants were abandoned by smugglers at sea, with neighboring countries refusing to open their doors.
In December 2015, Thailand's leading investigator, Paween Pongsirin, fled to Australia, claiming that "some influential figures" wanted him killed. A few months earlier, pressure from the government, military, and police put a temporary halt to the investigation. Efforts were reignited when the U.S. State Department ranked Thailand at Tier 3 on its annual Trafficking in Persons (TIP) report, placing the country among those who fail to meet the minimum standards to combat human trafficking. Following the report's release, Thailand declared that eliminating smuggling had become a "national priority," helping to improve its ranking in 2016.
While Wednesday's landmark trial could further boost Thailand's standing on the TIP report, human rights groups claim the nation's trafficking networks continue to operate on a similar scale. "We believe the crackdown is only a disruption of a trafficking network, but that network is still very much well in place," Amy Smith, an executive director of Fortify Rights, told Reuters. On Tuesday, her organization issued a statement claiming that the trial was "beset by unchecked threats against witnesses, interpreters, and police investigators." The group alleged that Rohingya witnesses were detained and physically assaulted, while one witness was abducted in early 2016. "It's not 'case-closed' for survivors of human trafficking here," Smith said in the statement. "Thailand has a long way to go."