Clashes Continue Two Days After Victory Declared in Mosul
Fighting persisted throughout the day on Wednesday as Iraqi forces attempted to secure the city.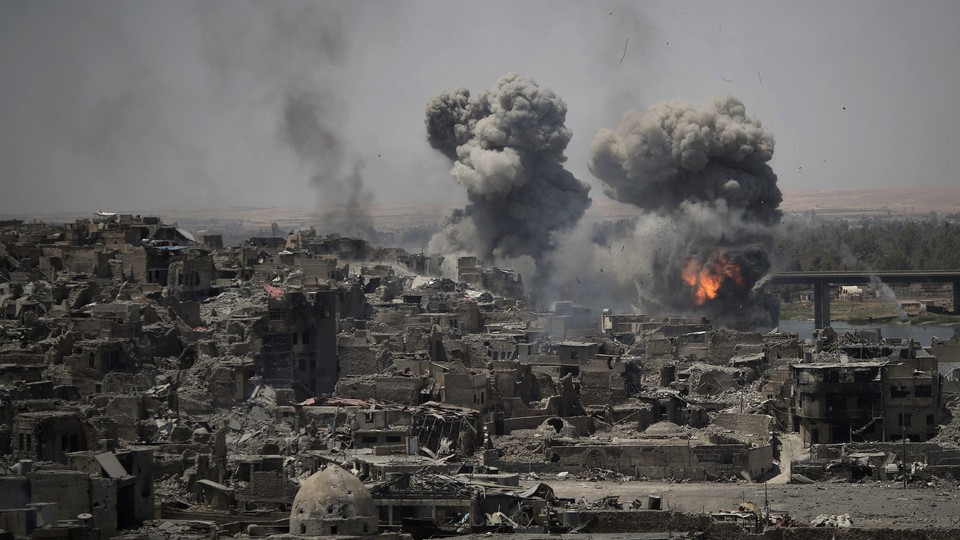 Just two days after Iraqi Prime Minister Haider al-Abadi declared "total victory" in Mosul, ISIS's de facto capital in Iraq, fighting in the region continued between Iraqi forces and ISIS militants. The two sides exchanged gunfire throughout the day on Wednesday, killing a policeman and wounding at least two others, a security official reported. A day earlier, a U.S.-backed coalition that supports Iraqi forces said it had conducted three airstrikes in the region, targeting ISIS militants and their remaining weaponry. On the same day, ISIS attacked Iraqi forces from a village south of Mosul.
An Iraqi military official told Reuters that the scattered violence was the result of "clearing operations" in the area. "Right now, there are a handful of holdout ISIS terrorists that the Iraqi security forces are still trying to root out of the Old City," Joe Scrocca, a coalition spokesperson, told the BBC. This "handful" could represent as many as a couple hundred militants, according to the senior U.S. general in Iraq, Stephen Townsend, who told reporters there would be continued casualties as Iraqi forces attempt to secure the area. Meanwhile, the United Nations estimates that hundreds of civilians remain trapped in the city.
In the wake of a victory, Iraqi forces are particularly concerned with dismantling any remaining explosive devices that could be hidden in the area. On Wednesday, local residents reported seeing columns of smoke in the air, but could not say whether the smoke came from controlled explosions or ISIS bombs. Scrocca told the BBC that security forces would need to clear the area of explosives before civilians could start returning home. "We still live in an atmosphere of war, despite the victory announcement two days ago," one resident told Reuters on Wednesday.
Indeed, Monday's victory represents not the cessation of violence, but the toppling of an ISIS stronghold established three years prior. While ISIS still controls territory in three other areas of Iraq, Mosul was the largest city to come under the group's control and the site where ISIS leader Abu Bakr al-Baghdadi declared a "caliphate" in 2014. Preventing a resurgence in the region will likely require Iraq's Shia government to reconcile tensions with the nation's Sunni minority community. In the meantime, the government must also prepare itself for sporadic suicide attacks or guerrilla assaults from ISIS.
As of Tuesday, the Iraqi government faces additional pressure from the human rights group Amnesty International, which released a report claiming that Iraqi and coalition forces carried out "unlawful attacks" on civilians in Mosul. The report specifically alleges that government forces used excessively powerful weapons to target ISIS, resulting in additional civilian deaths. According to Amnesty International, nearly 430 civilians were killed in 45 government-led attacks in Mosul, although the group insists that "the true death toll of the west Mosul battle may never be known." On Wednesday, Prime Minister Abadi called on human rights organizations "to check and verify their sources," expressing confusion over "the grief and the wailing of some amid the glorious victory of the Iraqi forces."