Chris Christie's Day at the Beach
The New Jersey governor was photographed at a beach after he'd ordered the state's beaches closed over a budget impasse.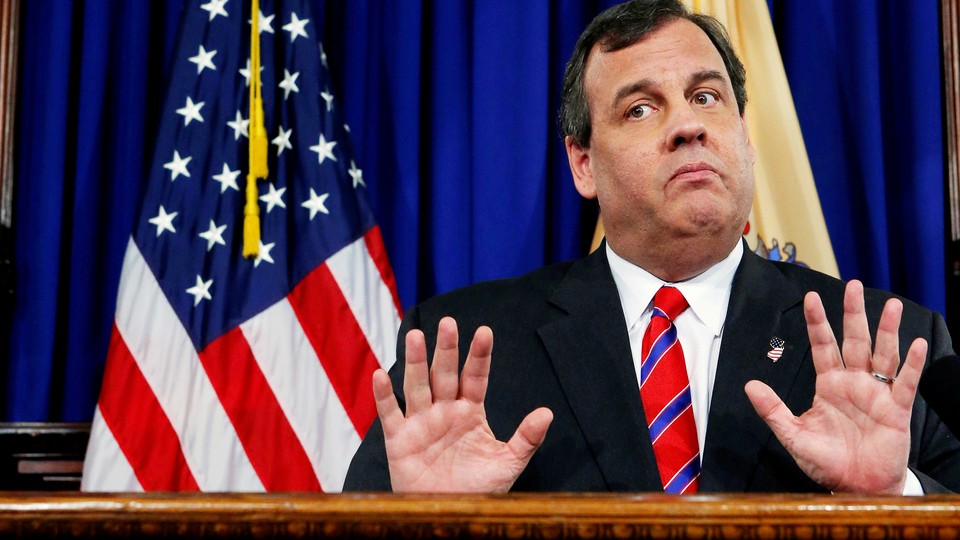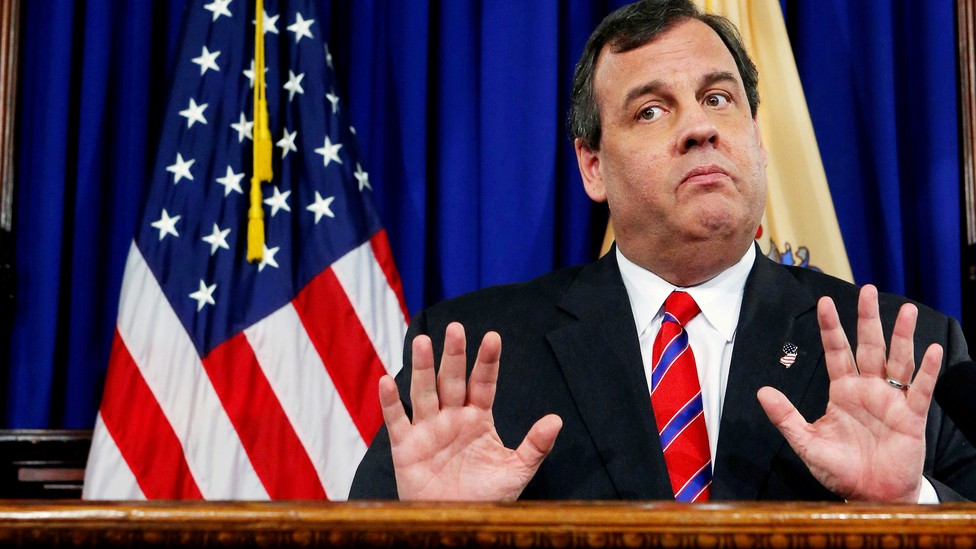 Updated at 12:00 p.m.
Governor Chris Christie, New Jersey's least-popular governor ever, was photographed Sunday on Island Beach State Park with his wife. Trouble is he'd ordered the state's beaches closed because of an impasse over the state's budget. Even worse, when asked Sunday afternoon at a news conference if he'd gotten any sun, Christie replied: "I didn't. I didn't get any sun today."
The front page of the Star-Ledger summed up the reaction:
The paper posted a gallery of 22 images showing Christie and his family on Island Beach State Park, which is near the governor's beach house. Andrew Mills, the Advance Media photographer who shot the images, explained in an article that his company, which owns the Star-Ledger, "had booked a plane for the Fourth of July. The plan was to fly along the Jersey Shore on the holiday and shoot the crowded beaches, juxtaposed with the empty stretches of sand that were off-limits because of the government shutdown, if it were still in effect." Here's more:
But when Sunday's weather looked good, and the governor's schedule was open except for an afternoon press briefing in Trenton, I wondered, "What are the chances ...?"

I called the pilot.

"Let's take a shot," I said. "Worst-case scenario is we get some great aerial shots of the crowded and empty beaches and we try again on Tuesday."

The pilot was game.

When I arrived at Monmouth Executive Airport and spotted the governor's helicopter, I realized he was in the area. The chopper was parked at the airport, instead of outside the mansion, where it would draw more attention. Maybe Christie was trying to lay low.

But was he hanging out inside the governor's beach house or sitting on the beach?

The airport is about 20 miles from the residence, so it didn't take us long to find out. We made one pass along the barren beach, spotted Christie and his family, and I snapped a few shots.

I told the pilot, "Don't buzz him. Just pass slowly and I'll get him again."

We circled around for a second pass, and I aimed my camera again.
Hours later Christie denied he'd even been on the beach. After the photos were posted online Sunday and, predictably, went viral, the governor's spokesman said: "He did not get any sun. He had a baseball hat on."
Christie, whose term ends in January 2018, had closed the beach, and others, Saturday because of the budget standoff. When asked if he thought it was fair that his family could enjoy the park though other New Jersey's residents could not, the governor said the beach house wasn't near the park, adding his family didn't seek state services. His advice Saturday for those state residents who wanted to use the beach: "Run for governor, and you can have a residence there."
On Monday, his twitter feed had more advice for the state's residents:
The visit to the beach prompted criticism even from Christie's political allies. Kim Guadagno, the state's lieutenant governor who is the GOP candidate for the governor's office, said:
Christie hasn't publicly yet commented on the controversy following the publication of the photographs, but the governor is famously combative when confronted with controversy. When asked last month about his 15 percent approval ratings, the lowest ever for a New Jersey governor, he replied: "I don't care."