Charlie Gard Will Be Moved to Hospice, Taken Off Life Support
Gard's parents were denied their final request when a judge ruled that a private team could not care for the terminally-ill baby.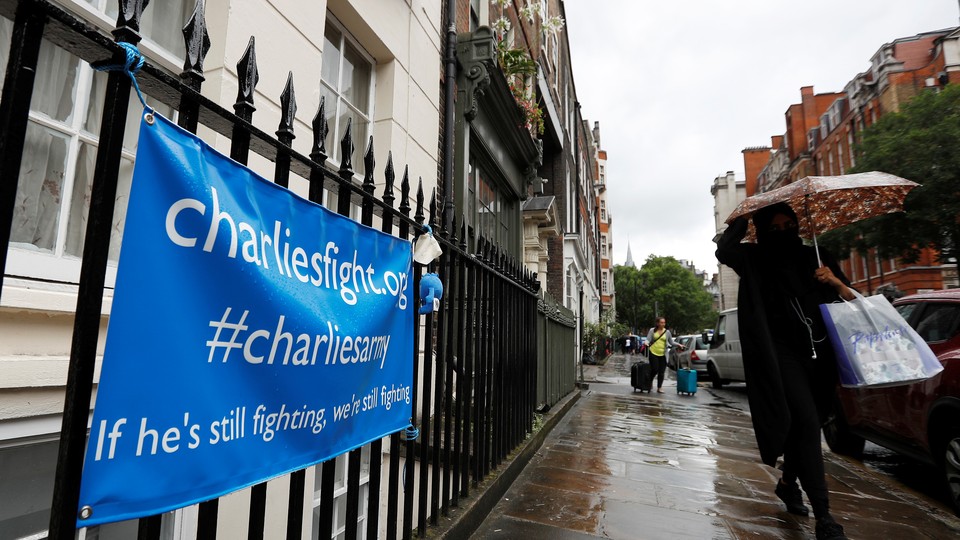 Days after the parents of 11-month-old Charlie Gard, a terminally ill baby, ended their lengthy legal battle with the UK court system, a judge ruled that Charlie must be moved to hospice care, where he will soon be taken off life support. Charlie's parents, Chris Gard and Connie Yates, previously asked the court to allow them extra time to spend with their son, who suffers from a rare genetic condition known as mitochondrial DNA depletion syndrome (MDDS), which causes brain damage and loss of muscle function. On Thursday, the judge instead honored the request of the Great Ormond Street Hospital (GOSH), where Charlie is being treated, to facilitate an immediate end to Charlie's life.
A day earlier, the judge gave both the hospital and Charlie's parents until noon local time on Thursday to reach an agreement on Charlie's end-of-life treatment. The deadline came and went, with the hospital remaining firm that prolonging Charlie's life ran contrary to his best interests. At issue, they said, was the fact that Charlie's parents had not found a hospice or pediatric intensive care specialist to supervise the end of their son's life. In a statement on Thursday, Yates said that two doctors and a team of intensive care nurses from the GOSH were willing to supervise, though none befit the hospital's qualifications for suitable care.
"We just want some peace with our son, no hospital, no lawyers, no courts, no media, just quality time with Charlie away from everything to say goodbye to him in the most loving way," Yates said. "Most people won't ever have to go through what we have been through," she added. "We've had no control over our son's life and no control over our son's death." In January, the Gard family set up a crowdfunding campaign to raise money for their son to receive experimental treatment in the U.S. Since then, three separate British courts have ruled that seeking experimental treatment for Charlie would not only be ineffective, but might also cause him "significant harm."
"We deeply regret that profound and heartfelt differences between Charlie's doctors and his parents have had to be played out in court over such a protracted period," a spokesperson for the GOSH said Thursday in a statement. The spokesperson added that, while the "nobody could fault" the Gard family for advocating for their son's life, "there is simply no way that Charlie, a patient with such severe and complex needs, can spend any significant time outside of an intensive care environment safely." As of this writing, it is still uncertain when doctors will remove Charlie from life support. Because legal barriers prohibit the court from disclosing the time or place, the court order states that Charlie will be transferred to a specialist children's hospice for a "period of time" before doctors will remove his artificial ventilation. The hospital originally planned to withdraw life support on June 30, but postponed the action in the midst of international criticism.
In a statement before the High Court on Monday, Yates maintained that her son might "have had the potential to be a normal, healthy little boy" had he been allowed to receive the experimental treatment sooner. That same day, her husband asked the British media to respect their privacy as they spent their "last precious moments" with Charlie, who he said would not live to see his first birthday on August 4. Charlie "will make a difference in people's lives for years to come, we will make sure of that," his father added. Yates has previously suggested that the money raised for Charlie's experimental treatment—around $1.7 million—would be used to establish a charity in her son's honor.