Charlie Gard's Parents End Their Fight to Keep Their Child Alive
The 11-month-old has been on life support at a London hospital since last October.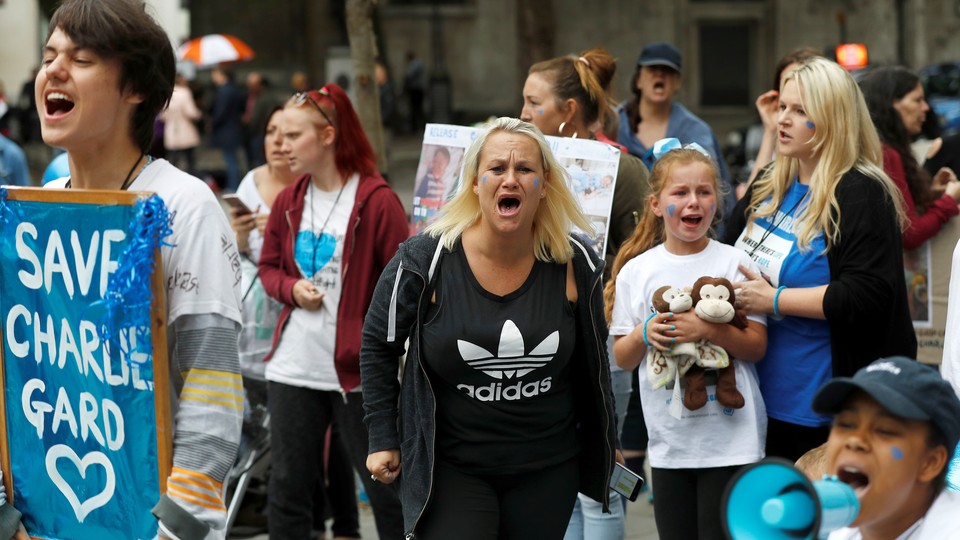 The parents of Charlie Gard, the 11-month-old terminally ill British baby, have ended their legal fight to take him to the U.S. for experimental treatment.
Grant Armstrong, a lawyer for Charlie's parents, Chris Gard and Connie Yates, said Dr. Michio Hirano, the U.S. neurologist who examined the baby, said it was too late to treat him with experimental nucleoside therapy, adding Charlie's "time had run out."
Addressing the court, Connie Yates said: "This is one of the hardest things we've ever had to say, do, to let our beautiful little boy go." She said "a whole lot of time has been wasted," leading to the diagnosis that it was too late to do anything for Charlie, who has been on life support since October 2016.
Justice Nicholas Francis paid tribute to Charlie's parents, saying "no parent could have done more for their child." Armstrong, the family's lawyer, said the couple would set up a foundation with the money they had raised for Charlie's overseas treatment so the 11-month-old's voice "continues to be heard."
Charlie, who was born in August 2016, was diagnosed with a rare genetic condition called encephalomyopathic mitochondrial DNA depletion syndrome; he suffered from brain damage and couldn't move his limbs. Doctors in the U.K. advised his parents to end life support, but Gard and Yates raised funds to transfer him to the U.S. for the experimental treatment. British medical experts—and three courts—said prolonging treatment would cause Charlie  "significant harm." The European Court of Human Rights ruled in June against the parents, all but ensuring Charlie would be taken off life support.
Pope Francis and President Trump both weighed in, with the pope saying he prayed Charlie's parents would be able to "accompany and treat their child." Trump tweeted:
If we can help little #CharlieGard, as per our friends in the U.K. and the Pope, we would be delighted to do so.

— Donald J. Trump (@realDonaldTrump) July 3, 2017
The case raised questions about life, the state's role in determining when a child's treatment should stop, as well as the powers enjoyed by Europe's courts.
As my colleague Emma Green wrote at the time:
Charlie's case touches on some of the most sensitive moral and political questions about the role of the state at the end of life. The decisions of the European courts represented the final word on whether Charlie's parents could pursue treatment in the U.S., and after the ruling, Yates and Gard claimed the hospital had denied permission for them to take Charlie back to their home to die. Yates and Gard have framed the medical dispute as "Charlie's fight," developing a large social-media following as they chronicled their effort to pursue further treatment for their son. The case also has religious dimensions: On their instagram page, Yates and Gard documented their celebration of their son's baptism and showed him clutching a pendant of St. Jude, the Catholic figure most often associated with hospitals and medical care. Media in the U.K. have followed the Gard family's case closely and the court orders to end Charlie's life have been fiercely criticized by conservatives in the U.S. and abroad.
Charlie is now likely to be moved to palliative care at the Great Ormond Street Hospital in London, where he has been treated since October.