'Bridgegate' Mastermind Avoids Prison Sentence
Former Chris Christie ally David Wildstein received three years of probation for his involvement in the scandal.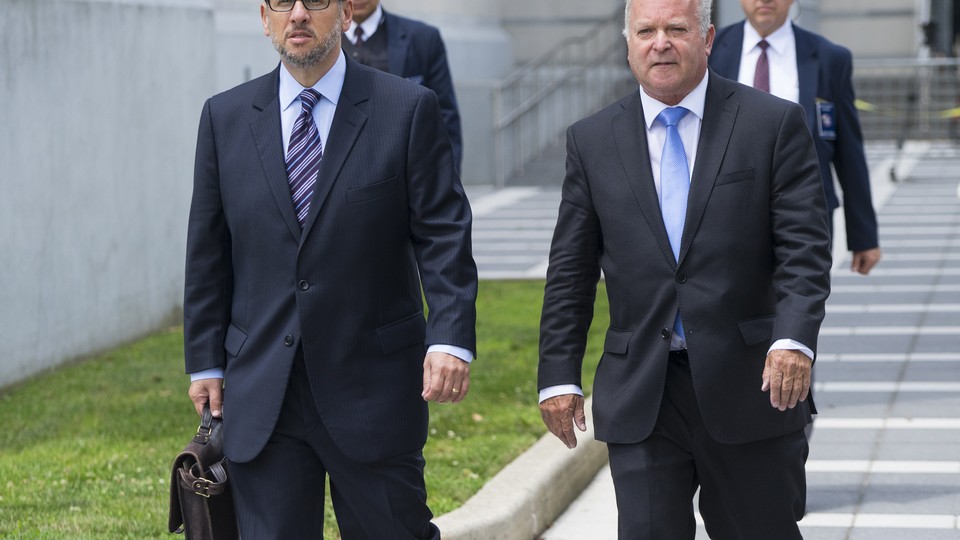 David Wildstein, a former ally and high school classmate of New Jersey Governor Chris Christie, was sentenced to three years of probation on Wednesday for his involvement in a 2013 political scheme to shut down lanes on the George Washington Bridge, later dubbed "Bridgegate." Wildstein pleaded guilty in May 2015 to one charge of conspiracy to commit fraud on federally funded property and one civil rights violation. Under the plea agreement, he faced 21 to 27 months in prison. In addition to serving probation, Wildstein has been barred from working in government and will be required to perform 500 hours of community service.
Wildstein's sentencing likely marks the end of the Bridgegate saga, which began in September 2013 when he ordered the closure of traffic lanes on the George Washington Bridge—connecting Manhattan to Fort Lee, New Jersey—during morning rush hour. Emails and text messages have since revealed that Wildstein, then a senior official for the Port Authority of New York and New Jersey, colluded with other Christie affiliates to create a traffic jam in an act of political retribution against Fort Lee Mayor Mark Sokolich, who refused to support Christie's 2013 reelection campaign. The traffic delays were later deemed to be a public safety risk that endangered the lives of thousands of commuters.
In his testimony, Wildstein admitted to fraudulently citing a "traffic study" to cover up his actions. He also admitted to concealing the traffic jam from local officials and orchestrating the closure on the first day of school to maximize its severity. Despite these actions, federal prosecutors argued that Wildstein should not serve jail time, given that he had implicated other Christie allies in his testimony last fall. Wildstein also handed over texts and emails that demonstrated collusion with his former supervisor, Bill Baroni, and Christie's former deputy chief of staff, Bridget Kelly. Baroni has since been sentenced to 24 months in prison, while Kelly has been sentenced to 18 months. In an oft-cited email, Kelly told Wildstein that it was "time for some traffic problems in Fort Lee," to which Wildstein replied: "Got it."
All three Christie allies have since argued that the governor knew of the impending lane closures, with Wildstein testifying that both he and Baroni joked with Christie about the traffic jam. "All three of us put our faith in a man who neither earned it nor deserved it," Wildstein told the court on Wednesday, adding: "I willingly drank the Kool-Aid of a man I'd known since I was 15 years old." Christie, meanwhile, has denied any involvement in the scheme, arguing that he wasn't aware of the traffic problems until months later, when the incriminating emails surfaced. Nevertheless, the scandal has done severe damage to his career, likely thwarting his 2016 bid for the presidency and his subsequent chances of becoming President Trump's running mate. Before Bridgegate, Christie's approval rating lingered around 70 percent. Today, around 80 percent of New Jerseyans disapprove of the governor.
Following Wednesday's sentencing, Christie spokesman Brian Murray released a statement arguing that Wildstein had "fabricated" his relationship with the governor "to enhance people's perception of his power." "Mr. Wildstein devised this outrageous scheme all by himself, coerced others to participate in it, and then turned himself in to avoid imprisonment for the crimes he has admitted to committing," Murray said. Christie has previously said that he and Wildstein "didn't travel in the same circles in high school." "I was the class president and athlete," Christie said. "I don't know what David was doing during that period of time." Christie's old baseball coach later revealed that the two men were on the same high school team, with Christie playing catcher and Wildstein serving as the team's statistician.
Curiously enough, just as baseball formed a recurrent thread in the Bridgegate scandal, so too does it factor into its end. A day before the sentencing, Wildstein's attorney told the court that his client is working on a book with former New York Yankee Fritz Peterson about the 1970 baseball season. In a letter to the judge, former Major League Baseball player Charlie Hayes also suggested that Wildstein fulfill his community service requirement at his non-profit baseball academy, which Wildstein has been asked to run.