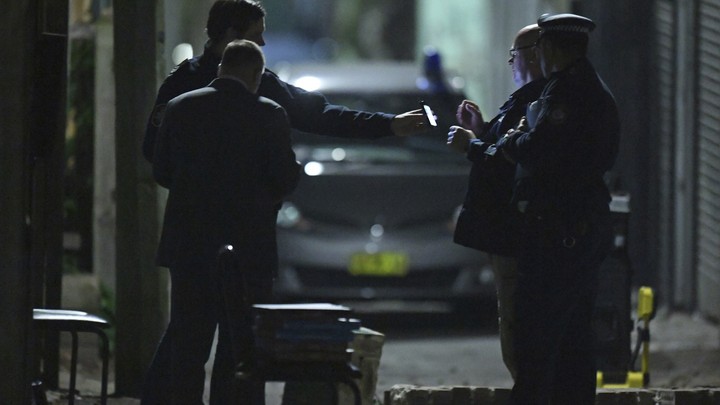 Australian airports have increased security after police arrested four men on Sunday in connection with a plot to bring down an airplane. Authorities with the counter terrorism force said the plot was "Islamist-inspired," and because of the sophistication of the plan, it's believed they may have had help from outside the country. Speaking to reporters Sunday, Prime Minister Malcom Turnbull said, "We face a range of terrorist threats, some of them are lone actors, who activate very quickly, with very little warning. On other occasions, you get quite elaborate conspiracies. This appears to be in that category."
Police raided five homes in the suburbs of Sydney, one of the country's largest cities. Dozen of officers in gas masks participated in the raids, and inside at least one home they found likely bomb-making material. The Sydney Morning Herald reported that a kitchen mincer was among the items taken by police, and they believe the men intended to smuggle it onto a plane to use as an improvised explosive device. Australian federal police commissioner, Andrew Colvin, did not say if the men were on a terrorism watch list. Local media is also reporting that the four men—Khaled Merhi, Abdul Merhi, Khaled Khayat and Mahmoud Khayat—were related to each other. The Morning Herald also reported the men may also have familial links to established terrorist networks.
The number one priority of my Government, and my commitment to the Australian people, is to keep them safe. pic.twitter.com/xrNqvAKlJi

— Malcolm Turnbull (@TurnbullMalcolm) July 30, 2017
As a result of the plot, airports have increased security and there are long delays across the country. Australia's terrorism threat level remains at "probable."
The country has seen quite a few attempted attacks in recent years, and some that were successful. Last month, ISIS claimed responsibility for an attack at an apartment building where one man was killed and three officers were injured. Last December, authorities prevented a plot to bomb several landmarks around the country on Christmas Day.
We want to hear what you think about this article. Submit a letter to the editor or write to letters@theatlantic.com.