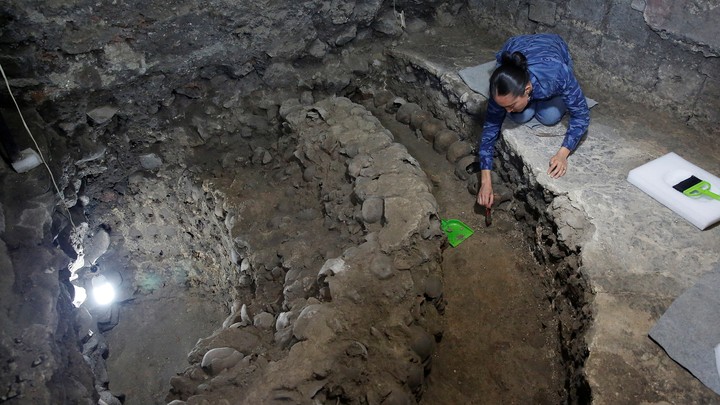 Archeologists in Mexico City say they've discovered part of the long-rumored Huey Tzompantli, a rack of humans skulls believed to measure some 200 feet in diameter. The tower sat on the edge of the Templo Mayor, a temple devoted to the Aztec god of sun, war, and human sacrifice. While its existence has been talked about since the conquest of Hernan Cortes, now that researchers have uncovered the skulls they've raised more questions about Aztec practices.
"Something is happening that we have no record of, and this is really new, a first in the Huey Tzompantli," Rodrigo Bolanos, a biological anthropologist working on the dig, told Reuters.
Two years ago, researchers from the National Institute of Anthropology and History started their dig at the edge of Mexico City's Metropolitan Cathedral, which now covers the Templo Mayor. The discovery is one of the most important related to Aztec ceremonial practice. These racks of skulls, as well acts of human sacrifice, were common among Mesoamerican cultures. This is believed to be one of the larger such towers, and it was written about by Andres de Tapia, a Spanish soldier who followed Cortes on his conquest of Mexico in 1521. In his account, de Tapia said the rack included tens of thousands of skulls "placed on a very large theater made of lime and stone, and on the steps of it were many heads of the dead stuck in the lime with the teeth facing outward."
The Huey Tzompantli, a display of heads of those sacrificed, was meant to showcase Aztec power. Other cultures like the Maya and the Toltec had similar customs, and oftentimes, they were built from the heads of captured enemies. Researchers did not expect to find so many skulls from women and children because it was believed that mainly young men fought and were sacrificed for these ceremonies.
"We were expecting just men," Bolanos told Reuters, adding "the thing about the women and children is that you'd think they wouldn't be going to war."
Archaeologists on the site have uncovered more than 650 skulls so far, many covered with lime to bond them together. The edifice forms a large inner-circle that raises and widens in a succession of rings. These skulls in the Huey Tzompantli would have been set after they'd been displayed publicly in other, smaller racks around the ancient city of Tenochtitlan, which served as the Aztec capital, and that later became Mexico City. The base of the Huey Tzompantli has yet to be uncovered, and archaeologists expect to find many more skulls. El Economista reported that archeologists have also found a wooden rectangular platform at the center with the imprint of 16 poles that created a kind of palisade. With only a quarter of excavation completed, the walls seem to spread 110 feet long. Researchers say they have no doubt this is the ancient structure del Tapia wrote about.
We want to hear what you think about this article. Submit a letter to the editor or write to letters@theatlantic.com.