Civilian Deaths in Afghanistan Reach a Record High
The number of deceased women and children saw a sharp increase in the first six months of 2017.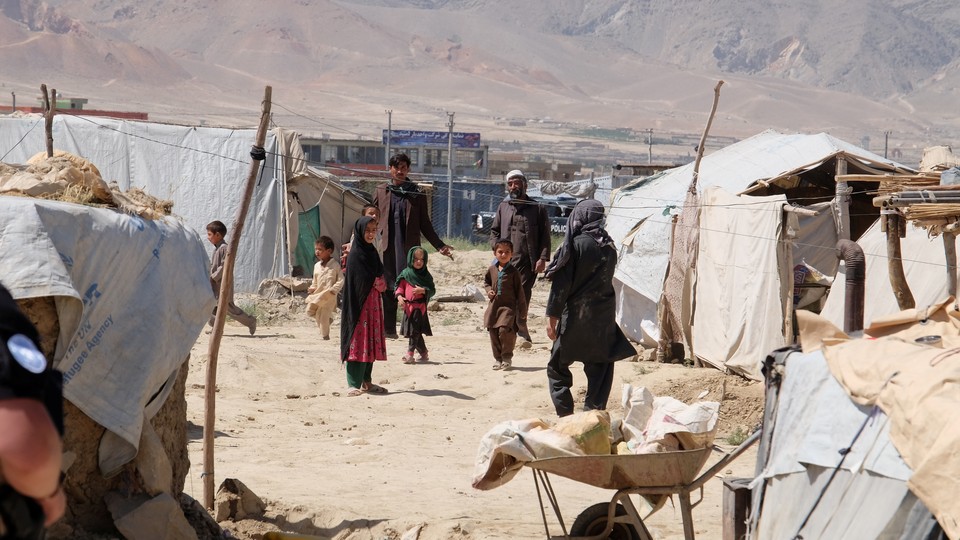 The number of civilians killed in the war in Afghanistan reached a new high during the first six months of 2017, according to a report released Monday by the UN Assistance Mission in Afghanistan (UNAMA). The report cites a total of 1,662 civilian deaths between January 1 and June 30, marking a two percent increase since last year's record high. Meanwhile, the number of injured civilians declined by one percent, with around 3,581 civilians wounded from January to June. The reports notes that women and children were severely impacted by the war's heightened violence, despite witnessing a decline in casualties in 2016.
In the first six months of 2017, an estimated 174 women were killed and 462 injured in the Afghan conflict, marking a 23 percent increase in female casualties from the previous year. In addition to these victims, another 436 children were killed and around 1,141 were injured. While the number of child casualties increased by a small margin—one percent—from the previous year, the number of child deaths increased by nine percent. The report attributes these spikes to the use of improvised explosive devices (IEDs), or homemade bombs, and aerial operations in heavily populated areas.
In fact, around 40 percent of civilian casualties in 2017 were caused by IEDs operated by anti-government forces, the report finds. Of these casualties, an estimated 1,151 were the result of suicide attacks, marking a 15 percent increase since 2016. This year also marks the highest number of civilian casualties stemming from suicide attacks ever recorded by UNAMA, which began documenting Afghan casualties in 2009. Today, suicide attacks are the leading cause of civilian casualties from anti-government forces in Afghanistan. Nevertheless, the report also finds a 43 percent rise in civilian casualties resulting from aerial operations—around half of which were attributed to the Afghan Air Force.
By far the most significant contributor to this year's casualties was a May 31 attack in the Afghan capital of Kabul, where a truck bomb killed at least 92 civilians and wounded nearly 500. The incident was the deadliest attack recorded by UNAMA since the start of the war in 2001. In total, Kabul was home to 86 percent of this year's civilian casualties from suicide bombings. The city also saw a 59 percent increase in its suicide attacks during the first six months of 2017.
Despite the continued presence of ISIS in Afghanistan, the report confirms that the Taliban was responsible for a much larger share of civilian deaths. According to UNAMA, the Taliban contributed to 43 percent of civilian casualties caused by anti-government forces, while ISIS was responsible for just 5 percent. The remaining anti-government attacks—including the May bombing in Kabul—had no identifiable culprit. All together, 1,141 civilians were killed and 2,348 injured by anti-government forces in Afghanistan, marking a 12 percent increase since 2016. By contrast, pro-government forces were responsible for 18 percent of civilian casualties—a decrease of 21 percent since last year.
While the report admits that the actual death toll in Afghanistan could be more severe, the head of UNAMA, Tadamichi Yamamoto, claims that even these conservative estimates are "far too high." Of particular concern, he writes, is "the continued use of indiscriminate, disproportionate, and illegal improvised explosive devices." In addition to urging anti-government forces to end their attacks on civilians, the report calls for pro-government forces to suspend their use of mortars, rockets, and grenades, as well as aerial attacks, in civilian-populated areas.
In a statement, the UN High Commissioner for Human Rights, Zeid Ra'ad al-Hussein, added that "the statistics in this report, horrifying though they are, can never fully convey the sheer human suffering of the people of Afghanistan." Noting the troubling number of displaced civilians, al-Hussein argued that "each one of these casualty figures reflects a broken family, unimaginable trauma and suffering, and the brutal violation of people's human rights."