The Taliban's Steady Gains
The group's capture of a military base highlights Afghanistan's vulnerabilities more than 15 years after the U.S. invasion.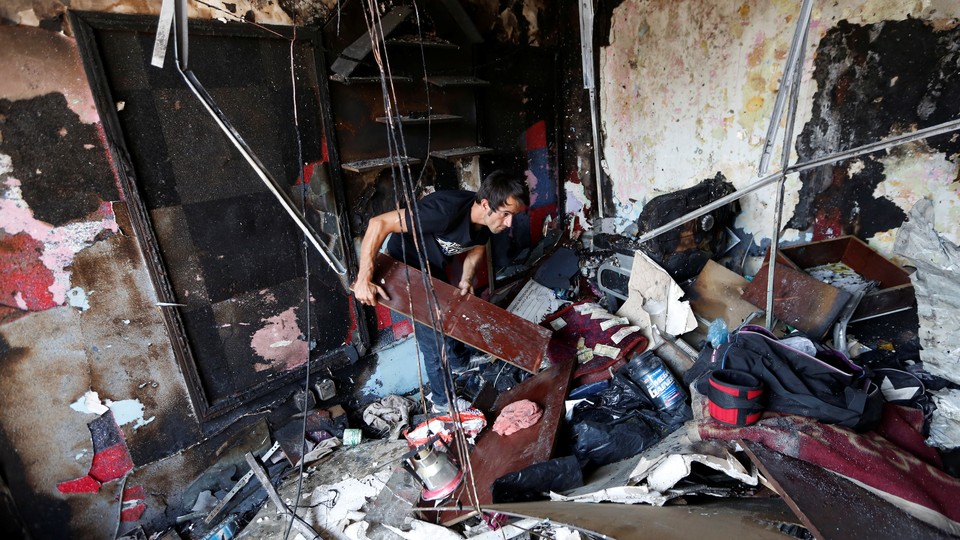 Afghan troops have suffered significant losses to the Taliban in recent days, highlighting their country's security vulnerabilities more than 15 years after the U.S.-led invasion ousted the militant group, as well as President Trump's reported reluctance to send more troops to the country.
At least 26 Afghan soldiers were killed in the Taliban's attack Tuesday night on a military base in Khakriz district, which is in the southern Kandahar Province, traditionally a Taliban stronghold. The Taliban said it was now in control of the base, but an Afghan military spokesman said Afghan forces were still present there.
The group's military victories illustrate that it remains a potent force in Afghanistan, one that has to be reckoned with if there is to be a lasting peace in the country.  As Bill Roggio points out in Long War Journal, in recent days the group has pushed the Afghan military out of districts in Paktia, Faryab and Ghor provinces.
"The Taliban is demonstrating that it can sustain operations in all theaters of Afghanistan," Roggio wrote, pointing out the districts are in different parts of the country.
Indeed, the Taliban seized much of Helmand Province earlier this year, and has also fought the military in Kunduz province. In May, it struck the Shah Wali Kot army post, killing more than a dozen Afghan soldiers, and a month earlier it carried out the deadliest attack on Afghan troops since 2001, when it killed 170 soldiers near Mazar-e-Sharif.
The regularity of the attacks and the Taliban's gains, as well as the rise of ISIS in Afghanistan, have increased pressure of President Ashraf Ghani's government to restore order. Ghani has been under political pressure from his rivals as well as from those who previously supported him, and the state of Afghan security is only likely to intensify that pressure.
It's also likely to increase pressure on President Trump who is reportedly reluctant about sending additional U.S. troops to the country to join the 8,500 American service members already there. Defense Secretary James Mattis has not yet deployed the 3,900 troops Trump authorized him to send more than a month ago, possibly reflecting the president's skepticism about more troops in Afghanistan.
Last week ahead of a meeting with veterans of the Afghan war, Trump told reporters: "We've been there for now close to 17 years, and I want to find out why we've been there for 17 years, how it's going, and what we should do in terms of additional ideas." Asked during a visit later that week to the Pentagon about whether he'd sent more troops to the country, he replied: "We'll see," and highlighted U.S. gains against ISIS, which while a threat to the country is perhaps not long-term problem for Afghanistan.
Still, The New York Times reported Wednesday that Trump might have found a reason to stay in the country: its vast mineral wealth. It's unclear, however, whether the U.S. or anyone else can overcome the security concerns in Afghanistan, not to mention political instability and corruption, to see mining as a viable reason to stay in Afghanistan.