ISIS Attacks the Iraqi Embassy in Kabul
Afghan officials say the militants were killed after a four-hour battle.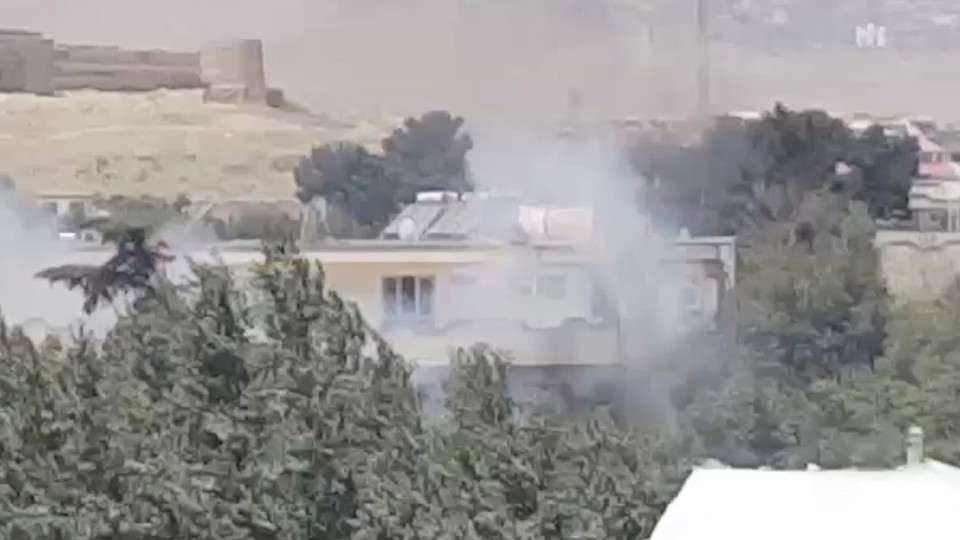 Afghan official say they killed three militants who attacked the Iraqi Embassy in Kabul Monday, an operation that highlights the precarious security situation in the Afghan capital 16 years after the U.S.-led invasion.
ISIS claimed responsibility for the attack in which a suicide bomber detonated a device outside the entrance to the embassy. Three militants then entered the compound and engaged in a four-hour gun battle, Afghan officials said, before the militants were killed. The Afghan Interior Ministry said one policeman was wounded in the attack.
"No embassy staff members were hurt in the attack," the ministry said in a statement. "The security forces rescued the ambassador, deputy ambassador and other staff and took them to a safe place."
The militant operation was the latest high-profile attack in the Afghan capital this year. All have been claimed by either Taliban or ISIS. Additionally, Monday's attack was the first on the Iraqi Embassy, which just two weeks ago had held a news conference to mark the defeat of ISIS in Mosul, the group's last major stronghold in Iraq.
Afghanistan is ISIS's most significant outpost outside the Arab world, where it has suffered major losses at the hands of Iraqi forces and their allies, as well as the U.S.-led coalition, and Russia and its alliance. But in Afghanistan, the group has carried out increasingly daring—and brutal—attacks on high-profile targets. The group's rise—along with the Taliban's resilience—underscores how difficult it is to establish a secure and peaceful Afghanistan. As I wrote last week, when the Taliban captured a military base from the Afghan military:
The regularity of the attacks and the Taliban's gains, as well as the rise of ISIS in Afghanistan, have increased pressure of President Ashraf Ghani's government to restore order. Ghani has been under political pressure from his rivals as well as from those who previously supported him, and the state of Afghan security is only likely to intensify that pressure.

It's also likely to increase pressure on President Trump who is reportedly reluctant about sending additional U.S. troops to the country to join the 8,500 American service members already there. Defense Secretary James Mattis has not yet deployed the 3,900 troops Trump authorized him to send more than a month ago, possibly reflecting the president's skepticism about more troops in Afghanistan.
The United Nations estimates 1,662 civilians were killed in Afghanistan from January to June; 1 in 5 of those deaths occurred in Kabul.