16 Dead in Military Plane Crash in Mississippi
The majority of passengers are believed to be marines.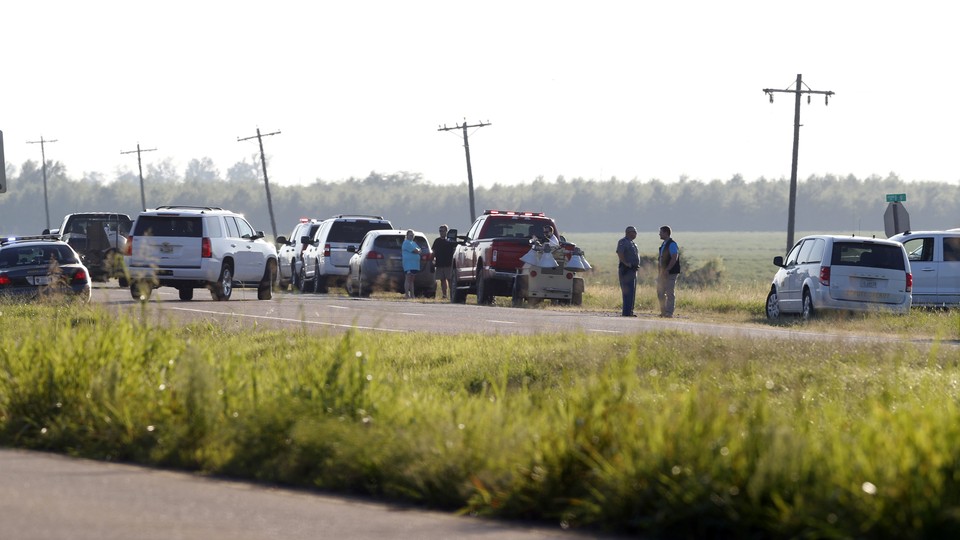 Updated on July 11 at 12:12 a.m. ET
At least 16 people have died in a military plane crash in Leflore County, Mississippi, the county's emergency management director, Fred Randle, told CNN. The plane reportedly crashed in a soybean field at around 4 p.m. local time on Monday. According to Randle, there were no survivors. A local sheriff told The Clarion-Ledger that most of the passengers were marines, but was unable to say whether any civilians were on board.
On Monday evening, the U.S. Marine Corps tweeted that a "mishap" involving a KC-130 aircraft had occurred, but did not provide any additional information:
The KC-130 is an extended-range, four-engine aircraft with the capacity for in-flight refueling, carrying cargo, or transporting troops. The Greenwood Commonwealth said the plane was last reported at an elevation of about 20,000 feet. The newspaper also reported that firefighters arrived on the scene, but were driven away by several "high-intensity explosions," likely the result of ammunition catching on fire. The video below, released by a local news station, shows flames billowing from the aircraft:
As of around 8:30 p.m., 12 bodies had been recovered. The Leflore County deputy coroner, Will Gnemi, said his office was still searching for the remaining victims. The search process appears to have been hindered by the fact that the plane landed in a rural field with lots of tall vegetation.
Shortly following the crash, Mississippi Governor Phil Bryant asked people to join him and his wife, Deborah, in "praying for those hurting after this tragedy." He added: "Our men and women in uniform risk themselves every day to secure our freedom."
This is a developing story, and we'll add more information as it becomes available.