World Leaders Disappointed With Trump After Climate-Change Announcement
Many of their responses focused on the same key words: "disappointment" and "regret."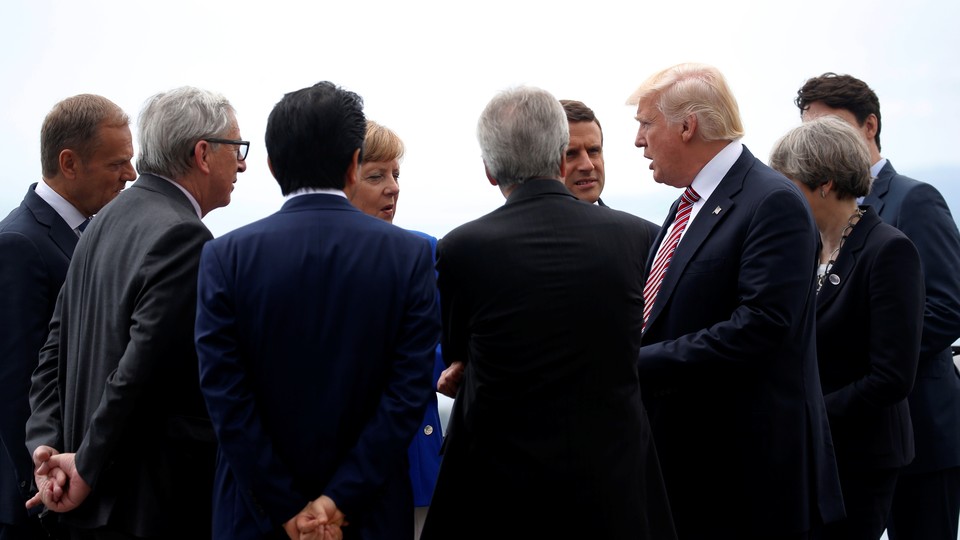 President Trump's announcement that he will withdraw from the Paris Agreement, the first international treaty to combat climate change, has left many world leaders unhappy with the U.S. While the decision was all but confirmed Wednesday following insider reports from White House officials, foreign governments continued to hope the president would have a last-minute change of heart in response to mounting international pressure. When Trump revealed Thursday at the White House Rose Garden that the U.S. would be "getting out" of the Paris Agreement, leaders were quick to condemn the United States's decision and reiterate their own commitment to the pact.
According to Trump, the Paris Agreement "would undermine [the U.S.] economy, hamstring our workers, weaken our sovereignty, impose unacceptable legal risk, and put us at a permanent disadvantage to the other countries of the world." Trump did, however, express a willingness to negotiate the agreement, saying the U.S. would "see if we can make a deal that's fair … If we can, that's great. And if we can't, that's fine." Trump seemed particularly concerned about kowtowing to the requests of foreign leaders, arguing that nations calling for the U.S. to stay in the pact are "countries that have collectively cost America trillions of dollars through tough trade practices and, in many cases, lax contributions to our critical military alliance." He added, "We don't want other leaders and other countries laughing at us anymore."
Thursday's reaction from foreign leaders was certainly the opposite of laughter. Soon after Trump's announcement, the European Union expressed its deep regret that the U.S. would no longer be party to the Paris Agreement, adding that it would continue to fight climate change alongside other nations. "The EU will strengthen its existing partnerships and seek new alliances from the world's largest economies to the most vulnerable island states," the European Commission said Thursday.
Indeed, Trump's decision prompted Germany, Italy, and France to issue a joint statement expressing their mutual regret. "We deem the momentum generated in Paris in December 2015 irreversible and we firmly believe that the Paris Agreement cannot be renegotiated," they added. The U.K. was noticeably absent from the joint statement, making Prime Minister Theresa May the only European G7 leader not to sign. A senior White House official told Reuters that President Trump had explained his decision to May, along with German Chancellor Angela Merkel, French President Emmanuel Macron, and Canadian Prime Minister Justin Trudeau, on Thursday over the phone.
Following Trump's announcement, each of these foreign leaders took the opportunity to express their personal disapproval. In a statement that was broadcasted live, Macron said he respected Trump's decision, but called it "an actual mistake both for the U.S. and for our planet." During his phone call with Trump, Macron reportedly told the president that France and the U.S. could continue to work together, but would no longer discuss climate issues. Macron also stressed that no part of the Paris Agreement was negotiable. Despite his firm stance, Macron seemed optimistic about future relations with the U.S. "Tonight I wish to tell the United States: France believes in you. The world believes in you," he said. In a pointed reference to Trump's campaign slogan, Macron added: "We all share the same responsibility: [to] make our planet great again."
In a Thursday statement, Trudeau displayed a similar mix of disapproval and optimism. Canada is "deeply disappointed that the United States federal government has decided to withdraw from the Paris Agreement," Trudeau said, calling the decision "disheartening." Unlike Macron, he added that Canada would "continue to reach out to the U.S. federal government to discuss this matter of critical importance for all humankind, and to identify areas of shared interest for collaboration, including on emissions reductions."
A spokesman for Merkel issued a shorter response Thursday via Twitter, saying the German Chancellor had recently informed Trump of her disappointment. Seven Social Democratic ministers from Merkel's government also said Thursday that the U.S. "is harming itself … and all the people of the world" by removing itself from the Paris Agreement. Mexican President Enrique Pena Nieto took this sentiment a step further, arguing on Twitter that "efforts to slow climate change are a moral imperative."
In Australia, the nation's energy and environment minister, Josh Frydenberg, called Trump's announcement "very significant," but said that Australia would honor its commitment to the pact. "As our prime minister has made very clear, when we sign up to international agreements … we will follow through," Frydenberg said. On the same day, Italian Prime Minister Gentiloni urged nations via Twitter not to "go backwards from the Paris Agreement."
Russia has remained mum on the subject since Trump's decision became public. Earlier on Thursday, amid speculation that Trump would withdraw, a spokesman for Russian President Vladimir Putin told journalists that "the effectiveness and realization of [the Paris Agreement] will be hampered without key participants." While many foreign leaders fear the same, the majority seem determined to carry on in the absence of the U.S.