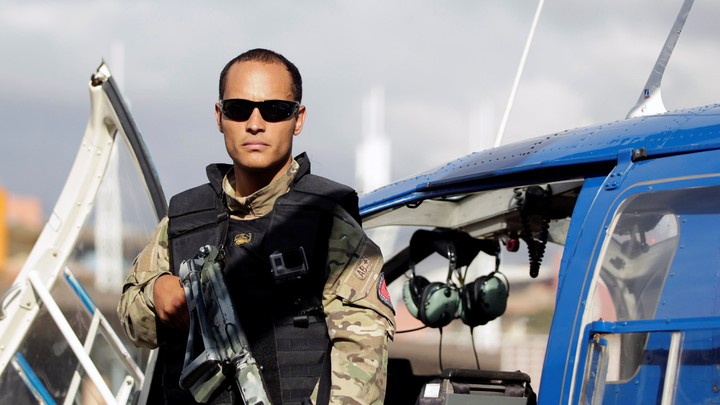 In the wake of a helicopter attack on Venezuela's Supreme Court building in Caracas on Tuesday evening, the identity of the pilot has raised a number of questions regarding the nature of the incident. Shortly following the attack, photos of the pilot in a blue helicopter carrying a banner with the word "Libertad," or "Freedom," appeared on social media, signaling an act of public opposition toward the government of Venezuelan President Nicolas Maduro. But details concerning the pilot's background and occupation have since complicated the narrative.
On Tuesday, the Venezuelan daily newspaper El Nacional identified the attacker as 36-year-old Oscar Pérez, a former captain of the CICPC, Venezuela's largest national police agency. Around the same time, a video of Pérez flanked by masked men carrying what appear to be assault rifles surfaced online. In the video, Pérez claims to represent "a [nonpartisan] coalition of military employees, policemen, and civilians" who oppose the Maduro regime. His motive for the attack, he said, was to encourage citizens to resist the "impunity" and "tyranny" of the Venezuelan government.
Venezuela is currently suffering from a bout of violent anti-government protests that have led to at least 76 deaths and thousands of injuries since April. Protesters accuse Maduro of carrying out an authoritarian regime by jailing opposition leaders, censoring certain news outlets, and attempting to rewrite the nation's constitution for political gains. In Tuesday's video, Pérez directly referenced the plight of Venezuelan protesters, calling out "the deaths of young people who are fighting for their legitimate rights." Pérez also claimed to be rallying against hunger, referring to the nation's humanitarian crisis, which has resulted in dire food shortages.
Pérez's criticisms were quickly sanctioned by opposition groups who saw the attacker as representative of a growing distaste of the Maduro regime among security forces. But this was before a key piece of information surfaced on Wednesday, revealing Pérez to be an actor who once appeared in a film with surprising parallels to Tuesday's attack.
In 2015, Pérez produced and starred in the film Suspended Death, which chronicles a rescue mission carried out by Venezuela's investigative police force. In the movie, Pérez can be seen firing from and jumping out of a helicopter. In an interview with a local television network in 2015, Pérez said he was inspired by the question: "What can we do to create a positive idea, to be a weapon against delinquency?" Reuters also reports that Pérez once appeared in a series of public service videos, during which he turns to the camera and says: "Corruption affects all of us. Denounce it."
In light of this information, opposition groups have changed their tune, referring to the incident—which has been dubbed the "Chopper Coupster"—as a government ploy to demonstrate the violent threat of protesters and justify Maduro's own repressive actions. Venezuela's foreign minister, Samuel Moncada, has since argued that the government is not sophisticated enough to orchestrate a grenade attack.
"The Chopper Coupster episode, in all its glorious surrealism, comes just as the regime needed to draw attention away from its latest power grabs: a decision hollowing out the Prosecutor General's office of most of its powers, and a straight-up assault on parliament," writes Francisco Toro, the editor of the Caracas Chronicles. Fueling this speculation is the fact that Pérez—who is currently being hunted down by Venezuelan special forces—has yet to be linked to a larger group of supporters. "Conclusion: a cheap show," Miguel Rodriguez, a former intelligence chief whom Maduro has accused of having ties to the attack, told Reuters on Wednesday. "Who gains from this?" he asked. "Only [Maduro]."
In a televised address to journalists on Tuesday, Maduro called the incident "an act of terrorism" and a conspiracy to overthrow his government. While these claims have yet to be verified, others have gone on to argue the same. Speaking to The Washington Post on Wednesday, Elyangélica González, a Venezuelan journalist with military contacts, said Pérez was previously suspected of leaking intelligence information, indicating his desire to rebel. González summarized the attack in a single, brief statement: "It's an isolated action of a man who sees many war movies and maybe has a touch of craziness, I don't know," she said. "It all points to it not being a show."
We want to hear what you think about this article. Submit a letter to the editor or write to letters@theatlantic.com.
Aria Bendix
is a frequent contributor to
The Atlantic
, and a former editorial fellow at
CityLab
. Her work has appeared on
Bustle
and
The Harvard Crimson
.