Who Blew Up Mosul's Al-Nuri Mosque?
Iraq claims the centuries-old landmark was destroyed by ISIS, but the group claims a U.S. airstrike was responsible.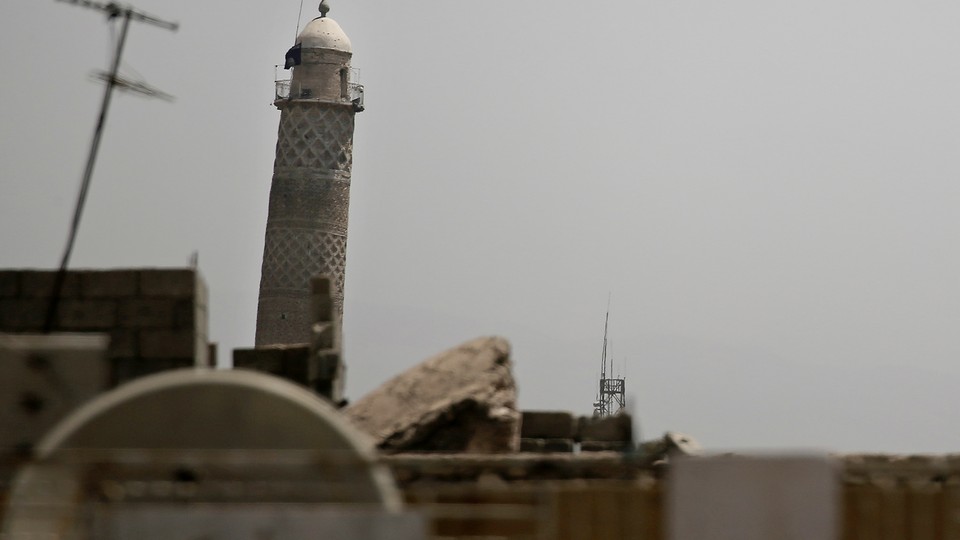 The historic Grand Mosque of al-Nuri in Mosul was destroyed Wednesday by the Islamic State, according to the Iraqi military. ISIS, however, claims a U.S. airstrike was responsible.
"The Daesh (Islamic State) terror gangs committed another historical crime by blowing up the al-Nuri mosque and its historical al-Hadba minaret," the Iraqi military said in a statement. ISIS, however, claimed in a statement through its mouthpiece Amaq that the U.S. destroyed it. The Pentagon backed the Iraqi military's claim.
The destruction of the centuries-old landmark known for its iconic leaning minaret, called al-Hadba or "the hunchback," marks the latest destruction to Mosul's cultural heritage. Much of the city's ancient sites and artifacts have been damaged or destroyed under ISIS's rule. The group overran the city, Iraq's second-largest, in the summer of 2014.
The destruction of the monument also comes amid an ongoing offensive by the Iraqi government, backed by a U.S.-led coalition, to wrest the western half of the city from ISIS, considered the militant group's last major stronghold in the country.
The mosque is no small symbol to ISIS. It was from the mosque's pulpit that ISIS's leader,  Abu Bakr al-Baghdadi, in a rare public appearance, proclaimed the new "caliphate" following the group's capture of the city in July 2014. Still, New York Times reporter Rukmini Callimachi notes ISIS has not shied away from using mosques for battle purposes, and suggests its destruction could be aimed at preventing coalition forces from taking control of it themselves—a move that could be of symbolic importance given the landmark's role in the self-proclaimed caliphate's founding. Indeed, Iraqi forces stormed the Old City Sunday, prompting Iraqi officials to express hope the mosque could be recaptured in time for Eid al-Fitr, the festival marking the end of the Islamic holy month of Ramadan.