What Just Happened With Qatar?
Arab countries, including Saudi Arabia, severed relations with Doha over its alleged support of terrorism.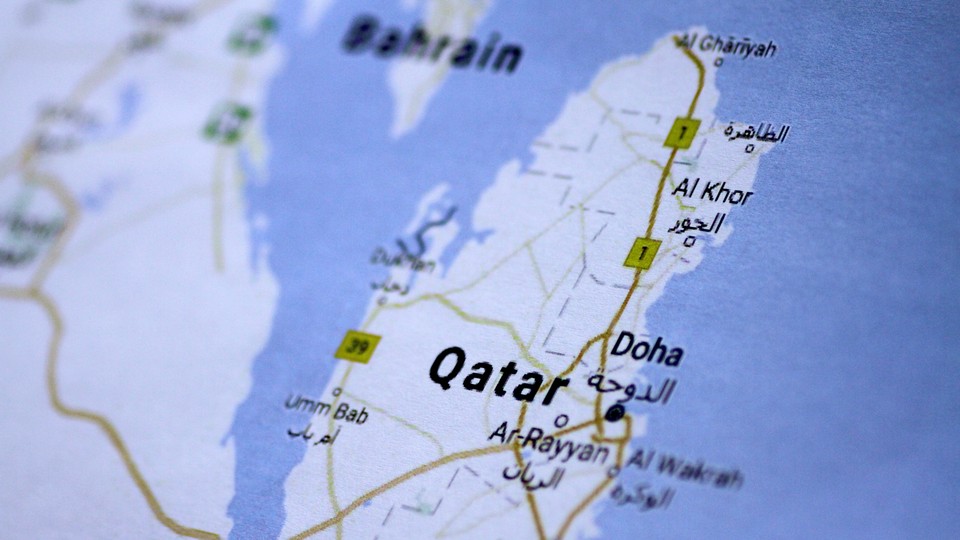 Six Arab countries—Saudi Arabia, Egypt, Bahrain, the United Arab Emirates, Libya, and Yemen—severed their relations with Qatar on Monday over its alleged support of terrorism.
The state-run Saudi Press Agency said the move was being taken to protect "national security from the dangers of terrorism and extremism," and accused Qatar of supporting ISIS, al-Qaeda, and the Muslim Brotherhood, as well as Shia rebels in Saudi Arabia and Bahrain. The other Arab nations announced similar measures, as did Maldives, the tiny country in the Indian Ocean. Under the move, Saudi Arabia closes its borders with Qatar and ended land, sea, and air contact with its neighbor. The Arab nations also suspended Qatar from the military coalition that's fighting in Yemen's civil war against Iranian-backed Houthi rebels.
Qatar, in its response, said there was "no legitimate justification" for the move, accusing the Arab states of violating its sovereignty. Qatar is energy-rich, but heavily reliant on food and other essential supplies that are brought in by trucks across its border with Saudi Arabia. News media reported panic buying of goods in the country following the announcement. Qatar's stock market fell 7.2 percent.
The move could have far-reaching consequences for U.S. alliances in the Middle East, as well as the U.S.-led effort against ISIS in Iraq and Syria. Qatar is home to the Al Udeid Air Base, the largest U.S. military base in the region where 11,000 U.S. personnel are stationed. The base has been used to stage attacks against ISIS targets. The move also comes just weeks after President Trump visited Riyadh and called for a united front against ISIS and extremism.
Saudi and allied relations with Qatar have been tense for years. In 2014, some of the same countries pulled out their diplomats from Qatar citing similar concerns. That dispute took nearly a year to resolve. Saudi Arabia also withdrew its ambassador to Doha from 2002 to 2008. But Monday's move goes further: Among other steps, it closes Saudi Arabia's land border with Qatar, a move that could have severe economic consequences for the country.
Qatar's alleged support for the Muslim Brotherhood, which is banned in Egypt, elements of al-Qaeda, Hamas, ISIS, and other Islamist extremist groups has been well documented, and it's this support that has been at the core of its disputes with its fellow Arab states. But the catalyst for Monday's decision appears to be a Qatari news report last month that quoted Qatari Emir Sheikh Tamim bin Hamad al-Thani as criticizing Saudi Arabia, praising Iran, Saudi Arabia's main regional rival, and describing Qatar's relations with Israel as "good." Qatari officials said the remarks were fake, and that news websites were a victim of a "shameful cybercrime." But as David Roberts, a professor of defense studies at King's College, wrote for the BBC: "The key problem was that these comments simply voiced out loud what many have long understood as Qatar's true policy positions." He adds:
[P]articularly under the leadership of the former Emir Hamad bin Khalifa al-Thani, Qatar sought to carve out a unique niche for itself and its policies, such as augmenting relations with Israel or Iran, and rejecting the wider consensus of the regional group of the monarchies, the Gulf Co-operation Council (GCC).
Previous regional attempts to persuade Qatar to change its policies haven't succeeded, but Monday's announced steps go further than any previous bid. Qatar, which now finds itself both regionally and economically isolated, may have few cards left to play.