Venezuela's Ex-Security Chief Charged With Human Rights Violations
Benavides was removed from his post last week after his troops were seen firing handguns at protesters.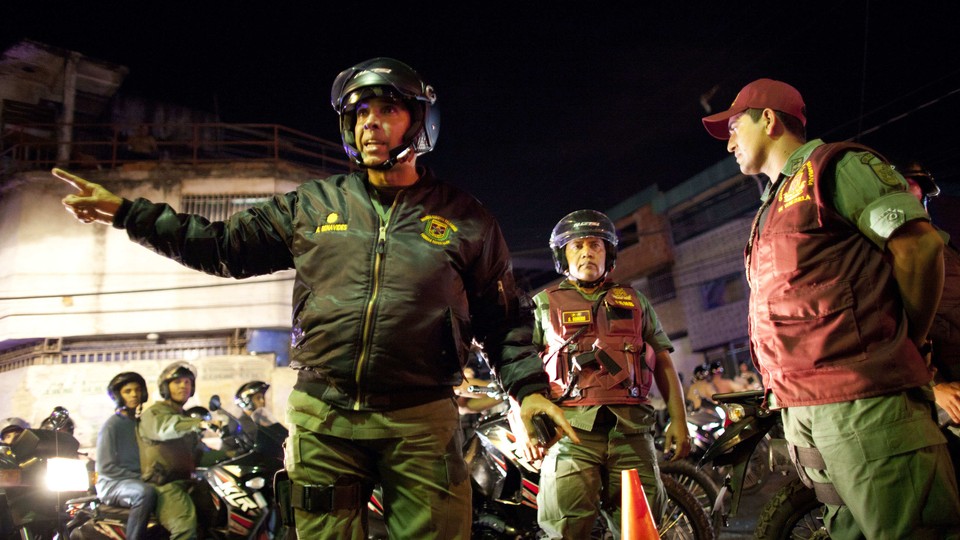 The former head of Venezuela's National Guard, Antonio Benavides, has been charged with "serious and systematic" human rights violations, the state prosecutors' office announced Thursday. Benavides was removed from his post last week after his troops were captured on film firing handguns at protesters, but was soon reassigned to a position as head of Venezuela's Capital District government. In 2015, he was sanctioned by the Obama administration following violent clashes between protesters and security forces in 2014, which killed more than 40 people. The latest bout of opposition protests in Venezuela has resulted in at least 76 deaths and thousands of injuries since April.
In recent months, anti-government demonstrators have crowded the streets of Venezuela, demanding general elections and the early resignation of current president Nicolas Maduro. Protesters have long accused Maduro of carrying out an authoritarian regime by jailing opposition leaders, censoring news outlets, and attempting to rewrite the nation's constitution for political gains. Maduro has also been blamed for Venezuela's economic and humanitarian crisis, which has led to triple-digit inflation and dire shortages of food and medicine. In return, Maduro has accused protesters of staging a U.S.-backed coup against his government.
On Thursday, the state prosecutor's office said they had evidence that Venezuelan security forces, led by Benavides, had damaged property, used "excessive force" against demonstrators, wielded unauthorized firearms, tortured apprehended protesters, and issued raids without a warrant. The evidence was available for "a great number" of incidents, said the nation's attorney general, Luisa Ortega Díaz. A loyalist to former Venezuelan president Hugo Chavez, Ortega has since become a fierce critic of Maduro, whom she accuses of conducting "state terrorism."
The day before filing charges against Benavides, Díaz was banned from leaving the country by Venezuela's Supreme Court, which backs Maduro. The court also froze Díaz's assets ahead of a hearing that will determine whether she committed "grave errors while in her position." On Tuesday, a Supreme Court ruling attempted to strip Díaz of her authority by allowing Tarek William Saab, a pro-government ombudsman, to conduct criminal investigations. Díaz rejected the ruling, accusing it of "giving the power to investigate human rights abuses to people who possibly are violating those rights." Her court hearing is scheduled for July 4—just two days before Benavides will arrive at her office for questioning.