Venezuela Court Sides With Maduro Over Constitutional Rewrite
Amid mounting protests, the court blocked a motion to stop President Nicolas Maduro from instituting legislative changes that favor his government.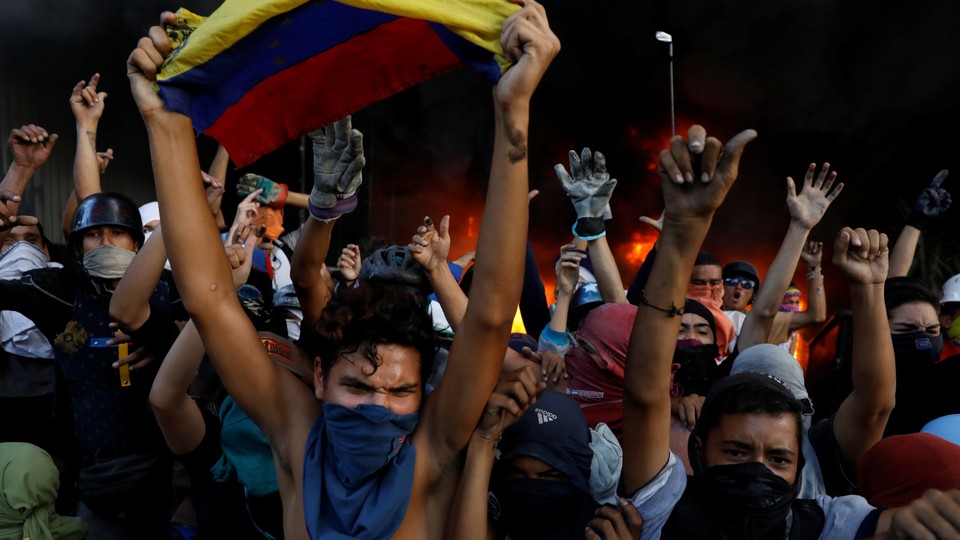 Venezuela's Supreme Court voted Monday to reject a motion that would prohibit the nation's president, Nicolas Maduro, from rewriting its constitution. The decision comes just days after Venezuela's chief prosecutor, Luisa Ortega Díaz, stood on the steps of the Supreme Court with a copy of the nation's blue constitution book and defended Venezuela's current laws. "What's at play here is the country," she said, "the integrity of Venezuelans."
A few weeks earlier, on May 24, Maduro signed a document calling for a "constituent assembly" to draft a new version of Venezuela's constitution in what he considers to be an effort to bring peace to the nation. The assembly would also have the authority to dissolve public powers and convene general elections—stipulations that could give Maduro undue influence. With voting for the new assembly scheduled for July, many have accused Maduro of giving extra weight to populations that might secure his re-election. The president of Venezuela's democratically elected congress, Julio Borges, has since called the new assembly "nothing more than an evil announcement meant to divide, distract, and confuse Venezuelans."
In many ways, Maduro's bid for a new constitution has further united Venezuela's opposition groups, who continue to carry out massive demonstrations and demand that the president be recalled from office. In recent months, opposition protestors—angered by the nation's triple-digit inflation and dire shortages of food and medicine—have clashed with security forces, throwing rocks and jars of feces at officers, only to be met with tear gas and rubber bullets. In the last two months alone, at least 68 people have been killed in anti-government protests, with thousands more injured.
Photos released Monday show opposition protestors lighting a fire outside Venezuela's Supreme Court headquarters in Caracas and vandalizing an office within the building. Many protestors were shoved to the ground as pro-government armed groups, or "colectivos," attempted to blockade the headquarters. In Miranda, an opposition-controlled state in northern Venezuela, the nation's interior ministry even took control of the state's police force, citing its alleged criminal behavior and human rights violations. "It's clear [the interior ministry will] try to use the police against the people," said Henrique Capriles, the state's governor and a member of the opposition.
Last week, Ortega criticized the government's "ferocious repression" of opposition protestors. "Those opposed to the [new constitutional] assembly are called traitors, fascists, terrorists. We cannot live in a country like that," she said. Despite her loyalty to Maduro's predecessor, Hugo Chavez, Ortega has been a fierce critic of the current president, who has been known to jail opposition leaders and limit access to newspapers that speak critically of his government. Most recently, she has accused the president of violating universal suffrage. "The appeal I am attempting is to defend the rule of the people," she said Thursday.
In the wake of mounting criticism from Ortega, the Maduro government has proceeded to blame her for recent violence, dubbing her a de facto opposition leader. On Monday, the Supreme Court—which remains loyal to Maduro—said her motion to stop the new constitution was inadmissible, since it lacked sufficient legal grounds. Ortega is now opposing the National Assembly's approval of 13 Supreme Court officials and 21 substitute judges back in 2015, when the Maduro government maintained a legislative majority. In an interview with Union Radio, she said her aim was to restore Venezuela to its former stability. "It can't be that institutions aren't working here," Ortega said, noting that Venezuela's legislative bodies were lost and needed to be recovered.