Vatican Cardinal Charged With Sexual Assault
Pell is the highest-ranking Vatican official to ever incur the charges in the church's longstanding history of abuse.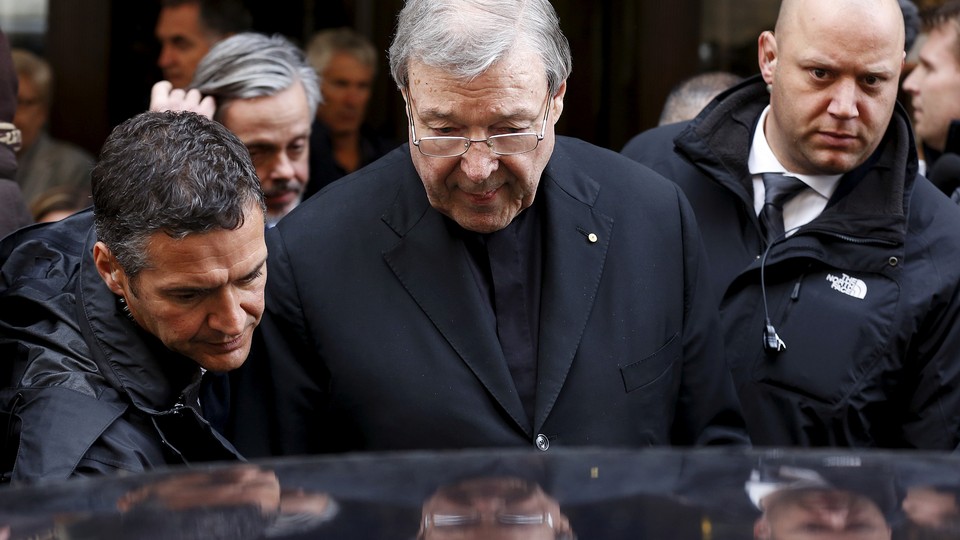 Australia's most senior member of the Catholic Church, Cardinal George Pell, was charged with multiple counts of sexual assault on Wednesday, making him the highest-ranking Vatican official to ever incur the charges. Pell is also the chief financial adviser to Pope Francis, whose "zero tolerance" policy toward sexual assault has been accused of lacking follow-through and failing to curb the church's longstanding legacy of abuse.
On Wednesday, Australia's Victoria Police said multiple complainants had come forward against Pell, but did not provide any further detail regarding the nature of the alleged assaults. The charges are considered "historic sexual offenses," indicating that they occurred many years ago. According to the Associated Press, two men have previously accused Pell, then a senior priest in Melbourne, of touching them inappropriately at a swimming pool in the late 1970s. Pell, whose religious career spans more than 50 years, has consistently denied the allegations.
"I'd just like to restate my innocence," Pell told reporters in May, amid rumors that he would soon be charged. He added that he stood behind his statements to Australia's Royal Commission into Institutional Responses to Child Sexual Abuse—a government-authorized inquiry established in 2013. At his testimony in February 2016, Pell was asked to provide evidence of his role in the church's sexual abuse scandal in Australia, in which officials admittedly dismissed allegations of assault to protect clergy members. Pell, who is based in Rome, testified via video-link, arguing that his declining health prevented him from attending in person.
In his testimony before the commission, Pell condemned the church's handling of abuse allegations, calling it "absolutely scandalous." "I'm not here to defend the indefensible," he said. "The church has made enormous mistakes and is working to remedy those." In reference to Gerald Ridsdale, a former Australian priest who is currently serving a prison sentence for his abuse of more than 50 children, Pell argued that the church's inaction resulted in "an enormous amount of suffering." "I must say, in those days, if a priest denied such activity, I was very strongly inclined to accept the denial," he said.
While the extent of the Catholic Church's abuse scandal is difficult to quantify, an estimated 3,000 priests were accused of sex abuse from 2001 to 2010, according to Vatican reports. As late as February of this year, Australia's royal commission concluded that seven percent of the nation's Catholic priests had been accused of sexually abusing children from 1950 to 2010. In total, this amounts to more than 4,400 complainants across more than 1,000 institutions.
In a statement on Wednesday, the Catholic Archdiocese of Sydney said Pell would "return to Australia, as soon as possible, to clear his name following advice and approval by his doctors." The statement added that he "is looking forward to his day in court and will defend the charges vigorously." Pell is expected to appear before the Melbourne Magistrates' Court on July 18. He is also scheduled to give a personal statement from Rome on Thursday, the church announced.
In the past, Pell has shared his thoughts on the implications of sexual abuse in the Catholic Church, arguing that the individual, not the institution, is to blame. "I don't think it calls into question the divine structure of the church, which goes back to the New Testament, the role of the pope and bishops," he said at his testimony in February. "I think the faults overwhelmingly have been more personal faults, personal failures, rather than structures."