U.S. Warns Syria Against Launching Another Chemical Attack
In a statement issued Monday night, the White House said the Assad regime had commenced preparations for another attack on its people.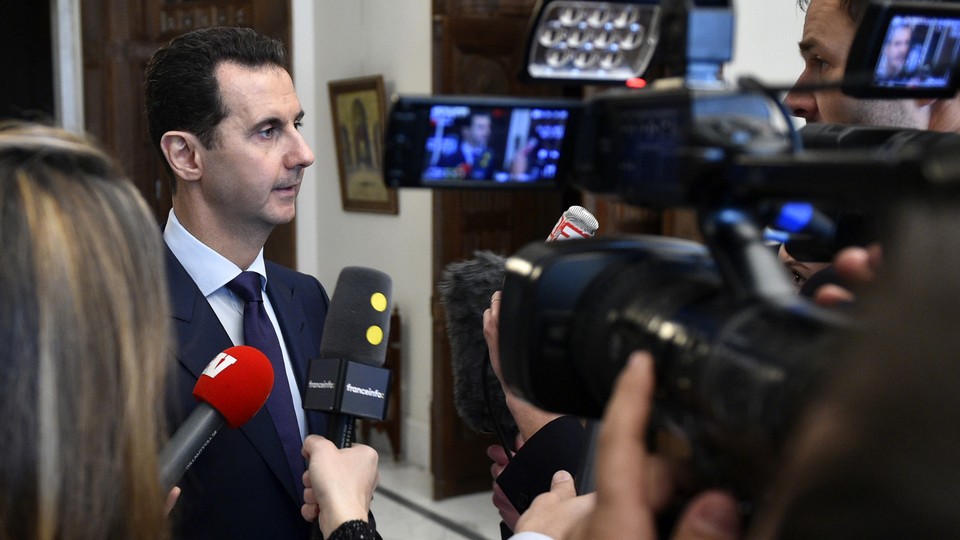 White House Press Secretary Sean Spicer released a statement Monday night accusing the Syrian government of potentially engaging in preparations for another chemical weapons attack. While the statement offered minimal details, it argued that a future attack "would likely result in the mass murder of civilians, including innocent children." On April 4, a government-led chemical attack in Syria's northwestern Idlib province resulted in the deaths of more than 80 civilians. According to Spicer, the Syrian government's latest preparations closely resemble those carried out prior to April 4.
If indeed enacted, a new chemical weapons attack could have reverberating consequences throughout the international community. In response to April's attack, the U.S. launched 59 tomahawk missiles at a Syrian air base—the nation's first military operation against an Arab government since President Obama's intervention in Libya in 2011. At the time, the administration referred to the strike as a "one-off" occurrence intended to deter future chemical attacks. But, in the wake of the operation, administration officials reported that President Trump had been deeply troubled by graphic images of Syrian children struggling to breathe. "No child of God should ever suffer such horror," Trump said while announcing the strike.
Syrian President Bashar al-Assad has since denied that any chemical attack took place, arguing that the U.S. fabricated the story in an attempt to justify military action. Meanwhile, Russia argued that April's attack targeted "a large terrorist ammunition depot" in the region. In the past, Assad has blamed similar attacks on Syrian rebel fighters, despite the UN's discovery of "clear and convincing evidence" implicating the Syrian government. In 2013, Syria agreed to let international monitors destroy its chemical-weapons stockpile by mid-2014—a resolution that appears to have done little to prevent the nation's continued use of chemical weapons.
On Monday, Spicer warned of serious repercussions should the Assad regime choose to launch another attack on its people. "As we have previously stated, the United States is in Syria to eliminate the Islamic State of Iraq and Syria," his statement reads. "If, however, Mr. Assad conducts another mass murder attack using chemical weapons, he and his military will pay a heavy price." The Trump administration's ambassador to the UN, Nikki Haley, issued a similar response Monday night via Twitter, arguing that "any further attacks done to the people of Syria will be blamed on Assad, but also on Russia [and] Iran who support him killing his own people."
Russia and Iran are both allies of the Syrian government, while the U.S. supports a coalition of rebel groups who oppose the Assad regime. In recent months, the Syrian Civil War has sparked escalating tension between the U.S. and Russia as the U.S. increases its military presence in the region. A little more than a week ago, the U.S.-led coalition shot down a Syrian aircraft targeting U.S.-backed rebels. In response, Russia said it would target any U.S. aircraft flying over Syria.
Although U.S. intelligence officers reportedly learned of several sites where the Assad regime could be hiding newly made chemical weapons,  many are left wondering whether Monday's response was premature. Multiple U.S. defense officials have since told BuzzFeed and The New York Times that the latest warning caught them off guard. On Monday night, Marc Raimondi, a spokesman for the White House's National Security Council, declined to offer further information, telling The Times: "We are letting the statement speak for itself."