U.S. Sanctions Chinese Entities With Financial Ties to North Korea
The administration said the sanctions are not intended to hurt China—but many argue they represent a wider crackdown on the the nation.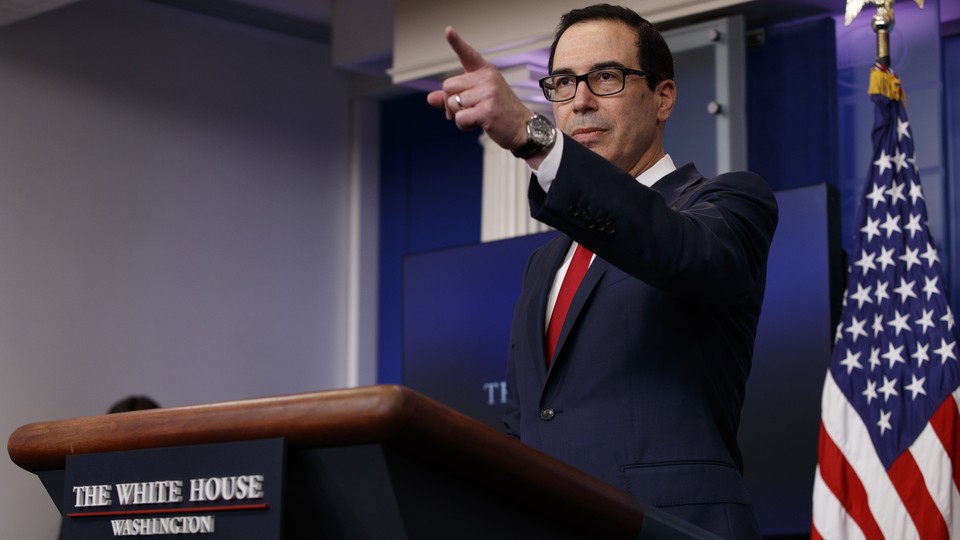 The Trump administration issued a round of secondary sanctions against two Chinese citizens, a Chinese shipping company, and a Chinese bank for their financial ties to North Korea's nuclear and missile programs, U.S. Treasury Secretary Steve Mnuchin announced Thursday. Mnuchin said the sanctions were part of a larger effort to block financial channels used by North Korea to advance its weapons programs. "We will follow the money and cut off the money," he told reporters at a news conference.
The new sanctions prohibit the firm Dalian Global Unity Shipping and two citizens, Sun Wei and Li Hong Ri, from conducting business with U.S.-linked companies and individuals. But their main target is the Bank of Dandong, which is now cut off from the U.S. financial system following evidence that it enabled North Korea's illicit financial activity, including money laundering. "This bank has served as a gateway for North Korea to access the U.S. and international financial systems, facilitating millions of dollars of transactions for companies involved in North Korea's nuclear and ballistic missile programs," Mnuchin said Thursday. "The United States will not stand for such action."
While Mnuchin did not say whether China had been informed of the sanctions beforehand, officials told The Washington Post that the U.S. recently submitted a list of suspicious firms to China, giving the nation 30 days to respond. Although China reportedly came back with a claim that it was taking action, "the Trump administration found the response to be insufficient," The Post writes. Still, Mnuchin was careful to note that the latest round of sanctions was "in no way targeting China." He added: "We look forward to working closely with the government of China to stop illicit financing involving North Korea."
Many argue that Thursday's sanctions could subject Chinese banks to increased international scrutiny, resulting in future rounds of sanctions. "This is the tip of the iceberg," Anthony Ruggiero, a former Treasury Department official, told The New York Times. "We know there are more Chinese banks that are either wittingly or unwittingly assisting North Korea."
While China has been historically reluctant to pit itself against North Korea, the nation has become a key player in the Trump administration's strategy to curb North Korea's nuclear and missile programs. At the beginning of June, China and the U.S. agreed to their first joint resolution to broaden sanctions on North Korea under the Trump administration, following a warning from the U.S. that it would target North Korean supporters. While the sanctions required lengthy negotiations with China, the U.S. has since demanded even further action. Last week, U.S. Secretary of State Rex Tillerson urged China to "exert much greater economic and diplomatic pressure" on North Korea.
The statement seemed to contradict an earlier tweet from President Trump, which implied that China would no longer be seen as a critical intermediary between North Korea and the U.S. "While I greatly appreciate the efforts of President Xi [and] China to help with North Korea, it has not worked out," Trump said, adding: "At least I know China tried!" Despite the president's tweet, Mnuchin argued Thursday that Trump remained committed to engaging China in negotiations. "I don't think the president is giving up in any sense," he said. "I think we will continue to work with China and everybody else." The statement, like Thursday's sanctions, seemed to suggest a disconnect between the words and actions of the Trump administration.