U.S. Calls Syria Airstrike Lawful—but Human Rights Groups Disagree
A military inquiry concluded there may have been one civilian casualty, but others estimate there were dozens.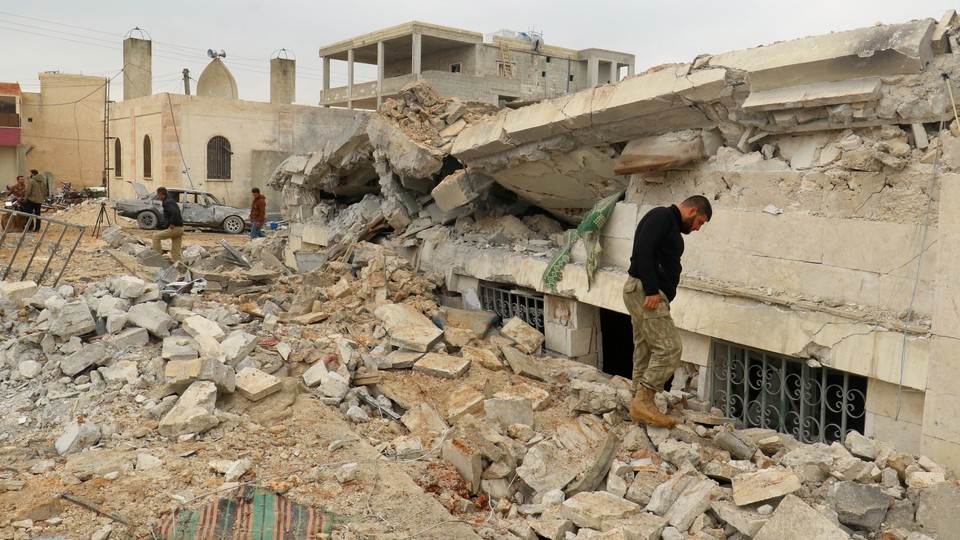 A U.S. military investigation concluded Wednesday that an American airstrike targeting al-Qaeda members near Aleppo, Syria on March 16 was lawful and may have resulted in one civilian fatality—a claim disputed by human-rights groups, which said the strike killed dozens.
The investigation found the strike complied with operational and legal requirements (2/3)

— U.S. Central Command (@CENTCOM) June 7, 2017
The findings, announced Wednesday by U.S. Army Brigadier General Paul Bontrager, come months after the U.S. ordered an airstrike on the rebel-held village of al-Jinah in Aleppo, which the Pentagon said aimed to target a meeting of al-Qaeda members. The strike, which included dropping ten bombs on a madrassa, or religious school, and firing two missiles at targets fleeing the area, was estimated to have killed two dozen al-Qaeda members.
But human-rights groups said the strike also targeted a mosque adjacent to the building, which resulted in the deaths of dozens of civilians. The Syrian Observatory for Human Rights, a British-based war monitor, estimated that 49 civilians were killed in the strike. Human Rights Watch said at least 38 people were killed.
Though Bontrager noted that the special operations task force in charge of the strike never included the mosque on the list of buildings that should not be targeted (religious structures, hospitals, and schools are typically featured on such no-strike lists), he said the inquiry did not uncover evidence to back reports of numerous fatalities.
"We considered media reports that indicated a large number of civilians were killed, but our investigation did not uncover evidence to support those claims," Bontrager said, adding that the investigators were not able to visit the site or talk to those who were present at the time of the strike.
Human Rights Watch condemned the Pentagon's findings in a statement Wednesday, adding that there was "no evidence" the destroyed building was being used as a meeting place for al-Qaeda.
"It is hard to understand how the Pentagon can determine with such confidence who was and who wasn't killed in the attack when those conducting the investigation did not actually speak with anyone present at the time of the attack — or even anyone who might have been there right after," said Sarah Margon, the Washington director at Human Rights Watch.