The U.S. Joins the Philippines in a Battle Against Militants
The news of the cooperation is significant, because the country's president had previously threatened to kick out U.S. troops.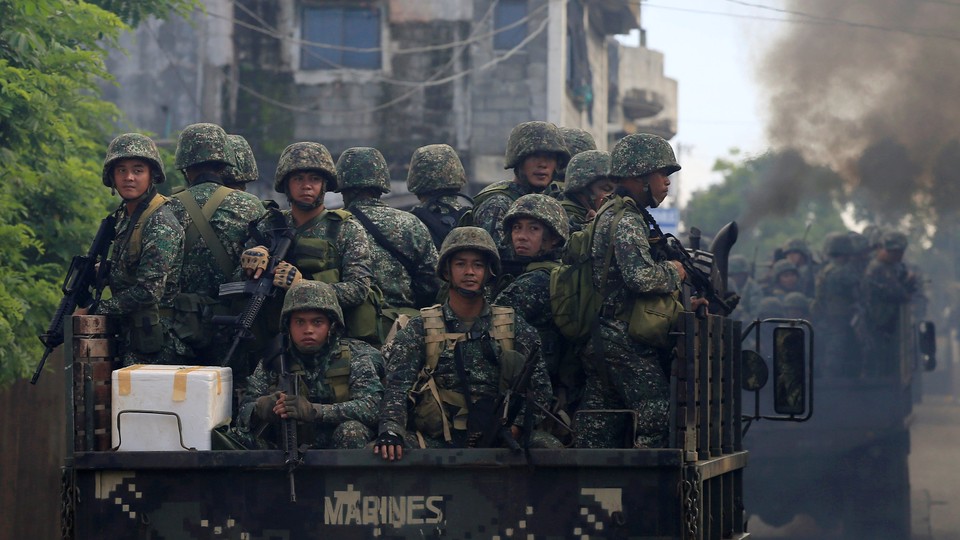 U.S. special forces have joined the Philippines military in a battle to push out Islamic terrorists who've seized a town in the south of the country. Three weeks ago two local extremist groups backed by ISIS, Maute and Abu Sayyaf, took Marawi City. Since then nearly 140 militants and 60 government troops have been killed the fighting, with the battle escalating in the past few days as government troops fight house-to-house. It's illegal in the Philippines for foreign militaries to aid in actual combat, and on Saturday, military spokesman Colonel Jo-Ar Herrera said U.S. special forces were "just providing technical support."
The U.S. embassy in Manila confirmed to Reuters that it was offering support, but it released no further information. Reporters near the fighting said they saw a U.S. Navy P3 Orion surveillance plane flying above the city. The aircraft is likely providing intelligence on militant targets, and it soared above Philippine helicopters as they fired rockets into the city. "We don't have adequate surveillance equipment," a separate military spokesman told the Associated Press, "so we asked the U.S. military for assistance."
The Philippine's government believes 200 militants are fighting in the city, although they've been forced into a few positions in one corner of town. While the Philippines is mostly Christian, the Mindanao region has a large Muslim population, Marawi especially. Here and in similar areas in the south militants have has established a stronghold, and the Philippine government fears that as ISIS loses ground in Syria and Iraq, they could send fighters here. About 40 of the militants fighting in Marawi are believed to be foreign, according to Reuters, with most coming from Indonesia or Malaysia. The government has fought sporadic battles against extremists in the region for years. Abu Sayyaf, which is more established, has often kidnapped tourists and held them for ransom.
As soldiers fought on Friday to push the militants out, 13 Philippine marines were killed. The government said they died in "intense" house-to-house gun battles, hit with rocket propelled grenades and struck by improvised explosive devices as they moved through town.
Between 500 and 1,000 civilians are trapped in Marawi, many without electricity or running water. About 20 civilians have been killed in the fighting, and militants took some 100 hostages, including a Catholic priest. The government said these hostages are being used as human shields, which has slowed the advance of its troops. The government also said it was proceeding delicately, trying to avoid destroying mosques in the area, which military spokesman Herrera called "very symbolic to our Muslim brothers."
News that U.S. and Philippine forces were working together is significant, because the country's president, Rodrigo Duterte, has threatened to kick out the U.S. military. America maintains several bases on the island, which it does, in part, to hedge China in its push to control the South China Sea. But since becoming president last year, Duterte has taken an aggressive tone with the U.S., especially the Obama administration. Much of the international community, including the U.S. under Obama, criticized Détente's drug war, which has killed more than 7,000 people. Duterte even made a historic trip to China and returned with $24 billion in funding and investment deals, meant to slight the U.S.
However, since the Trump administration took over the White House, Duterte has acted much friendlier with the U.S. In a phone call in May, Trump even invited Duterte to visit.