U.S. Navy Destroyer Collides With Merchant Vessel in Japan
The Japanese Coast Guard is searching for several missing crew members of the U.S.S. Fitzgerald.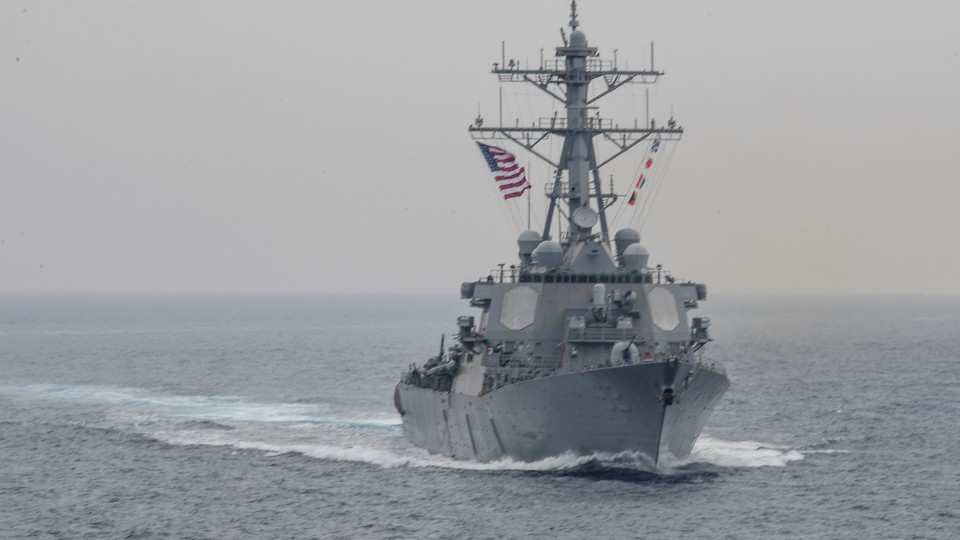 Updated on Saturday at 12:25 a.m. ET
A U.S. Navy guided missile destroyer known as the U.S.S. Fitzgerald has been considerably damaged following a collision with a Philippine-flagged merchant vessel on Friday at around 2:30 p.m. local time in Japan. At the time of the collision, the Fitzgerald was located 56 nautical miles southwest of Yokosuka—a city near Tokyo that houses a U.S. naval base. CNN reports that the ship has a crew of around 330 sailors.
Aerial footage from the Japanese broadcaster NHK seems to confirm reports that the Fitzgerald took on water in at least three compartments. In the footage, people can be seen standing on the deck of the ship:
Soon after the collision, the U.S. Navy requested help from the Japanese Coast Guard, which quickly arrived on the scene. While the ship was originally headed to Tokyo, it has since reversed course and made its way back to the naval base in Yokosuka. According to the Navy, the Fitzgerald runs on its own power, but has limited propulsion. The ship, which received a $21 million upgrade in February, does not appear to be in danger of sinking.
While there are no reported casualties so far, the Japanese Coast Guard is currently searching for seven missing crew members. The extent and number of injuries are still "being determined," according to the U.S. Pacific Fleet in Hawaii. Late Friday night, the Navy reported that three sailors had been medevacked from the ship, along with the Fitzgerald's commanding officer, Bryce Benson. Benson was transferred to the U.S. naval hospital in Yokosuka and is said to be in stable condition. He assumed his position as commanding officer in May.
The U.S. Chief of Naval Operations, John Richardson, released a statement Friday implying that the families of those onboard would be notified first of any injuries or casualties: "As more information is learned, we will be sure to share it with the Fitzgerald families and when appropriate the public. … All of our thoughts and prayers are with the Fitzgerald crew and their families."
While collisions of this nature are uncommon, Friday's incident is not unique. In May, the U.S.S. Lake Champlain collided with a South Korean fishing vessel while conducting routine operations in international waters.
This story is developing and we will update it as we learn more.