U.S. Carries Out Another Airstrike in Syria
The nation resorted to military action after pro-regime forces breached a deconfliction zone.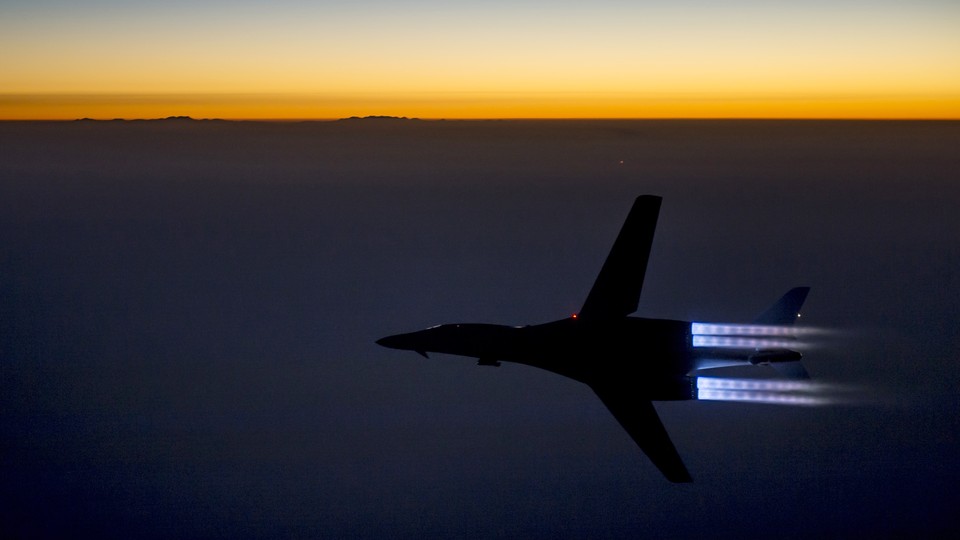 U.S.-led forces have carried out another airstrike on Syria, the International Coalition for Operation Inherent Resolve—responsible for U.S. military operations in the fight against ISIS—confirmed in a statement Tuesday afternoon. According to the Coalition, Syrian and allied forces breached an established deconfliction zone on Tuesday near al-Tanf, the site of a U.S. military base in southern Syria. U.S. special forces have been training Syrian opposition troops in the area for months in an effort to better combat ISIS.
Syrian and allied forces were reportedly warned multiple times not to enter the deconfliction zone, but ignored U.S. orders. The Coalition provided further detail:
Despite previous warnings, pro-regime forces entered the agreed-upon de-confliction zone with a tank, artillery, anti-aircraft weapons, armed technical vehicles and more than 60 soldiers posing a threat to Coalition and partner forces based at the At Tanf Garrison.

The Coalition issued several warning via the de-confliction line prior to destroying two artillery pieces, an anti-aircraft weapon, and damaging a tank.
The statement concluded by saying that "the Coalition does not seek to fight Syrian regime or pro-regime forces but remains ready to defend themselves if pro-regime forces refuse to vacate the de-confliction zone." Indeed, for most of the Syrian civil war—an ongoing, seven-year conflict between the government of Syrian President Bashar al-Assad, its allies, and various opposition groups—the U.S. has refrained from military intervention. Under the Obama administration, the U.S. chose to arm moderate rebel groups and work with Russia to destroy Syria's chemical-weapons stockpile rather than enact a military strike.
Tuesday's strike marks an intensification of U.S. military action against the Assad regime, whose human rights violations have sparked mounting concern from the Trump administration. On April 26, the U.S. launched more than 50 tomahawk missiles into Syria, targeting the site of a recent chemical-weapons attack. The strike was the nation's first military operation against an Arab government since 2011, when President Obama sanctioned a military intervention in Libya. At the time of the missile strike, Trump said the move was vital to national security.
Since then, U.S. involvement in the Syrian war has continued to escalate. On May 18, U.S.-led coalition jets carried out a strike that closely paralleled Tuesday's attack. Following the incident, CBS News reported that pro-regime forces twice violated the deconfliction zone in al-Tanf—once when more than a dozen regime vehicles infringed on the radius of the U.S. army convoy, and again when an unarmed fighter-bomber entered the zone.
In recent months, Russia, which is allied with Assad, has been less than pleased with increased U.S. military aggression in the region. Dmitry Peskov, the spokesperson for Russian President Vladimir Putin, referred to April's missile strikes as a "violation of international law," adding that the strikes "will inflict major damage on U.S.-Russia ties." According to RT, a member of the Russian parliament shared a similar response in the wake of Tuesday's attack, calling the strike "an act of aggression" and "a step by the U.S. towards engaging in an open conflict in Syria." A day earlier, U.S.-backed Syrian Democratic Forces (SDF) launched an operation to capture Raqqa, an ISIS stronghold in Syria. The Trump administration announced in May that it would arm and train Syrian Kurdish forces—a critical move in the Raqqa offensive, but one that could have damaging consequences for U.S.-Turkey relations.
While defeating ISIS has long been a priority for the Trump administration, targeting the Assad regime is a more recent development. Trump previously told The New York Times that "fighting Assad and ISIS simultaneously was madness, and idiocy." Meanwhile, the U.S. Defense Department claims their actions in al-Tanf are consistent with previous policy. "Now that [Syrian and allied forces have] backed off, we're not going after them,"  Eric Pahon, a spokesperson for the department, told Bloomberg in May. Still, he said, given the nature of the war, "anything can happen."