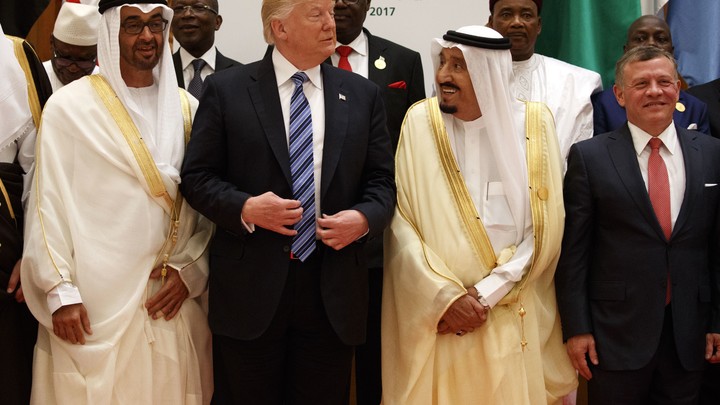 The U.S. State Department approved the sale of $1.4 billion in military training and equipment to Saudi Arabia as part of a larger arms deal signed by President Trump in May, the Pentagon announced Monday. Prior to his two-day visit to Saudi Arabia last month, Trump sanctioned a deal spearheaded by his son-in-law, Jared Kushner, that would provide the nation with around $110 billion in defense items such as tanks, fighter planes, combat ships, and precision-guided bombs over the next ten years.
Monday's approval by the State Department specifically pertains to two major sales: a training program for military forces like the Royal Saudi Air Force and a radar system to improve Saudi Arabia's border security. According to the Pentagon, the radar system, which has the capacity to locate and protect against incoming rockets, mortars, and artillery, is part of a $662 million package that includes ammunition, trucks, and technical support. The remaining $750 million will finance a training program that provides military education and flight instruction, as well as English-language skills, to Saudi forces. With these tools, the Pentagon said, Saudi Arabia's military will learn to reduce civilian casualties.
Last month, The New York Times reported that Kushner was instrumental in brokering a deal over the radar system—known as the Terminal High Altitude Area Defense system, or THAAD. During a meeting with high-level Saudi officials, Kushner reportedly called the CEO of Lockheed Martin, the system's prime contractor, and asked her to drive down the price. The CEO later referred to the deal  as "historic" and said her company was proud to be a part of it. A White House Official also called the deal "a significant expansion of the over seven-decade long security relationship between" Saudi Arabia and the U.S.
Still, former government officials argue the deal is neither new nor noteworthy. "Both [the U.S. and Saudi Arabia] have an incentive to herald this as a new era in Gulf cooperation. I see this as largely continuity," Derek Chollet, the assistant secretary of defense for international security affairs under the Obama administration, told The Times. Indeed, the U.S. has served as Saudi Arabia's top arms supplier for some time, supplying more than half of the nation's combat aircrafts. In 2010, the two nations also agreed to one of the largest arms sales in American history, worth an estimated $60.5 billion.
Other experts argue that Trump's arms deal is simply a re-packaging of previous deals struck by the Obama administration. Throughout his presidency, Obama brokered the sale of around $115 billion worth of military arms to Saudi Arabia. Experts say a fair share of the weapons that appear in Trump's deal were already approved under the last administration. Bruce Riedel, a senior fellow at the Brookings Institution and former member of the CIA, has even called the Trump administration's deal "fake news." In a Monday blog post, Riedel claimed the sale was nothing more than "a bunch of letters of interest or intent, but not contracts." He went on to explain:
What the Saudis and the administration did is put together a notional package of the Saudi wish list of possible deals and portray that as a deal. Even then the numbers don't add up. It's fake news.

Moreover, it's unlikely that the Saudis could pay for a $110 billion deal any longer, due to low oil prices and the two-plus years old war in Yemen.
Whether the deal is a historic advancement or a public relations spin of an Obama-era achievement, it signals Trump's commitment to improving relations with Saudi Arabia. In the past, Trump has been critical of the nation's economic dependence on the U.S., arguing on the campaign trail that Saudi Arabia doesn't pay "nearly what they should be paying." Saudi Arabia is "loaded with money to the gills," Trump said at an April rally in Wisconsin, adding, "The U.S. protects them. We get practically nothing." In reality, the nation's economy is faltering. In January, the International Monetary Fund estimated that Saudi Arabia's economy would grow just 0.4 percent in 2017 due to OPEC cuts in crude oil production.
Despite concerns over whether Saudi Arabia is capable of paying for such a large arms deal, it appears the sale is moving forward. Reuters reports that Congress has already been notified of the approval of both the training program and radar system. While U.S. lawmakers have 30 days to file a motion of disapproval, halting the arms deal would be a difficult feat. "Any path [to banning the sale of weapons] seems narrow at this point," John Tierney, the executive director of the Center for Arms Control and Non-Proliferation, told U.S. News & World Report. Still, some senators remain optimistic they can block at least a portion of a forthcoming sale. "I don't know that we will have 50 votes, but I think we will have significantly more support," said Connecticut Senator Chris Murphy, a democrat. "This administration has shown no interest in attaching the kinds of conditions that the previous administration did."
We want to hear what you think about this article. Submit a letter to the editor or write to letters@theatlantic.com.
Aria Bendix
is a frequent contributor to
The Atlantic
, and a former editorial fellow at
CityLab
. Her work has appeared on
Bustle
and
The Harvard Crimson
.