Testing U.K.'s Tower Blocks After Grenfell Fire
As many as 600 buildings may have the same type of flammable cladding used in the London structure.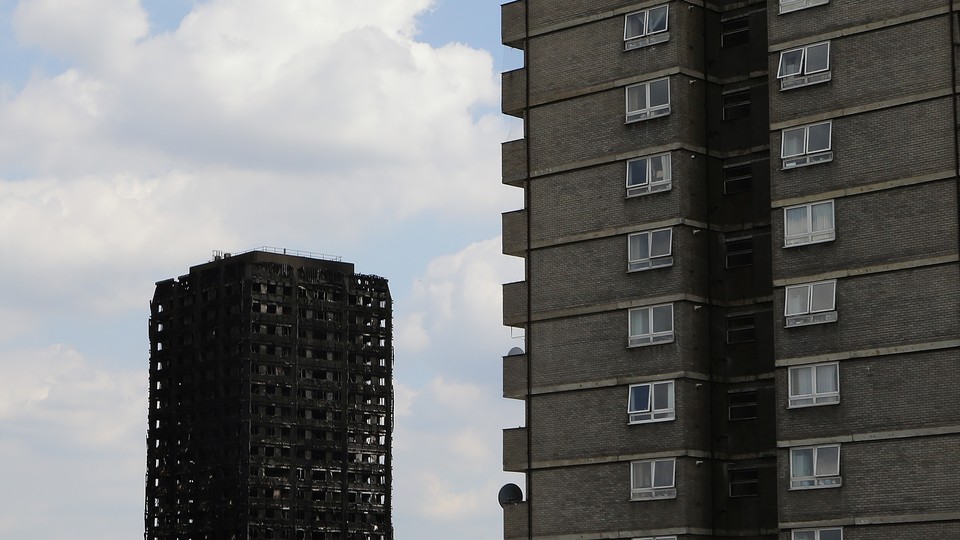 British authorities announced Thursday tests are being conducted on hundreds of tower blocks to determine if they have the same type of flammable cladding as used in Grenfell Tower. The tests come a week since the deadly blaze engulfed the 24-story building in west London, killing at least 79 people.
"The estimate provided to us by councils is that there are approximately 600 high-rise buildings with similar cladding," a spokeswoman for Prime Minister
Theresa May said, adding: "In terms of the people who are living in those buildings, we will do a further test to make sure the buildings are safe—obviously nobody will be living in buildings that are unsafe."
As the Guardian noted, the U.K.'s Department for Communities and Local Government (DCLG) said the 600 tower blocks are being tested because they have some form of cladding—not necessarily because they were fitted with the aluminum cladding used on Grenfell.
The tests come a little over a week since the deadly fire at Grenfell Tower, which was reduced to a charred skeleton after a blaze spread through the building. More than 200 firefighters and 40 fire trucks were dispatched to fight the blaze. Survivors of the blaze have reacted angrily at what they see as the government's inaction in the wake of the fire. May apologized for the response, which she said was "not good enough."
"The support on the ground for families in the initial hours was not good enough," she said in a statement to members of parliament Wednesday, adding it "was a failure of the state, local and national, to help people when they needed it most. As prime minister, I apologize for that failure. And as prime minister, I've taken responsibility for doing what we can to put things right."
Though the cause of the blaze is being investigated, its quick spread has been attributed in part to the type of cladding used in the building's 2015 refurbishment—a material found to have been a cheaper and more flammable version than pricier alternatives. May, in an address Thursday, said some tests already conducted have come back as combustible.
"As a precaution, the government has arranged to test cladding in all relevant tower blocks," May said, adding that they "can test over 100 buildings a day, and the results come within hours."