Two Candidates Declare Victory in Mexico State Election
The race for governor, seen as a predictor of political sentiment, was mired in claims of voter fraud.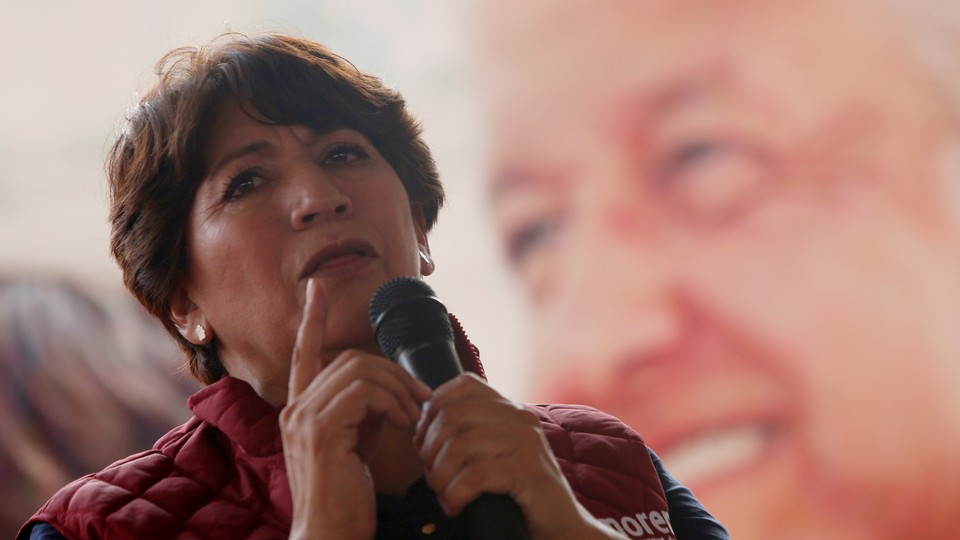 An election in Mexico widely seen a test of political sentiment for next year's presidential run-off will likely head to the court. The race for governor in the State of Mexico was largely a contest between the leftist National Regeneration Movement (MORENA) and the ruling Institutional Revolutionary Party (PRI), which has held on to its seat for about 90 years. While a count of nearly all the votes gives the PRI candidate a narrow three-point lead, widespread accusations of voter fraud and intimidation have called the results into question. For now, both candidates are claiming victory.
The State of Mexico is home to about one of every eight voters in the nation. The country's current president, Enrique Peña Nieto, was once governor there, and his cousin, Alfredo del Mazo, was PRI's candidate this year. The MORENA candidate was a little-known former teacher, Delfina Gómez. Despite her relative anonymity, her campaign may be one of the closest in the state's history to defeating PRI. This is largely owed to Andres Manuel López Obrador, a presidential candidate who campaigned frequently with Gómez, and who founded MORENA three years ago. "We will play in a reasonable way," López Obrador said of the results. "We will not call for confrontation or violence." He then added that "this is a PRI-style discount," signaling his belief that the party had cooked the books.
The full count of votes will not be finished until June 7, at which point MORENA will almost certainly try to have the election annulled. The two other major political parties in Mexico have also accused PRI of using state and federal resources to help its candidate. Amid hundreds of election complaints, local news outlets have reported of vote-buying, telephone threats to discourage voting, and even bloody pigs' heads placed outside opposition party offices. The Guardian also spoke with a man who said he was one of hundreds of state employees forced to campaign on behalf of PRI. "Our job was to ensure people vote for the PRI, or don't vote at all," he said.
In the wake of controversy, PRI has quickly been losing support. The party ruled Mexico for more than seven decades, stomping out any opposition and blatantly rigging elections. In 2000, an opposition party candidate won the presidential race, but, with Peña Nieto's election in 2012, PRI regained its power.
Today, Peña Nieto is deeply unpopular. He has been involved in several scandals, including one in which a businessman who won a profitable government contract was found to have paid for a $7 million mansion placed in the first lady's name. Peña Nieto was also seen as not doing enough—at the very least—to investigate the disappearance and likely deaths of 43 students taken from the state of Guerrero. Last summer, his approval ratings plummeted after he invited U.S. President Donald Trump to Mexico. For these reasons, winning the gubernatorial election in Mexico State is seen as a way for PRI to regain lost respect, especially since López Obrador is faring so well.
López Obrador, a former mayor of Mexico City, has run for president twice before, losing by half a percentage point in 2006. He is a far-leftist candidate—so much so that in 2014 he quit the left-leaning Party of the Democratic Revolution to form MORENA. He has also been called a populist whose policies could hurt the economy. After narrowly losing the 2006 election, López Obrador led hundreds of thousands of supporters in protests that blocked main roads in Mexico City, then declared himself the winner. But, in a moment when Mexico is seeing a surge of nationalism in the face of the Trump presidency, López Obrador and his party are leading the polls.
Whatever becomes of the election in the State of Mexico, it will be a national success for MORENA. That a relatively unknown candidate could nearly win Mexico's most populous state is a victory in itself.