Turkish Guards Charged Over Violent Embassy Protest in Washington
A dozen members of Turkish President Recep Tayyip Erdogan's security detail were recorded beating up protesters during a protest last month.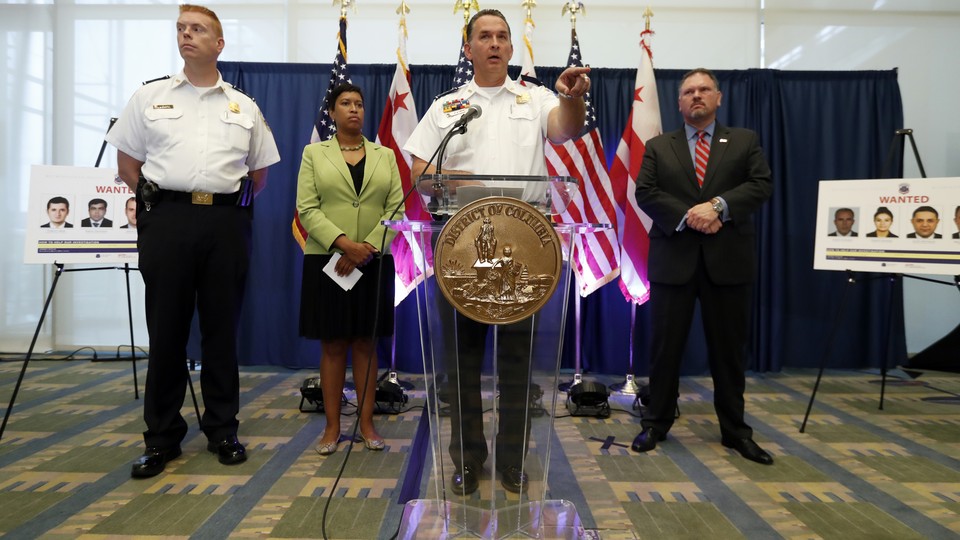 Updated at 4:19 p.m. ET
Washington, D.C., Mayor Muriel Bowser announced Thursday charges against a dozen members of Turkish President Recep Tayyip Erdogan's security detail involved in last month's violent clashes with protesters in the U.S. capital.
The arrest warrants come nearly a month after the violent incident, during which Turkish security guards were recorded assaulting demonstrators protesting Erdogan outside the Turkish ambassador's residence.  The protest, which coincided with Erdogan's meeting with President Trump at the White House, left nine people injured.
Bowser called the altercation a "vicious attack."
"It was an affront to our values as Washingtonians and as Americans and a clear assault on the First Amendment," Bowser said Thursday, adding: "As Americans, the First Amendment grants us the right to assemble and protest peacefully, and here in DC we are committed to safeguarding and protecting that right."
Turkey, however, viewed the incident differently. In addition to summoning the U.S. ambassador to Ankara in an effort to lodge a formal complaint against U.S. authorities' handling of the incident, Turkish officials said the protesters were affiliated with the Kurdistan Workers Party, or the PKK, which Ankara views as a terrorist organization.
Erdogan criticized the move during an Iftar dinner Thursday in Ankara, pledging to "initiate a legal battle" against the charges.
"What kind of law is that?" Erdogan asked, adding that: "If [my security guards] are not allowed to protect me in the United States, why do I bring them there with me?"
Bowser said D.C. law enforcement and federal authorities were able to use the video from the attack to identify those involved. Two people, both Americans, were arrested on the day of the incident, and two other Americans were arrested Wednesday on assault charges.
Arrest warrants were issued for 12 individuals identified as Turkish security officials. Arrest warrants were also issued against two Canadian nationals. Peter Newsham, chief of D.C.'s Metropolitan Police Department, said authorities are turning to the public to help identify the remaining unidentified suspects using photos and videos.
Although it's remains unclear how U.S. authorities will exercise the warrants, as the entirety of Erdogan's security detail left the country shortly after the incident, the charges nevertheless mark the most retaliatory steps taken by U.S. authorities against such violence (a similar altercation between Erdogan's security detail and protesters took place outside the Brookings Institution in March 2016). Indeed, House lawmakers last week unanimously passed a resolution condemning the violence, and called on those responsible to be charged.
While it's unlikely that Turkey will extradite the individuals charged, Newsham said they would be threatened with arrest if they return to the U.S.