Trump's Mixed Messages Over Qatar
The president assailed Qatar as a funder of terrorism just hours after his secretary of state urged Arab states to ease their blockade on the country.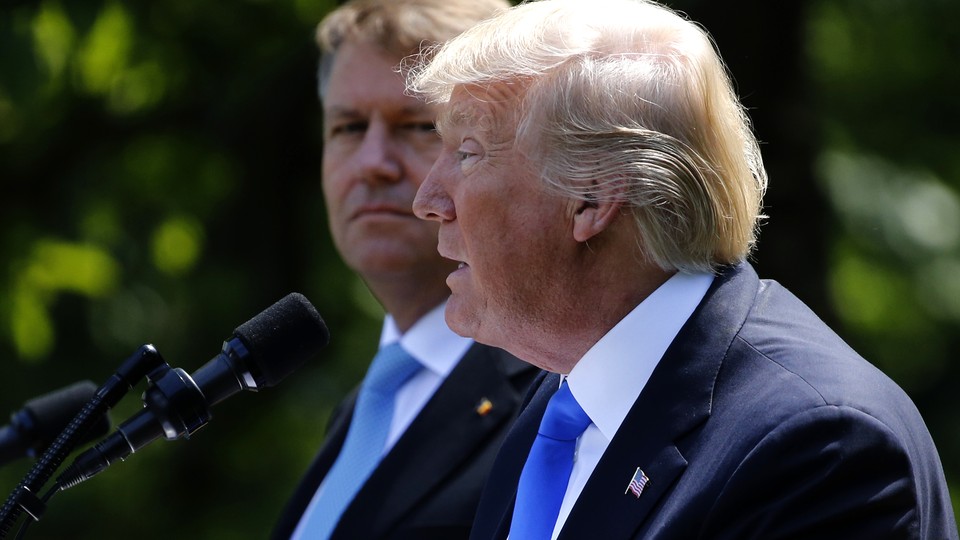 President Trump assailed Qatar for funding terrorism "at a very high level" Friday, just hours after the U.S. State Department urged Arab states to ease their blockade against the Gulf country.
"The nation of Qatar, unfortunately, has historically been a funder of terrorism at a very high level," Trump said Friday during a joint news conference with Romanian President Klaus Iohannis, noting it was in the wake of his first foreign visit to the Middle East in May that "nations came together and spoke to me about confronting Qatar over its behavior."
Trump added: "I decided, along with Secretary of State Rex Tillerson, our great generals and military people, the time had come to call on Qatar to end its funding—they have to end that funding, and its extremist ideology in terms of funding."
The president's remarks stood in stark contrast with comments Tillerson made only hours before. In a televised statement Friday, Tillerson called on the Saudi Arabia, the United Arab Emirates, Bahrain, and Egypt to ease the blockade imposed on Qatar earlier this week, noting the country's emir had made progress in addressing the concerns raised by its neighbors. Tillerson added the blockade was having a humanitarian impact on the country, as well as on U.S. interests in the region (Qatar is home to Al Udeid Air Base, the largest U.S. military base in the region).
This isn't the first time the U.S. has shifted its posturing since this crisis in Qatar began. While Trump seemingly praised the six Arab countries (Libya and Yemen were also among them) Tuesday for their decision to sever relations with Qatar, the president later reiterated in a call with Qatari Emir Sheikh Tamim Bin Hamad Al Thani Wednesday the importance of a "united" Gulf Cooperation Council, a regional body of which Qatar is a member, offering to help resolve the dispute.
It's unclear what impact the president's remarks will have on the diplomacy.